PROFILE
By Mark Doyle
So much has been said and written about former Ireland and Manchester United captain Roy Keane through the years and yet he continues to confound.
This is a man feted for his undoubted leadership qualities and yet lambasted for his apparent hypocrisy. The best of captains and yet the worst of captains - respected and feared in equal measure by both opponents and team-mates.
This is a man who was never slow to publicly criticise his colleagues and yet was always the first to leap their defence whenever they came under attack from outside forces. A man who demanded the utmost professionalism from those around him and yet was no stranger to alcohol-fuelled altercations on nights out.
A man who advocated discipline as a coach and yet was sent off 13 times as a player, most infamously for a self-confessed pre-meditated foul on former Manchester City midfielder Alf-Inge Haaland.
A man who professed a deep-rooted pride in his origins and yet, in the eyes of some of his compatriots, turned his back on his country when he was needed most. A man who craved privacy and yet elected to release an autobiography. A man who vowed never to embark on a career in the media and yet now regularly appears as a pundit on ITV.
In this context, it is easy to understand why Keane continues to polarise opinions. Even his supporters are unsure of exactly what to make of him.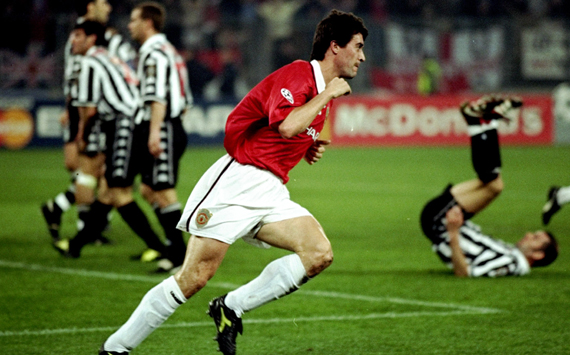 Keane celebrates after scoring against Juventus in the 1999 Champions League semi-final

ROY KEANE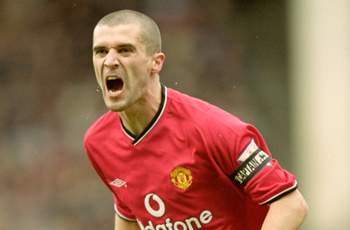 Caps, Goals: 67, 9

Clubs: Cobh Ramblers 1989-90, Nottingham Forest 1990-1993, Manchester United 1993-2005, Celtic 2005-06

Honours: Premier League (7) 1993–94, 1995–96, 1996–97, 1998–99, 1999–2000, 2000–01, 2002–03

FA Cup (4) 1993–94, 1995–96, 1998–99, 2003–04

FA Charity/ Community Shield (4) 1993, 1996, 1997, 2003

Uefa Champions League 1998–99

Intercontinental Cup 1999

Scottish Premier League 2005–06

Scottish League Cup 2005–06

Individual: FWA Footballer of the Year 2000

PFA Players' Player of the Year 2000

Indeed, in theory, Keane should never have made it as a professional footballer. He was no child prodigy. His talent was not obvious from an early age.
In truth, the teenage Keane was not particularly gifted. He was, however, remarkably resilient and incredibly dedicated and after failing to secure a trial with any English clubs, he eventually earned himself a contract with Cobh Ramblers in 1989.
It was with the Cork-based outfit that Keane first caught the eye of Nottingham Forest scout Noel McCabe. The then 19-year-old was invited across the Irish Sea for a trial and impressed sufficiently to persuade manager Brian Clough to hand over £47,000 for the Irishman in the summer of 1990.
Within a year Keane had been capped by his country and was being hailed as the most dynamic young midfielder in the old English First Division.
By 1993, it was clear that the Mayfield native and Forest were moving in very different directions. That summer, just a few months after the club's relegation, he swapped the City Ground for Old Trafford, with United handing over then record fee for a British side of £3.75 million.
Keane had infamously agreed to join high-rising Blackburn Rovers but a delay over processing the paperwork afforded Sir Alex Ferguson sufficient time to turn the player's head and persuade him to join the Red Devils instead. While Rovers boss Kenny Daglish was understandably enraged by Keane's 11th-hour change of heart, the player would not regret his decision.
An indefatigable, snarling presence in United's engine room, he quickly set about justifying his lofty price tag, helping his new employers win a double in his first season.
Further success followed as Keane became Ferguson's on-field general, assuming the role previously held by Bryan Robson, and he was the obvious choice to succeed Eric Cantona as captain when the Frenchman retired in 1997. Keane's discipline on and off the field was an issue throughout his captaincy but Ferguson tolerated his skipper's indiscretions because of his overall value to the team.
Nowhere was this better exemplified than in Turin in 1999 when, with United trailing 2-0 to Juventus in the second leg of their Champions League semi-final tie, and 3-1 on aggregate, Keane produced arguably his most heroic performance for the club, dragging his side back into the game with a towering near-post header before then laying the foundations for a famous victory with a characteristically dominant midfield display.
What had made the Corkonian's performance so impressive was that he had not allowed himself to be affected by a first-half booking which ruled him out of the tournament decider.


"It was the most emphatic display of selflessness I have seen on a football field. I felt it was an honour to be associated with such a player"



- Sir Alex Ferguson on that 1999 semi-final

Almost tragic then, that Keane's relationship with Ferguson would collapse in November 2005 after the United captain was adjudged to have gone too far in his criticism of some of his team-mates during an interview with MUTV.
Keane realised a dream by subsequently joining Celtic, a club he had supported as a boy, but he would spend just six months at Parkhead as he called time on his playing career the following summer.
How then, will he be remembered? His rift with Ferguson is, as recent events have underlined, unlikely ever to be resolved but it should not tarnish his legacy in the eyes of United fans. He should be recognised as one of the finest captains the club has ever had.
For the integral role he played in the most sustained period of success in the Premier League to date, the seven-time title winner also deserves to be regarded as one of the most influential players to have ever plied his trade in the English top flight.
From an Irish perspective, an objective, rational appraisal of Keane's status is nigh-on impossible. Opinions have forever been coloured by what happened in Saipan in 2002, when Keane told then manager Mick McCarthy to stick his World Cup up his boll*x and was banished from the camp.
For some he will remain a moody and petulant traitor whose poor attendance record for national team get-togethers prove that he was never that committed to the cause in the first place; for others, a self-sacrificing crusader who sought to rid Irish football of its shamefully amateurish ways and embarrassing lack of ambition. As ever with Keane, the truth is probably somewhere in between.

Debate our choices on

and

Leave your comments at the end of the player profiles and let us know what you think.

We hope that you will share your opinion and insight with us on our choices.