Our countdown continues with the inclusion of the former Liverpool captain who scored one of the most memorable goals in Irish football history at Euro 88
PROFILE
By James Darby
Born into a football family on 25 September 1961, Ronnie Whelan is the son of a two-cap Republic of Ireland international who played for St Patrick's Athletic in the 1950s and 60s.
Ronnie Sr is also fondly remembered for scoring the winner in a League of Ireland XI victory against an English League XI in October 1963.
Ronnie Jr started his career at Home Farm - a club with an established history of producing talented young players. He debuted for the Dublin side on his 16th birthday and it was not long until his skillful and industrious displays caught the eyes of scouts across the water.
A number of English teams showed an interest in his talent but it was Liverpool who made a move. Bob Paisley signed Ronnie for Liverpool on 19 September 1979 for £35,000 after a spell as a Manchester United trainee.
Whelan would have to wait for his opportunity in a hugely competitive Liverpool team and his moment came in April 1981 when he replaced Ray Kennedy on the left side of midfield for a league match at home to Stoke City. He scored on his debut and immediately made an impact.
In his first full season, 1981-82, he was voted Young Player of the Year. He gained his first league winners' medal that campaign and scored some important goals for Liverpool - including two in their extra-time win over Tottenham Hotspur in the League Cup final.
Liverpool repeated that double in 1982-83 and it was Whelan who scored a beautiful winning goal in extra-time against Manchester United to retain the League Cup.
By that stage he was firmly established in a Liverpool team which would go on to dominate the 1980s. He formed lethal midfield partnerships with the likes of Graeme Souness, Sammy Lee, Craig Johnston and Steve McMahon - a group of players as hard as as it was talented.
He was tigerish in the tackle, possessed two excellent feet, had a tremendous ability to read the game and could come up with vital goals. In 1983-84, he won the European Cup for the first and only time, alongside fellow Ireland Internationals Mark Lawrenson and Michael Robinson.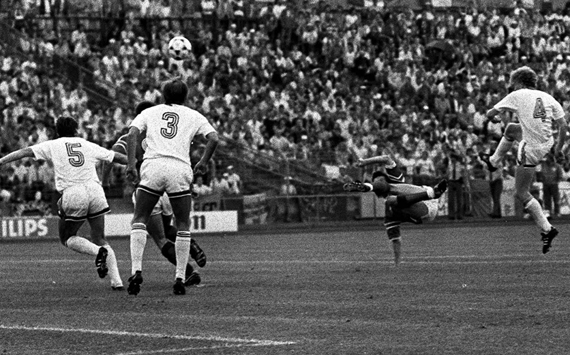 Ronnie Whelan scores against USSR during the 1-1 draw at Euro 88
RONNIE WHELAN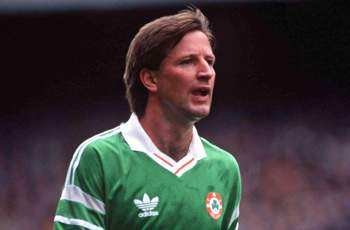 Caps, goals: 53, 3

Clubs: Home Farm 1977-79, Liverpool 1979-94, Southend 1994-96

Honours: Football League Division One Championship (6) 1981-82, 1982-83, 1983-84, 1985-86, 1987-88, 1989-90

FA Cup (2) 1985-86, 1988-89

League Cup (3) 1981-82, 1982-83, 1983-84

FA Community Shield (5) 1982, 1986 (shared), 1988, 1989, 1990 (shared)

European Cup 1983-84

Super Cup 1985-86

Under Kenny Dalglish, Liverpool won the double in 1985-86 and Whelan added to his impressive haul of medals. The arrival of John Barnes in 1987 saw Whelan moved to a more central position - where he thrived.
His tackling and distribution became more apparent and appreciated in this role and he led Liverpool to the FA Cup in 1989 as captain, also representing the club with dignity following the Hillsborough tragedy of that year.
Liverpool won the league once again in 1990; the last time the League Championship has visited the trophy room at Anfield. When Graeme Souness became manager in 1991 however, Whelan's appearances in a Liverpool shirt became less frequent.
A combination of injuries and the desire of Souness to blood younger players led to him becoming a more peripheral player. He made 17 appearances in the new Premier League in 1992-93 and 23 appearances in 1993-94, scoring once. In total he made 443 appearances for Liverpool scoring 73 goals.
He was released and went on to become Southend player/manager and had managerial spells in Greece and Cyprus with mixed success.
Although he became one of the most decorated players of his era at club level, his international career perhaps never fulfilled its promise. He made his international debut on 29 April 1981 and was a regular for the Irish team soon after.
Whelan was part of the Irish squad which qualified for their first tournament in history - Euro 88. He is best remembered for his bicycle kick in the West Germany finals against the USSR as the Irish drew 1-1. He was also part of the team that defeated England 1-0 in that tournament and came so close to reaching the semi-finals.
Under Jack Charlton, Whelan's playing time was restricted and his international career was hampered by injuries at a time when the Irish team was blossoming. He was included in the squads for the 1990 and 1994 World Cups but his appearances were limited.


"He was a good goalscorer, good runner from midfield and a good hard player who was maybe under-rated for his determination"



- Former team-mate and manager Kenny Dalglish

Ronnie Whelan can be proud of having one of the most decorated club careers of any Irish international in history. He won 12 major honours as a Liverpool player and was a fundamental part of one of the greatest English club sides of all time. Although not adored by the Kop faithful as much as legends like Keegan, Dalglish or Barnes, Whelan is remembered fondly by Liverpool fans as a superb footballer who served the Reds with class and distinction.
His international career was not as successful as it should have been. The Republic of Ireland were at their most talented and successful between 1988 and 1994. Competition for places was tough and a mixture of injuries and luck prevented him from having a greater career in the green of his country.

Debate our choices on

and

Leave your comments at the end of the player profiles and let us know what you think.

We hope that you will share your opinion and insight with us on our choices.