COMMENT
By Peter Staunton | Chief Editor Goal.com Ireland
Trap's meagre rations are keeping the fringe men hungry for involvement. The draw with the Czechs again highlighted Giovanni Trapattoni's rigid insistence on prioritising the old guard but Simon Cox and James McClean certainly gave him food for thought.
Clear chances were few and far between for the attackers that started the game at the Aviva Stadium against fellow Euro 2012 qualifiers. Captain Robbie Keane showed some nice touches but could not find space to conjure his usual magic. He now returns to MLS with LA Galaxy.
Shane Long has lost his West Bromwich Albion place to Marc-Antoine Fortune in recent weeks and club-mate Cox could be about to light a fire under the Tipperary man for his slot in the Ireland reckoning.
After appearing as a late substitute, Cox scored a fine individual goal to earn the Boys in Green a draw from a game in which they scarcely otherwise threatened. Jonathan Walters, Keane's replacement, grafted well, won aerial challenges and again showed that he is reliable.
Defensively, the home side gave up a bad opening strike to go behind just after half time. Milan Baros' movement did enough to throw Sean St Ledger off his scent but the Leicester City man was taken away from his marking duties all too easily.
It was proof that the Irish were not at their sturdy best.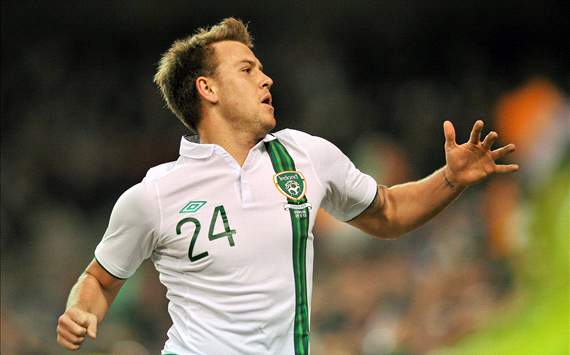 Making an impression | Simon Cox came off the bench to score
Of the starting XI, the most solid and dependable was Keith Andrews. The West Brom man is a player reinvigorated since his move away from Blackburn Rovers - first on loan at Ipswich Town and now at the Hawthornes. He has long displayed a commendable willingness to show for the ball in international colours and continued in that vein on Wednesday.
Aiden McGeady remains a winger who can beat full backs for fun but struggles to master the basics of dangerous crossing. His new understudy, the widely-appreciated James McClean, could show him a thing or two about putting the ball in the right areas despite his lack of international experience.
The Derry-born wideman has inspired Sunderland's Premier League season and his appearance as a second-half replacement for McGeady shook the Aviva Stadium from its ennui in the 78th minute. In his brief time on the field the 22-year-old was keen to attack his direct opponent and was not shy in going backwards either.
A new cap, eager to impress, McClean has done enough to keep the Irish public talking about him until the announcement of the next squad, due in May. But popular sentiment has never shaken Trap from his convictions.
Indeed, the 72-year-old looked set to perpetuate his contrary ways by consigning McClean to the bench for the duration after initially promising to cap him. He'll be glad he gave him a chance. McClean showed more in 15 minutes than Stephen Hunt, one of Trap's old guard to whom he is fiercely loyal, did in 30.
The Wolves man has not featured regularly for his club of late and will have noticed McClean's swift progress with some concern.
Elsewhere, the veteran Italian declined the opportunity to utilise one of the new school. Paul Green, without an international cap for a year and a half, was the manager's first substitute. It was an aggravating manoeuvre on the part of Trap.
Green was used instead of James McCarthy; the Wigan midfielder kicked his heels throughout and must now view his Euro 2012 credentials with uncertainty. McCarthy, for all his talent, would not appear to fit the blueprint for Trapattoni's central midfield position.
Of the 16 squads going to Poland-Ukraine, Ireland's 23 is probably closest to being complete. Trapattoni has to make his mind up on a number of duels around his panel - to stick with a long-standing member or throw a cat among the pigeons in the shape of a raw international apprentice.
Those two or three places still up for grabs will provide the most intriguing subtext over the coming months.
Follow Peter Staunton on