COMMENT
By Jay Jaffa
We were given two important lessons on Thursday night at White Hart Lane:
Tottenham
are deadly serious about winning the
Europa League
, while
Inter
are certainly not, as
Andre Villas-Boas
led us to believe, the best side left in the competition.
Indeed it is a minor miracle that Andrea Stramaccioni is keeping the 2010 Champions League winners so near to the summit of Serie A based on this listless display on a ground that is more unforgiving to the Nerazzurri with every visit.
SPURS 3-0 INTER
HOW THE ACTION UNFOLDED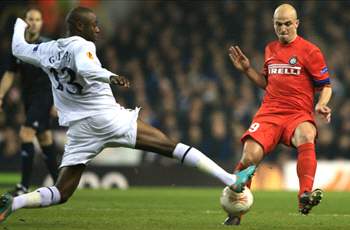 | | | |
| --- | --- | --- |
| | 6' | Bale header gives Spurs early lead |
| | 18' | Sigurdsson makes it 2-0 |
| | 53' | Vertonghen heads home the third |
PLAYER OF THE MATCH
JAN VERTONGHEN






Defended stoutly and seems to relish playing in the middle rather than left-back. Growing into an influential figure and was keen for his team-mates to remain patient in the fantastic opening 20 minutes. Unlucky to see his looping header get clawed away from goal by Handanovic and sliced wide from Bale's free-kick in the second half before he powered a corner in for Tottenham's third. He was faultless.
"Obviously we know that we were facing Spurs at the worst moment, they are going through their best phase of the season," he observed in his post-match debrief and you may have felt sympathy for Inter given that this was quite possibly Tottenham's best 90 minute display under Villas-Boas.
Tottenham set a ferocious pace from the very first minute, as if no-one told them this was a new match to Sunday's win over Arsenal. Then, as now, the Spurs midfield pressed high and fiendishly, forcing Inter almost into the Paxton Road stand.
The Italians actually began brightly, like a pinball machine without the element of chance, stringing six short, accurate passes about the Spurs midfield and signalling a sign of intent inside the first two minutes.
Except Tottenham only saw that as a challenge, spending the remaining 88 minutes stroking the ball from right to left, into the middle, backwards and forwards and repeat. You rather felt Antonio Lahoz would be better advised to sit high in the stands and referee the game from a television monitor instead of attempting to keep pace with the exhilarating speed of attack.
Spurs created chances: Jermain Defoe should have had a goal to his name by full-time, while Gareth Bale and Gylfi Sigurdsson could both have found the net on more than one occasion.
The relentless thirst for creating opportunites and entertaining a home support experiencing and embracing a golden era seemed second nature. There were few, if any, moments of panic and regulars this season will attest to the team's adjustment in attitude. They are riding the crest of a wave that keeps on rising.
There has been an air of scepticism surrounding Spurs' participation in the Europa League this season though. This generation have almost unanimously treated the tournament with distrust, tarring it as the millstone around the neck of the club focused on Champions League qualification.
But there is something about this "prestigious win" as Villas-Boas described it, as registering above a victory over Maribor or Panathinaikos. This was a victory over a club accustomed to regular Champions League participation, like Lyon before them.
Barring a major catastrophe next Thursday, Spurs will be in the hat for the quarter-finals and dangerously close to emulating the 1984 Uefa Cup-winning side. Until now the tournament has felt like a formality. Get out of the groups and see how you do afterwards. That was the order of the day.
Except in Villas-Boas, Spurs, have a manager with as much fascination and attachment to Europe's second competition as the club. The ultimate aim for the season might be the top four, but wouldn't it be splendid if Tottenham found themselves flying to Amsterdam in May?
You get the feeling the players rather enjoy the taste of victory too, but equally so when the dish is of European origin. This was a win as much for the confidence as it was for the remainder of the season.
Villas-Boas has explained his preference for a busy schedule as it focuses the players, but on Thursday he elaborated further.
"In the latter stages, your body gets more tired but the rewards are greater. Although the legs can be tired, the mind can be excited," he said.
There might be an element of kidology present too. Villas-Boas stated his belief that Inter were the best team remaining in the competition, which now takes on even greater meaning. A 3-0 win over the best team in the tournament?
Tottenham are showing no signs of abating. Clint Dempsey and Emmanuel Adebayor are close to first-team returns, leaving only Aaron Lennon a doubt after he hobbled off with a hamstring problem. Of the first-team regulars used this season, Villas-Boas almost has his entire squad available to fight on two fronts.
The progress the team has made over the season has been remarkable. Gone are the clunky, lifeless midfield displays, replaced instead by skill and will, craft and graft, highlighted in Gylfi Sigurdsson and Scott Parker's recent resurgence.
While Chelsea and Newcastle labour in the knockout rounds, Spurs are seizing their chance. There is some way to go, but Villas-Boas had an air of confidence that suggested when May rolls round, he expects to still be fielding questions about winning this tournament. Those at White Hart Lane on Thursday would be more than happy to field them.
Follow Jay Jaffa on