With the country bathed in some half-decent spring sunshine (finally), many of football's finest have been enjoying the rays in the close-season.
Joey Barton has encouraged followers to make the most of the high temperatures, as has Arsenal and England attacker Alex Oxlade-Chamberlain, while Rio Ferdinand has jetted off to traditionally-warmer climes.
Meanwhile, defenders Joleon Lescott and Zak Whitbread have wished fond farewells to two legends from their respective clubs, while Rafael van der Vaart has reason to celebrate despite Tottenham missing out on Champions League football.
England great Gary Lineker in Broadway, Tim Krul in Munich and Jack Wilshere in a Swedish hospital complete our round-up of the best of Twitter in the last 24 hours...
"Surgery went well.....one problem, I'm STARVING! Get me a pizza now........."
Arsenal
's long-term absentee midfielder
Jack Wilshere
is back on the road to recovery following knee surgery in Sweden. Not sure they'll deliver to the ward, Jack...
"Went to see the staggeringly brilliant production of 'Death of a salesman' in NY. Seymour Hoffman and Garfield are sensational #superb"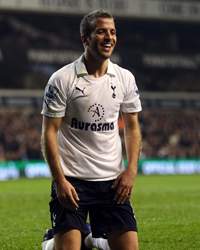 Ex-England striker
Gary Lineker
enjoys a cultural evening on Broadway as he attends the latest rendition of Arthur Miller's classic.
"Very proud of @sylvievdervaart for winning a lifetime achievement award!! #deserved"
After a disappointing end to his own season,
Tottenham
's
Rafael van der Vaart
hails his missus for her prize at Dutch Fashion Day.
"We are all just travellers passing on a journey. Enjoy today its Sunny."
Never shy of an epiphany or two,
Joey Barton
keeps it brief with his tip for the day.
"Just en route to Bangkok, Thailand!! Looking forward to seeing the people of Thailand + eating some of the great food!"
Having missed out on Hodgson's squad for the summer,
Manchester United
defender
Rio Ferdinand
jets off to the Far East for a close-season break.
"Half an hours break now back to the classroom-learning about the future game this afternoon!"
With brother Gary now part of the
England
set-up,
Everton
skipper
Phil Neville
determines not to be left behind in the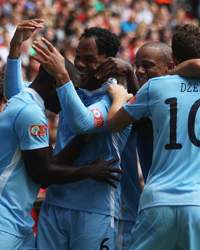 realm of coaching expertise.
"Sad day for @MCFC today @steaziz_kitman is leaving us. Hard worker and all round top guy. Good luck with the new job geez."

Manchester City
and
England
defender
Joleon Lescott
bids a fond farewell to club kitman Stephen Aziz ...
"Out and about in the city what a day about time! Already seen a good few @celticfc fans looking forward to 2night now! Get down there later!"
... Whilst
Norwich City
defender
Zak Whitbread
looks ahead to tonight's testimonial match for Canaries veteran
Adam Drury
.
"Landed in Munich.. tonight #Bayern vs #Holland preparation for #EURO2012 ..!! Shock it's sunny in Newcastle when we aren't there!!"

Newcastle
stopper
Tim Krul
looks ahead to tonight's exhibition match having left the disarmingly-warm weather in the North East.
"COYS lol"
Something of a cryptic tweet from the
Spurs
full-back
Benoit Assou-Ekotto
, whose future at the Lane is somewhat shrouded in doubt.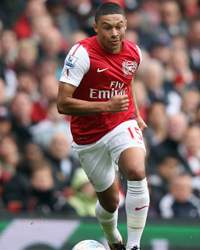 "Didn't think drake would get topped this year but jay z and kanye took it to a whole new level!!! #bestconcertever!!!"
A little less vague from teammate
Jermaine Jenas
, however, who becomes one of the first footballers this year to praise someone other than Drake on the hip-hop scene.
"This weather is too nice! make the most of it people its a rare thing at the moment! :D"
Finally,
Arsenal
and
England
youngster
Alex Oxlade-Chamberlain
calls on his followers to make the most of today's rays ...
"Had a good day playing COD MW3 collection 2 maps with @kyle28walker even though he got the better of me! #spon"
... Something which fails to get through to
United
's
Tom Cleverley
, who opts to keeps out of the sun with a little gaming action with
Spurs
'
Kyle Walker
.