With Andre Villas-Boas' men suffering a heavy loss to Napoli, the football community expressed sympathy and praise for both sides, among other topics
On Wednesday, Chelsea's 3-1 defeat against Napoli was the main topic of discussion for most of the Premier League elite on Twitter. But, they don't all live football 24 hours a day as Shrove Tuesday, The Brits and Rory McIlroy's training regime were all also on the agenda.
West Ham's Ravel Morrison exhibited his inability to grasp the concept of an internet search engine, as he reached out to his followers for the address of his new club's website.
Phil Jones and Alex Oxlade-Chamberlain had contrasting experiences of 'Pancake Day' while Michael Owen, Rio Ferdinand and Samir Nasri all watched the Champions League clash.
Here is Goal.com's round-up of the latest happenings involving footballers on the social networking website:
"When your luck is out....... Chelsea dominating yet 3-1 down"
Manchester United's Michael Owen sympathises with Chelsea during Napoli match.
"Great performance by Napoli good, solid team and really strong up front now time to focus for our game tomorrow against Porto"
Samir Nasri shows no empathy to his Premier League rivals turning his attentions to Manchester City's game against Porto.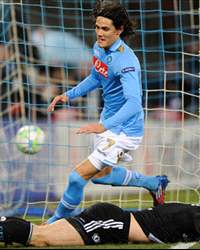 "Cavani is the type of player I'd pay to go and see....game comes easy to him, natural. He will cost someone a lot of money soon."
After watching the performance of the Uruguayan United's Rio Ferdinand complimented the Napoli player, although outlining a potential transfer hurdle.
"Who knows west hams official website ?"
West Ham's Ravel Morrison is either lazy or unable to use a search engine after asking his followers to direct him to his new club's official website.
"My other #BRITS highlights spurs fan @OfficialAdele cleaning up & @rihanna dance moves wow"
Champions League football was not enough to deter Tottenham striker Jermaine Defoe from watching the musical award show.
"@McIlroyRory whats your session this morning Rory? Warm up 10 mins bike then 12x30secs sprints(30s rest) at 18/22kpm on treadmill!"
Everton captain Phil Neville takes an interest in the fitness regime of the Northern Irish golfer.
"Night of not moving and icing me ankle injured in the 4-1 win today great result @andiweimann is goal machine.
"Ankle of mine is keeping me awake #throbbing"
Barry Bannan reveals injury picked up during 4-1 win for Aston Villa reserves.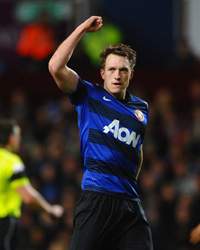 "Thank you for all the birthday wishes people. Getting ready to abuse my stomach with pancakes! #pancakeday"
United's Phil Jones celebrates his birthday by gorging on pancakes.
"No pancakes for me today, its taken me till this late on to realise it is pancake day! #Stinker"
Arsenal's Alex Oxlade Chamberlain reveals he did not realise it was Shrove Tuesday until it was too late to celebrate.