COMMENT

By Jay Jaffa
Much like a roller coaster,
England
's travails in major tournaments seem to follow a fateful pattern. We can all see it coming, we can all predict the journey and no matter how many times you embark, the finale is always the same. The gradual rise – the 'this isn't so bad' feeling - before the sudden, despairing fall. It is a white-knuckle ride; a ride which, by its conclusion, we all wish we'd never got on.
I should have known really. USA '94 is my earliest memory of an international tournament and England were not even present. Expectations were literally at an all-time low.
ENGLAND'S HIGHS & LOWS

WORLD CUP 1990

FROM EXTRA-TIME ECSTACY...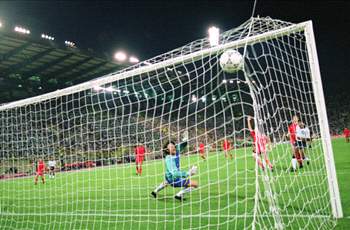 TO SEMI-FINAL AGONY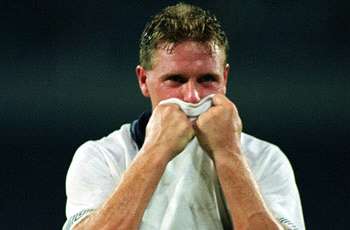 WORLD CUP 1998

FROM MOMENTS OF INSPIRATION...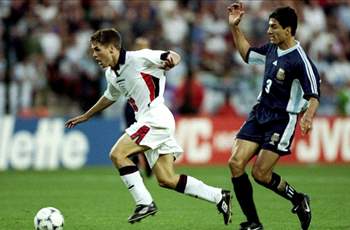 TO MOMENTS OF MADNESS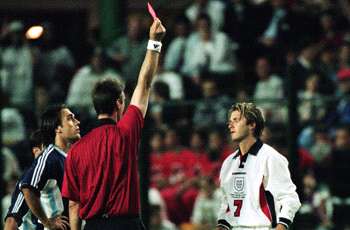 EURO 2004

FROM THE NEW KID ON THE BLOCK...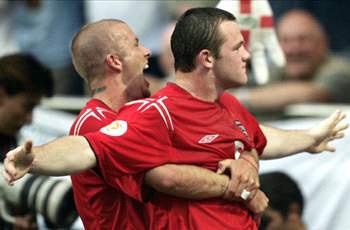 TO THE SAME OLD STORY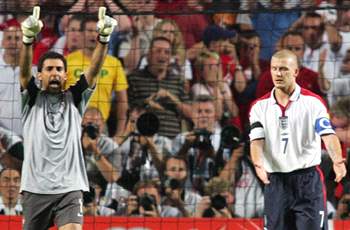 Instead of watching Tony Adams and Stuart Pearce bellow the national anthem out at Giants Stadium, I was subjected to Jack Charlton wantonly throwing expletives at a fourth official so out of his depth he couldn't even facilitate a mere substitution.
Perhaps the reason football seemed to be so captivating back then was the absence of the one team capable of inflicting so much hurt and anguish. No-one knew it then, but Carlos Valderrama's fluffy hairstyle symbolised the comfort blanket all English fans needed in the years to come.
The hook was in though. The next tournament was coming home, Euro '96 had arrived. The country was awash with patriotic pride, or at least for the opening 1-1 draw with Switzerland – before then just 34,000 people attended Wembley for the penultimate pre-tournament friendly.
You can't put a price on the allure of an underdog and with a dismal Euro '92 exit and failed '94 qualification campaign, England were as bad as they came. A 'major' football nation had plumbed new depths.
But as Baddiel and Skinner's 'Three Lions' became the theme for the summer and harked back to 30 years of hurt I could only expose by questioning an emotionally scarred family, England did what we're now so accustomed to. Wins over Scotland, Netherlands and Spain were met with a rumble of press and public hype. We were going to do this.
Germany's Kuntz helped take the semi-final to extra-time. As Andreas Moller stroked his decisive penalty into the top corner, a nation groaned and vowed never to eat at Pizza Hut again.
Glenn Hoddle's and Kevin Keegan's reigns began encouragingly – a gentle ascent towards a major tournament before watching all the hard work come undone. Misfortune had deserted the team and was replaced by moments of madness and sheer stupidity.
Michael Owen's scampering gave us hope, before David Beckham's calf-raking ended it.
"You let your country down" has become the staple terrace anthem post-tournament aimed at whichever blundering excuse for a footballer had destroyed a nation's hopes. It's always one man in that one moment – never the 10 other ditherers – because naturally, without that ineptitude we were going to win it...
Phil Neville's penalty push, a lobbed David Seaman, Darius Vassel's saved spot-kick, Wayne Rooney's testicle stamp and all eleven ditherers in South Africa.
There wasn't even a 2008 campaign to get excited about; McClaren's bungled duels with Croatia saw the brollied one turfed out after just 16 months. The 'second-choice Steve' journey was less roller coaster, more bungee jump with a very sparsely braided rope.
Put kindly, the last twenty years have been... disappointing.
So you'd think hiring a new manager six weeks before the European Championships would suppress expectations. But somehow, botched preparation, ranking just higher than sending your team to a faith healer, has whipped up a frenzy of support. Again.
Roy Hodgson and his motley crew, as famed for those absent as those present, have captured the hopes of a nation – me included – as their unique game-plan of allowing the opposition the ball for 90 minutes is
working
.
There's no logical reason to it – just by virtue of bludgeoning our way to the summit of Group D, winning the thing seems possible.
If we do make it past Italy – far from a certainty, given (a) they're quite handy (b) we're pretty average and (c) we live for quarter-final catastrophes - you can see who's lurking in Warsaw.
A semi-final loss to Germany, probably on penalties, is the most likely exit this summer. But you know what? This feels like no other year. Everything about this season in England makes me feel like this is it.
It's the hope that kills you.