Kris Voakes

Euro 2012 correspondent


Follow on
ANALYSIS
Athens was full of them, it seemed. Liverpool fans participated in seemingly endless congas before, during and after the 2007 Champions League final against AC Milan, singing all the while in praise of their most effective midfield unit in years. "We've got the best midfield in the world," they claimed. "We've got Xabi Alonso, Momo Sissoko, Gerrard and Mascherano."
This was different from the trusty old "We're by far the greatest team the world has ever seen" that even Lincoln City fans often sing. Reason being, the Merseysiders may have been right. One of the best midfield quartets in England in recent times had helped take Liverpool to a second final in three attempts. But it wasn't enough to bring home a sixth continental title, thanks to Andrea Pirlo and the Rossoneri.
Five years on from his last European triumph, Pirlo again faces Steven Gerrard among English opponents as he bids to take Italy one step nearer a first continental championship in 44 years, and until now he has been one of the more vital members of any side at Euro 2012.
PEERLESS PIRLO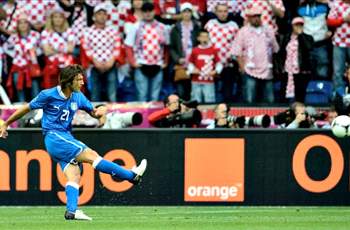 v SPAIN

60'

Assisted Di Natale goal
WHAT A FINISH FROM DI NATALE!!! That could well be his first touch! Italy take the lead with a superbly-taken finish from the substitute Di Natale after Pirlo had done brilliantly to curl a ball in to the attacker.

v CROATIA

39'
Scored free-kick opener

GOOAAALLL ITALY! Sumptuous free-kick from Pirlo! From the corner of the box, the midfield maestro curls the ball expertly up, over the wall and into the bottom corner. It's a fabulous effort. ITALY 1- 0 CROATIA.
Over the past season, his first with Juventus, he turned in perhaps his best-ever campaign to carry the Bianconeri to a first official title in nine years. At the age of 33, he is arguably as good as he has ever been, and during the European Championship so far, he has shown he is Italy's key to glory too.
Against Spain he was the Azzurri's heartbeat, with their goal having Pirlo's stamp all over it. Skipping beyond Sergio Busquets, one of the best defensive midfielders in the game, he drew another man and delivered a perfectly weighted left-foot pass for Antonio Di Natale to finish with confidence. "Pirlo worries me," Spain coach Vicente del Bosque had said pre-match, and the midfielder showed why he was so feared.
Next up came Croatia, with coach Slaven Bilic admitting: "We have to press Pirlo, he can decide the outcome of matches alone," and Pirlo very nearly did just that. He delivered a free kick with such perfection that goalkeeper Stipe Pletikosa could do absolutely nothing. His effort was curled between the heads of the last two men in the wall and into the bottom corner. It was about the only spot Pirlo could score in, and he found it expertly.
The final group game against Ireland was different, though. The Boys in Green pressed high, forced Italy into more rushed attacks, never allowing their esteemed opponents to settle. It worked to an extent, with Giovanni Trapattoni finally getting a passable performance out of his side. Their approach didn't suit Italy and certainly didn't suit Pirlo. Whereas he'd had time on the ball over the first two games, he was unable to stamp his authority in those 90 minutes in Poznan. It was never going to be enough for a poor Irish outfit to get anything from a much more technically gifted outfit, but it was a sign of how he can be stopped.
England may well look to deliver a similar kind of performance to that which saw their rivals from the British Isles put the frighteners up Cesare Prandelli's men. The fast-paced Premier League is a breeding ground for the kind of physical, breathless football to which Italians have never really adjusted on the whole, and Pirlo has historically struggled when given something else to think about beyond simply which killer pass to pick.
Pirlo worries me. In the ranks of the Azzurri there are excellent players in every department"





- Spain coach Vicente del Bosque

If a team of the tournament were drawn up right now, Pirlo and Gerrard would arguably both be in it. But is the Liverpool man the right person to be detailed with the job of quelling the threat of the one-time trequartista? One would suggest not. Scott Parker would be the more likely candidate given his more disciplined approach, plus England's need to give their skipper whatever attacking freedom they can if they are to trouble the Azzurri.
But there is more than just that to consider. How high must the defensive line go if the midfield pushes up onto Pirlo? It is one thing forcing the regista into his own territory, but cutting out his through-balls is entirely another. If the back line doesn't also advance, it could give him spaces between the lines into which he could thread passes. If they do push up, he has the range to play in the likes of Antonio Di Natale off the shoulder of the last man.
And can England reasonably press him for 90 minutes? Parker is now 31, and an entire knockout match tracking one of the quickest thinkers in the modern game is hardly the ideal job for him. Neither can the back four be reasonably expected to deal with every pass – short or long – that Pirlo finds the time and space to deliver, especially if they concede ground as they did at times against Sweden and Ukraine in Group D. Ireland closed him down, but did so with players with less ambition in an attacking sense and therefore more deeply-woven defensive discipline.
"We have to press Pirlo, Italy's most important player, but I have to decide how. He can decide the outcome of matches alone"





- Croatia coach Slaven Bilic

They tried wherever possible to cut off the supply line to Pirlo, and it is with similar approaches that he has been kept quiet before. It is notable that his most successful seasons have come when supported by a dynamic ball-winner alongside him. During his highs at Milan and at the 2006 World Cup, there was Gennaro Gattuso, while at Juve he has had Arturo Vidal doing his dirty work.
Roy Hodgson's job now is to mix attacking instinct with that necessity to keep an eye on the greatest midfield playmaker in the game at the moment. They need to close down the space they may be offering up, but must also have their forwards and wide players pressing high to ensure Pirlo gets as little ball as possible.
It may mean the kind of pragmatic performance for which they received criticism after drawing with France, but to ignore or misjudge the danger that is Andrea Pirlo is to book a flight home before the semi-finals.