The Scandinavian coach bade farewell to his hopes of leading his team into the knock-out stages, but his positive attitude makes him a man who the tournament will miss
Kris Voakes

Euro 2012 correspondent

Follow on
COMMENT
It can't have been easy for him. Erik Hamren appeared before the press at the plush Platium Hotel in Kiev just 12 hours after his big dream had died. He can't have had too many post-match dreams either, since he appeared to have slept little.
This was not the way this tournament was supposed to go for the Sweden coach and his players. So many believed that they could follow the Greece 2004 model, but instead they copied the 2008 version. Out after two games, the time for reflection begins.
But he was at least encouraged. The 3-2 defeat to England was the final nail in the coffin, but the truth of the matter was that the earlier loss to Ukraine had done all the damage. A glutton for punishment, he watched the Ukraine game again at 4:00 on Saturday morning. Still, the performance on Friday at the Olympic Stadium gave him reason to hope.
"I always try to look after the game at what we have done good and what we have done bad, because then we can work to be better," he told Goal.com. "We can find a lot of positives in what we did in the first half, and especially the second half. I was satisfied with the way we showed great attitude, and that's why I feel quite strong today.
"We did a lot of good things, but good teams have bigger margins, they bring luck because they are skillful and we are not there yet. But we're working on it."
The widespread belief among many Swedes in Kiev is that a similar XI to the one that started against England would have borne more fruit against Ukraine. Admitting he had his own regrets, the coach was realistic about mistakes made.
"Let England win the whole s**t. Don't hang the players, hang me"



- Erik Hamren

"I'm always self-critical. So of course I wouldn't have done things the same, but you never know. That's the problem in being a coach. You can think 'maybe if I had done this, if I had done that, maybe it could have been different', but you never know. Maybe it would have been the same.
"If you pick a different defence against Ukraine, maybe it would have been the same sort of game, so I have learned as a coach that you need to be self-critical, but you can't bury yourself in all those thoughts. I think all people do that if you have done something you're not satisfied with."
Despite his rather drawn appearance, the coach remained in jovial spirit, saying he will be backing Roy Hodgson's England to now complete the task he had originally set his own side.
"In my opinion they have a good chance to go further, as they only need one point against Ukraine. And if they go to the quarter-final, anything can happen. We saw it before with Greece.
"I like Roy, very much, and I have some friends in England. So for them, I will support them, and I wish them luck. Let them win the whole s**t!"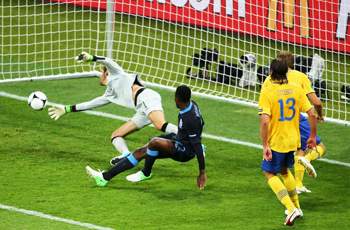 "The operation went well, but the patient died"
- Eric Hamren

Hamren's immediate job is to pick up his players and encourage a performance out of them against France on Tuesday, with pride still to play for and around 20,000 compatriots still in Kiev hoping to see their heroes finally grab three points. But he realises the job has not been successful, despite finding positives in the team's attitude.
"The operation went well, but the patient died," he exclaimed.
"The France game is important for us and important for other teams, so I will ask for the same professionalism they have shown [so far]. I have to say, the way the players were talking and working like a group after the game last night was fantastic, so I don't think they weren't going to be professional."
Not quite at the end of their stay, but at the end of the line, Sweden must play for pride, but Hamren apportioned responsibility with his usual candour.
"You should hang me, not the team," he said.
His players have under-performed, and for that he may well shoulder some of the blame, but Hamren the Hangman will be a great loss to the tournament.