ANALYSIS
By Inaki Angulo in Gdansk
Of the multiple virtues shown in
Spain
's spectacular successes in Austria and Switzerland, and then in South Africa, the defence was the least lauded. Playing behind a midfield praised for its creative passing, the back line rarely receives its due.
The numbers, however, show that it is the defence which has allowed La Roja to achieve glory: no goals were conceded in the quarter-final, semi-final or final of Euro 2008, nor in the last four games at the World Cup two years later. Such stability at the back looks unlikely to be repeated at Euro 2012, at least on the evidence of Sunday's opening game against Italy.
CHANGES AT THE BACK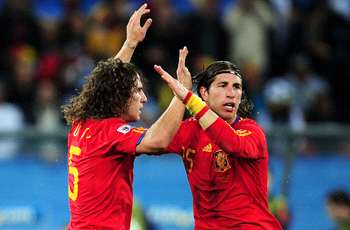 In the absence of Carles Puyol, Sergio Ramos (a right-back at Euro 2008 and in the last World Cup) has switched to a central role like the one he occupied at Real Madrid last term.

With Ramos moving across, Alvaro Arbeloa comes in on the right, while Jordi Alba is now first choice on the opposite flank, with Euro and World Cup winner Joan Capdevila now out of the picture.

In Austria and Switzerland, Carlos Marchena (no longer involved) partnered Puyol at the back, the same summer Gerard Pique signed for the Catalan club.
With Carles Puyol missing because of a knee injury, Spain lost their spiritual leader for the tournament, not to mention his contagious commitment and bravery at the back. Puyol's injury also affected Gerard Pique, a player always better and more focused when his club colleague and friend is alongside him.
It is still too soon to evaluate the performance of Pique and Real Madrid's Sergio Ramos as a partnership for Spain, early signs were far from positive. Ramos lost the ball on several occasions as he emerged from the back and allowed Mario Balotelli a clear run at Iker Casillas' goal following another mistake. Luckily for the Madrid man, the Manchester City striker could not capitalise.
Pique, often prone to lapses in concentration at the World Cup in South Africa, has been below his best over the last 12 months, meanwhile, the full-backs were also given a tough time by the Azzurri and were booked.
Spain need full-backs able to double up in defence and attack, just like Valencia's Jordi Alba. The 23-year-old, however, was passed at will in the opening stages of the match and will need to improve. Both he and Alvaro Arbeloa are also now just one card away from a ban, with Atletico Madrid's Juanfran Torres the only other full-back in the squad. He looks likely to be needed.
It is often claimed that while strikers win games, defenders win championships. But with Spain converting fewer chances than they should with their possession play, it rings even more true now. Alba, Arbeloa, Pique and Ramos must take a step forward following their unconvincing outing against Italy because they are only as strong as their defence - as shown in the last two tournaments.
For all their attacking brilliance, defensive discipline holds the key to a third title in a row.