Michael Hansen


Denmark Expert

Follow on
Denmark
and their striker
Nicklas Bendtner
will be in confident mood heading into their encounter against
Portugal
on Wednesday.
Winning their opening game 1-0 against Netherlands is one thing but equally important is that the Seleccao were in the same qualifying group as the Danes - and Bendtner's record against the Portuguese isn't half bad either.
The Arsenal striker, who spent last season on loan at Sunderland, has scored in three of his last four outings against Portugal which will surely give him a boost knowing that he can do the business against Paulo Bento's side.
Indeed, Morten Olsen's men finished top of their Euro 2012 qualification group after beating Portugal in their final game. However, the two countries were also in the same qualifying section for the 2010 World Cup so Portugal are a team that Denmark are incredibly familiar with playing against.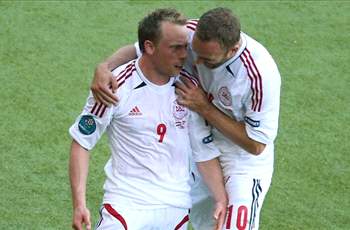 "Olsen has the luxury of having a fully fit squad apart from the question of who plays left-back"
Two wins, a draw and a defeat for Denmark gives them, on paper at least, the psychological advantage.
The Danes were well beaten 3-1 back in October 2010 in the first Euro 2012 qualifying encounter but as Olsen commented in Tuesday's press conference, in that game he had many key players missing through injury and did not field his strongest line-up compared to the starting XI which beat Netherlands on Saturday.
The players absent were: Stephan Andersen, Daniel Agger, Niki Zimling, Simon Poulsen, Christian Eriksen, Michael Krohn-Dehli and Bendtner. In the 2-1 win in Copenhagen a year later, which gave Denmark first place in their qualifying group, only Andersen, Agger and Simon Poulsen were missing.
Andersen and Agger are certain to start against Portugal on Wednesday, but there is a possibility that Olsen will spring a surprise and replace Poulsen with left-back Michael Silberbauer.
Why? Because Silberbauer played very well in the Copenhagen clash and was instrumental in frustrating Cristiano Ronaldo. Silberbauer is needed for his defensive capabilities whereas Poulsen is also necessary when Denmark have the ball in the opposing team's half.
The question is whether Olsen prefers to have a more defensive-minded left-back because Ronaldo (or Nani depending on who will play on the right side) must be neutralised as much as possible.
If Denmark lose possession, they will need their full-backs in their own half rather than in the opponents' side of the pitch. Not only because of the danger from Ronaldo and Nani but also because Portugal's two full-backs are eager to join the attack.
Due to this, right-back Lars Jacobsen will get a similar role as Denmark's left-back against Portugal, being instructed not to move into the Seleccao's half more than is considered necessary.
Should Poulsen start the game, he is in a magnificent form after all, I expect him to be given a more defensive role than he enjoyed against Netherlands. Olsen has the luxury of having a fully fit squad to choose from and apart from the question of who plays left-back, he will field the same line-up as in their opening game.
It will be the usual 4-3-3 formation with the emphasis on defending and scoring on the counter. The defending, and a controlling midfield, will be more visible in the Portugal game, because Olsen will not allow Portugal to get as many chances or as much time on the ball as Netherlands had.
Portugal will not be as wasteful as the Dutch were and they will score if they get the opportunity and Olsen knows this. He will go for the win, but you suspect he will not be too unhappy with a draw.