Raphael Honigstein

Euro 2012 Columnist


Follow on
"No," insisted Philipp Lahm to widespread relief on Thursday, German Chancellor Angela Merkel did not discuss tactics on her visit to the team hotel on Wednesday night.
A little later, German national coach Joachim Low threatened to follow up one curveball - Jerome Boateng's late-night hotel room dalliance with an unbearably blonde reality TV Z-lister - with another one: Leverkusen's Lars Bender could replace the Bayern Munich man at right-back, he warned, before answering the killer question the whole of Germany was asking.
"How many sit-ups do you manage everyday?", the reporter from Men's Health queried. "It's news to me that I'm doing any sit-ups," replied Low, rather archly.
The next day, assistant coach Hansi Flick apologised for saying that Germany needed to wear "a steel helmet" when it came to Portugal's free-kicks. "I'm sorry for the militaristic vocabulary," he said on reflection.

Yes, it's fair to say that the German preparation for the tournament has been a little funny, in both senses of the word. For starters, did German football sex scandals not belong firmly in the past, in the era of moustaches and badly-coiffed Drecksaue (tough guys)?
Leaving that aside, there is certainly a sense that things haven't quite panned out the way Low had envisaged after superb performances in the qualifiers, despite his insistence that he was "as relaxed as possible" before the opening game against Portugal. Flick was worried to offend local sensibilities with his incongruous metaphor.

Two decidedly uninspiring friendlies, a 5-3 defeat against Switzerland followed by a 2-0 victory over Israel, have nevertheless left so much doubt in the public's mind that Jens Lehmann went as far as describing qualification for the quarter-finals as "a success".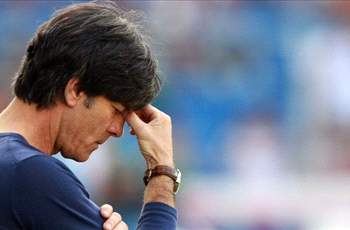 German angst

is not

nearly as bad as before the 2006 and 2010 World Cups, but the uncertainty about the side's current form is unsettling
That might be a tad pessimistic, but there are some serious question marks. Right through the spine of the side, Per Mertesacker, Bastian Schweinsteiger and Miroslav Klose have been battling fitness problems in recent months. Then there is the distinct lack of preparation time.
In 2008 and 2010, Germany benefited from a month of intensive, highly specific training that allowed them to play with the collective cohesion of a club team. This time, Bayern's participation in the Champions League final and Dortmund's successful involvement in the DFB-Pokal final meant that the whole squad came together just two weeks before the first group game.

German angst is not nearly as bad as before the 2006 and 2010 World Cups, when many feared the worst, but the uncertainty about the side's current form is unsettling.
The unease is acerbated by the quality of the opposition. In the last two tournaments, Germany lost a group game against each of the strongest teams - Croatia and Serbia - but they surely cannot afford to slip in similar fashion this time.
The one thing Germany do have is a settled line-up. The expected starting XI is almost identical to the team that excelled in 2010 against England and Argentina, with the much-improved Bayern centre-back Holger Badstuber in for Arne Friedrich, and Lahm and Boateng on opposite sides of the back four.
Low's threat to bring in Bender was but a warning shot across Boateng's bow. No one truly believes that the coach, who is very loyal and trusting towards his players, would really try out the Leverkusen man in a position he's never played for at his club, let alone for the national team.

Among the players, there is genuine confidence in the side's ability. "We have the tactics to beat Spain," said Sami Khedira 11 days ago. But as the Champions League final showed, being the better, or even best-equipped, side does not automatically equal results.
The biggest problem of all for Germany, then, is the knowledge that they must bring their maximum potential to the fore if they are to achieve the minimum that is expected of them. Anything but a win in the Kiev final will be se seen as a disappointment after the close shaves of recent years.
The stakes are far too high, in other words, to make the nightmare scenario of a group stage exit a laughing matter.
Raphael Honigstein is The Guardian's German football correspondent and is talkSPORT's expert on all matters concerning Germany. Honigstein also writes for the BBC and Sports Illustrated, as well as Suddeutsche Zeitung. Before getting involved with journalism Honigstein studied law and has also written books including 'Harder, Better, Faster, Stronger' and Englischer Fussball: A German View of Our Beautiful Game.