With the best line-up and bench at the tournament, Low's side have all the tools they need. The question is: will they play to their potential, or will doubt end their dream?
Clark Whitney

In Lviv

Follow on

COMMENT
Two years ago, Germany played the best football at the 2010 World Cup. Scoring four goals on three occasions, including against England and Argentina, the Mannschaft one-by-one blitzed their opponents into submission. Only a refereeing travesty from Alberto Undiano Mallenco and a rare missed penalty against Serbia served as a blip - otherwise, sensational performances from Joachim Low's side headlined the tournament. But Germany did not lift the trophy: Spain did.
In the semi-final, La Furia Roja and the Mannschaft met in a rematch of the Euro 2008 final, which ended in the same result: 1-0 to Spain. It was not a beautiful victory - the clash was decided by a header from a corner. Germany were without suspended tournament top scorer Thomas Muller, but in fairness had themselves to blame as they played well below their previous peaks.
Perhaps traumatised by their 2008 defeat, the Germans appeared to lack the mental fortitude to progress. Surely enough, a lapse in concentration proved to be their downfall as Spain scored a rare goal from a set piece, earning their third out of four 1-0 knock-out round victories in the tournament. For Germany, it was avoidable: had they played to their potential, they could have - and perhaps should have - won.
IN NUMBERS
Germany's 'Nearly Men'

20
World Cup, European Championship & Champions League finals appearances among players in Low's squad
24.5
Average player age for Germany at Euro 2012
768
International caps among the Germany selection
189
International goals scored by members of the 23-man squad
0
World Cup, European Championship, or Champions League wins among players in Low's squad
Spain are for now slight favourites to defend their Euro title, but expectations in Germany are that Low's team will come out victorious. The current Mannschaft is far better than that from 2010, both in the starting XI and most importantly in depth. The latest squad has earned high praise from some of the leading authorities in German football: Franz Beckenbauer even labeled Low's selection the best his country has ever had.
Germany have all the right weapons: the best available first XI, two or more top players available in every position. If a defender is suspended, Benedikt Howedes, Jerome Boateng, or one of Mats Hummels and Per Mertesacker is able to stand-in. If they need a goal, they can call upon a veritable arsenal of threats, ranging from pure finishers like Mario Gomez to slaloming dribblers like Marco Reus to playmaking wizards like Mesut Ozil and Mario Gotze. If midfield fulcrum Bastian Schweinsteiger is unavailable, Toni Kroos and Ilkay Gundogan can deputise.
What's more, Germany have by far the tournament's youngest squad, yet more international experience than nearly all the other contenders. With a combined 189 goals, the Mannschaft boast the most prolific crop of players that will participate. Lukas Podolski, who only turned 27 on June 4, already has 97 caps and 43 goals for his country.
A look at the other front-runners reveals some serious concerns. Spain are without talismanic goalscorer David Villa and defensive cornerstone Carles Puyol: whether they can adjust remains highly questionable, and can only be determined when they play elite opposition. Joan Capdevila is gone, and Xavi, who made two costly defensive errors for Barcelona in their Champions League loss to Chelsea, is no longer able to cover all the ground necessary to make him the influence he was in previous years. All in all there is plenty of experience in the Spanish selection, but just as many question marks.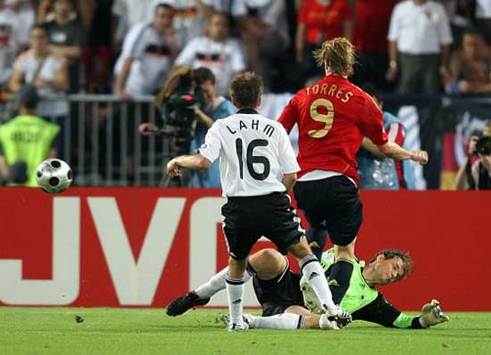 Great expectations | Germany were favourites at Euro 2008 but failed to live up to their billing
Netherlands, meanwhile, have a very suspect back four, and their defensive midfielders are past their best. Wesley Sneijder has been off form since 2010, while Arjen Robben had an abysmal season with Bayern Munich, twice missing penalties that cost his team silverware. Their strikers are improved, but position-by-position, the Dutch are not quite on the level they were at two years ago. Simply put: at Euro 2012, Germany need only to rely on themselves: if they play to their potential, they will emerge victorious.
Whether Germany will indeed summon their best form and lift the trophy remains a serious concern for Low, who has no shortage of history to look back upon as a precedent. Even with a lesser squad than now, four years ago they were bookkeepers' favorites heading into the tournament, but laboured their way to the final despite avoiding the continent's strongest powers. Similarly, Bayern Munich - a team with eight Germany internationals - were heavily backed to win the 2012 Champions League final, but lacked the constitution to cross the finish line. As talented as they are, the current crop of German players are uncomfortable with the label of "favourites," and in their relative youth, the pressure of expectation could be too great.
Germany will play an attractive brand of football at Euro 2012, but in the end, all that will matter are the results. Spain were not at their best and were far from convincing at the World Cup, but were effective, grinding out results by any means necessary. The holders set off to defend their title with a weakened squad, while the Dutch are no better than in 2010. Germany have made the greatest strides in the last two years: if they play at their best, they will not fail. Should the Mannschaft reach the final, only their own self-doubt can stop them.