PROFILE
By Jan Hagen

Marcos Rojo is the latest man to measure up to the very particular specifications of Louis van Gaal.

The Manchester United boss has been on the look-out for very particular players all summer, to the point where he has prioritised the signing of a left-footed, ball-playing centre-back who can provide cover on the left flank. No mean feat.

And after Thomas Vermaelen chose Barcelona - a decision which left Van Gaal reeling - Rojo shot to the top of the list.

The 24-year-old was impressive at left-back in the Argentina team which reached the World Cup final, and has played centre-back at Sporting for two years, starring as they finished second in Portugal last season.
It would appear he ticks all the boxes, but for all the progress and plus points, United should know what they are getting themselves into.
He certainly has many good attributes; his passing is one of his key strengths as a centre-back, and one which has likely attracted Van Gaal's attentions. He is also a something of a powerhouse, standing over six feet tall with a strong physique, allied to blistering pace and a decent aerial presence.
Heading into the World Cup he was considered, alongside goalkeeper Sergio Romero, one of
La Albiceleste's
weak spots, but he actually played very well and was a dependable presence in defence while adding an attacking outlet alongside the likes of Lionel Messi, Sergio Aguero and Gonzalo Higuain.
During his country's first match against Bosnia he clocked a top speed of 31.79 kilometres per hour, marking him out as one of the fastest players at the tournament.
He's not lacking in confidence either; in Argentina's first match he cleared the ball away by flicking his left leg behind his right and executing a perfect Rabona in his own area.

But appropriately for somebody called Rojo ('red' in Spanish), he is a hot-head. He himself admitted as much on Sunday as he apologised for going on strike in order to force his move to Old Trafford.

Six Primeira Division games into his first season in Portugal he was sent off against Porto as Sporting endured a torrid start under Ricardo Sa Pinto, who was responsible for playing him at centre-back in the first place. Later in the campaign, as the form of both Rojo and the team picked up following Sa Pinto's dismissal, he saw red again against the same opponents.

He does have a tendency to launch himself into challenges or angrily kick the ball away after a decision is given against him, which explains his 20 yellow cards and four reds in the last two seasons at Sporting alone.

He can also be canny, and was suspended for Argentina's semi-final against Van Gaal's Netherlands after picking up his second yellow of the World Cup for clipping Switzerland's Ricardo Rodriguez as he broke away down the left.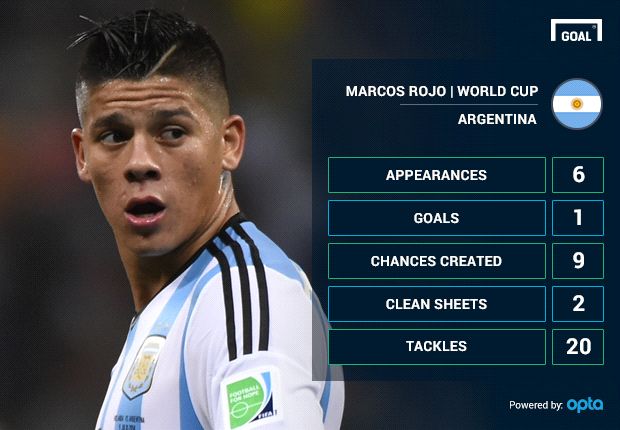 And while he can tend to get carried away at times, his concentration when deployed at centre-back has also been questionable in the past - especially against the top teams Sporting have faced. He has been known to let his man get away from him in open play or at set-pieces, and his positioning has let him down.

While he can still be caught out, particularly by pace, he improved these weak points under the guidance of Leonardo Jardim last season and was one of the stars last season as the side surprisingly finished second behind Benfica.

He will certainly have to be on top of his game under Van Gaal, who alarmingly admitted on Saturday: "Every team will also create possibilities or chances against us, because we are playing with a big space behind us. That's always difficult to defend."

With United's transfer business now under the spotlight more than ever following their defeat to Swansea, they have been involved in lengthy negotiations with Sporting as their dispute with Rojo and Doyen became very public.

The club sold Eric Dier to Tottenham earlier this summer thanks to a clause in his contract signed off by a previous administration, and this time around chairman Bruno de Carvalho is determined to play hard ball.

De Carvalho has insisted on taking Nani and maybe even Anderson in addition to the initial £16m fee United will pay, as Sporting will barely see a penny of the cash due to the terms of Rojo's deal with Doyen Sports, another agreement signed off by previous owners.

It turns out that signing an Argentina international for €5m was too good to be true, and now it is Manchester United's turn to take a punt on Marcos Rojo.