On the week in which he made his 500th official appearance for Barcelona, a look back at where it all began for the popular midfielder under Louis van Gaal at the Catalan club in 2002. BARCA: THE MAKING OF THE GREATEST TEAM IN THE WORLD by GRAHAM HUNTER is out now in paperback, ebook and audiobook.


BOOK EXTRACT
By Graham Hunter
In early 2001, Lorenzo Serra Ferrer, Barcelona's Mallorca-born manager, had been listening to the glowing references coming up from the junior ranks about Andres Iniesta and taken a look for himself.
He asked the first-team administrator, Carles Naval, to promote Iniesta to train with the first team in February 2001. Naval phoned
La Masia
and told the administrators there to pass the message to 16-year-old Iniesta that he was to present himself for training at Camp Nou, fully 100 metres away from the
La Masia
building, the next morning. Trouble was that Iniesta hadn't dreamed that the opportunity might come so soon and had never even been in the first-team dressing room down in the heart of Camp Nou. The lad was a bit lost.
He presented himself at the security barrier next to the main entrance, where hundreds of thousands of tourists have sailed through before and since, and he asked for advice. The guard, unsure whether he was being spoofed, told Iniesta to wait. Not until Luis Enrique arrived for training that morning, identified the lad and agreed to chaperone him to the changing facilities did he get in. Typical Iniesta – calm, unassuming, half-thinking it was a prank being played on him. But ready.
Reflecting on the moment, Serra Ferrer said: "I wanted to reward him because he was so special. He was modest, loyal, responsible and down to earth. He had tremendous emotional maturity and was very clever. He really listened and remembered all the details."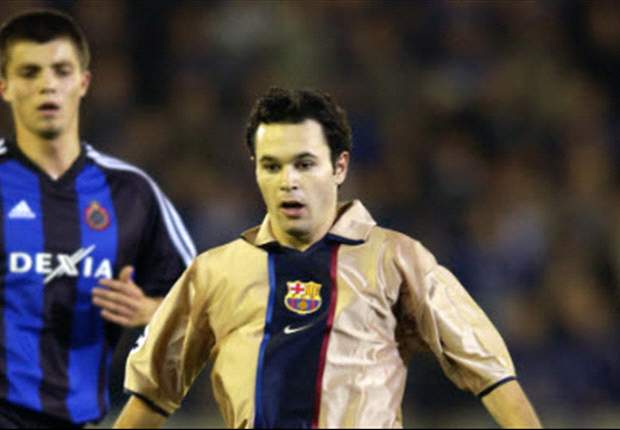 Making his mark | Iniesta on his debut against Club Brugge in 2002


Iniesta recalls joining the first team and meeting his idol and future manager. "I was only 16 and when he [Guardiola] talked to me, I couldn't even look him in the eyes. I just couldn't believe that he was treating me so well. I was so embarrassed. It was amazing to be part of that team."
By 2002, Iniesta's key moment arrived under the newly returned Louis van Gaal, back for what would prove an ill-fated second bite at the cherry. Joaquim Rife and Quique Costas, in charge of the youth sections, were asked by the Dutchman about which
canteranos
he could trust for a Champions League group game against Club Brugge. Not only were Patrik Andersson, Philippe Christanval, Thiago Motta, Marc Overmars and Michael Reiziger all injured, but with four straight wins behind them, Barça had already qualified for the next round.
However, it wasn't as if there was nothing at stake. Barca were already heavily in debt and their revenue streams were far from as developed as they are now. Each win in the Champions League group stage of 2002 brought €340,000, a draw half that amount. Nevertheless, Iniesta was joined in the squad by Dani Tortolero, Oleguer, David Sanchez and Sergio Garcia and he made his debut in a team which, despite its average age of just over 22, won 1-0 thanks to a lovely Juan Roman Riquelme goal.
Van Gaal's rather odd 3-4-1-2 formation on that big night for Iniesta was: Enke; Puyol, Tortolero, Navarro; Rochemback, Iniesta, Gerard, Gabri (David Sanchez 88); Riquelme; Geovanni (Sergio Garcia 60), Dani.
| | |
| --- | --- |
| | Van Gaal knew that he would be sacked if the team lost, and yet he threw Iniesta a league debut. Visiononary? Heartless? Brave? Unfair? Whatever, Iniesta played superbly" |
The sports newspaper
El Mundo Deportivo
called Iniesta's debut "spectacular" and it was the ease and confidence with which he transferred his intelligent movement and crisp, reliable use of the ball from B-team football to the Champions League which stood out.
Iniesta's league debut came at Mallorca, that December, with Barca already a chaotic shambles. They lay 13th, two points off relegation and 16 behind the league leaders, Xabi Alonso's Real Sociedad. One by one, Barca's directors were deserting president Joan Gaspart, Van Gaal knew that he would be sacked and replaced by Carlos Bianchi if the team lost, and yet he threw Iniesta a league debut. Visionary? Heartless? Brave? Unfair? Whatever, Iniesta played sublimely, was the hero of the game for the Catalan press and Barca won 4-0 on the island. The team that night was Bonano; Gabri, Christanval, F. De Boer (Rochemback 45); Mendieta; Xavi, Cocu, Motta, Iniesta (Gerard 59); Overmars (Saviola 79), Kluivert.
However, the moment which Iniesta still holds most dearly is his home debut. It came on what the Spaniards know as
Dia de Los Reyes
(January 6, when Spanish kids get their equivalent of Christmas presents). At home to Recre, having won away in Bruges and in Mallorca, Iniesta finally got to play first-team football in the stadium he'd been gazing at for six years out of the window in his
La Masia
dormitory.
www.backpagepress.co.uk