ANALYSIS
By Mark Doyle
After watching Diego almost singlehandedly rip Roma apart in just his second start for Juventus in August 2009, Zico admitted that he could see something of himself in the then 24-year-old playmaker. "For the role he plays and the way he takes free kicks, it is true that we are a bit alike," the Brazil legend said of his compatriot.
However, Serie A icon Jose Altafini felt that Zico was actually flattering himself. "Diego is faster and he plays all over the pitch." Former Juventus striker Pietro Anastasi argued that the Santos academy product was unique, an amalgamation of three of the finest No.10s ever to play the game: "He reminds me of Zinedine Zidane with a mix of Roberto Baggio and Michel Platini."
As for Gianluca Vialli, he was just stunned that his former club had managed to persuade Werder Bremen to part company with Diego for just €24.5 million. "Diego is worth the same as Leo Messi and Cristiano Ronaldo," the ex-
Bianconeri
striker enthused. "He is one of the top three players in the world."
DIEGO'S CAREER STATS

Club
Santos
(2002-2004)

Porto
(2004-2006)

Werder Bremen
(2006-2009)

Juventus
(2009-2010)

Wolfsburg
(2010-2011)

Atletico Madrid
(Loan 2011-2012)

Wolfsburg
(2012-2014)

Atletico Madrid
(2014-present)
Games
64


63


132


47


32


43


53


13


Goals
21


7


54


7


6


6


18


2


And yet, less than one year after a much-heralded arrival in Turin, Diego was shipped back to the Bundesliga, joining Wolfsburg for a knockdown fee of €15.5m. Why? Why were Juve so willing to get rid of a player that just 12 months previously they were supremely confident would soon be ready to inherit Alessandro Del Piero's mythical No.10 jersey? Why did Diego Ribas da Cunha fail so dismally to establish himself as one of the finest footballers of his generation?
This, after all, was a player who broke into the Santos starting line-up at just 16, quickly becoming a key member in a scintillating attacking line-up featuring Robinho and Elano that won the Brasileiro title a matter of months later.
Within two years, Diego was off to Europe, to join Champions League titleholders Porto, having been identified as the obvious replacement for Deco. However, after some encouraging performances in his first season at the Dragao, the teenager spent the majority of his second campaign on the bench, having fallen out of favour with coach Co Adriaanse.
It would become a recurring theme during Diego's career. If he felt that he had the full support of the coach, he would flourish. If he did not, he would flounder.
Consequently, a move to Werder Bremen in 2006 proved exactly what Diego needed. At the Weserstadion, the youngster came under the tutelage of Thomas Schaaf. The long-serving
Werderaner
coach knew exactly how to handle this prodigious but petulant talent. He indulged Diego, built his side around the Brazilian. Schaaf realised that in order to excel, Diego needed to be reassured, not reprimanded. Consequently, the youngster's on-field ill-discipline was always forgiven. And not just by Schaaf, but by the supporters, too.
Indeed, even though Diego's suspension for the 2009 Europa League final against Shakhtar Donetsk arguably cost Bremen the game, the fans forgave him. He repaid their unwavering support by setting up Mesut Ozil's winner in the DFB-Pokal final against Bayer Leverkusen just days later. It was his final act as a Bremen player. The fans knew it. Yet, after 54 goals in three seasons, there was no bitterness over his desire to depart for Juventus. Diego was touched by their understanding: "I love Werder!" he declared during their DFB-Pokal parade.
He experienced similar adoration in the early days of his Juve career but when the
Bianconeri
fell apart after a promising start to the season, so did Diego. There had been mitigating circumstances. He had joined Juventus at one of the most tumultuous points in their history. They had seen the success that Barcelona had enjoyed by employing one of their former players, Pep Guardiola, as coach and thought that they could do likewise with Ciro Ferrara. They were wrong. The former Italy international proved a disaster in his first job as a head coach and was dismissed halfway through the season.
Then president Jean-Claude Blanc initially dismissed the suggestion that the club would give up just as quickly on Diego, who suffered a dramatic dip in form after his Roma heroics. "Diego is still Diego," the Frenchman stated. However, when Blanc was succeeded at the helm by Andrea Agnelli, the club's new director general, Giuseppe Marotta, quickly offloaded Diego, a symbol of the previous regime's transfer market failings.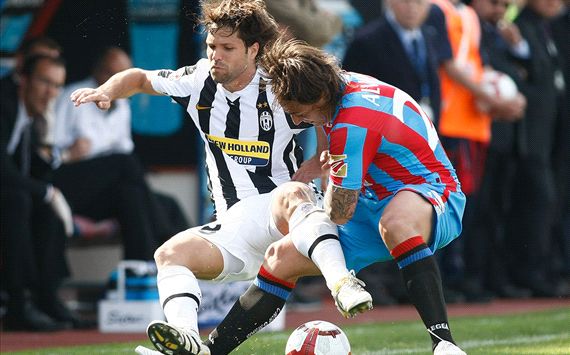 Set up for a fall | Diego joined Juventus at one of the worst periods in their recent history
A rapid return to Germany in 2010 with Wolfsburg appeared to make sense but he had numerous run-ins with Steve McCLaren, while the Englishman's successor, the notorious disciplinarian Felix Magath, wasted little time in telling the Brazilian that he was not wanted at the Wolfswagen Arena. Consequently, after just one year back in the Bundesliga, Diego was allowed to join Atletico Madrid on loan, helping the
Rojiblancos
to win the Europa League, after excelling under Diego Simeone, who had arrived at the Vicente Calderon midway through the season.
Diego instantly took to the Argentine and was devastated that Atletico were unable to make his temporary stay in the Spanish capital permanent. Despite his disappointment, he enjoyed a productive season back at Wolfsburg and began angling for a move back to Atletico last summer - and it was obvious why.
"My relationship with Simeone is spectacular," Diego enthused shortly after finally rejoining the
Rojiblancos
in January of this year. "He's the best coach I've worked with in my life and has helped me a lot as a player and as a person."
Simeone has, like Schaaf, accepted Diego for who he is. He is not Zico. Or Zidane, Baggio or Platini. Diego is Diego: frustratingly flawed but sometimes spectacular. Same as he ever was, really.
Follow Mark Doyle on