COMMENT
By Ewan Roberts
It is regularly said in defence of David Moyes that no manager would have been able to succeed in the enormous shadow of Sir Alex Ferguson. Moyes, it has been argued, inherited an old squad, and an average one.
The deficiencies were plain to see and exacerbated by the club's failure to sign the midfielder they so desperately needed – with Marouane Fellaini unable, incapable even, of living up to his hefty price tag. Injuries, specifically the absence of last season's top scorer Robin van Persie, have also played their part in Manchester United's limp concession of their title.
But Sunday's 3-1 defeat to Chelsea had little to do with United's bungled transfer dealings or injury-hit strikeforce. Rather, it was a loss that owed much to a creaking, disorganised defence that betrayed Moyes' reputation for prudence and opened up just as his side were hinting at causing Jose Mourinho's team problems. Nemanja Vidic and Rafael's reckless, mindless late fouls at the end of the game, summed it all up.
Both first-half goals featured a catalogue of errors. Jonny Evans sent a clearances only as far as Samuel Eto'o, was was granted the freedom of Stamford Bridge to stroll towards goal before belatedly being closed down as he curled a shot towards the top corner.
VIEW FROM STAMFORD BRIDGE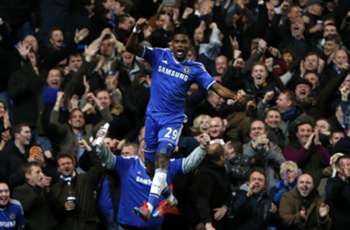 By Wayne Veysey
Chelsea climbed back to within two points of leaders Arsenal with a victory that was as comprehensive as the scoreline suggests. United began brightly but were completely flattened by the first goal of Eto's hat-trick and did not recover until Jose Mourinho decided to shut up shop with 20 minutes to go.

Had the Special One been more ruthless, or positive, United could have been humiliated but it was still a fairly humbling experience for Moyes and his team. The best they can surely hope for is fourth place, while Chelsea are gunning their sights on top spot and the Premier League crown.
For the Cameroonian's second, he was able to lose his marker far too easily – devoid of pressure and in a bewildering amount of space in the six-yard box so soon after a corner – while the ease with which Ramires split a packed penalty area with an admittedly excellent through-ball for Gary Cahill could scarcely have reflected worse on a side caught flat-footed and ball-watching.
The same Chelsea centre-back, hardly an elusive figure at six-foot-two-inches, lost Evans and the United defence a second time to power a header at goal which was pushed into the path of Eto'o – bewilderingly played onside by Antonio Valencia – for the revitalised forward's hat-trick goal.
"We got a bit unlucky with the first goal, it took a deflection," said Moyes afterwards. "But the other two came from set-pieces and that's our own fault, that nobody else's fault. That's us. It was terrible defending on the first goal and just as bad for [the second]."
United were a shambles at the back, and the disorder that followed late on with Vidic flying in late on Eden Hazard to receive a red card before Rafael dived into a two-footed challenge that should have seen him follow the Serbian down the tunnel – summed up an afternoon in which the away side lost their composure and cool.
United have now lost seven Premier League matches – incredibly, they have lost that many times in only two of the previous 10 seasons, and there is still almost half a season left to play. The side, who built their title charge last season on a solid, dependable defence, have conceded 14 goals in their last 11 league outings, conceding as many goals on the road this term as relegation contenders Sunderland and Crystal Palace.
The contrast with Chelsea's back-line was stark. Here was a side that, not so long ago, could ship goals against the training ground dummies, according to Mourinho, but have now let in just two goals in their last six league games and kept four clean sheets.
For Moyes, it is another match that has produced more problems than solutions, the latest of which being the need to overhaul and rebuild a defence that is incapable of being the bedrock of a title defence.
In the 10 league games up to and including their title-clinching victory over Aston Villa last season, the side recorded eight cleansheets. They have managed only six in the first 22 games of this term. The cause of that rot is not hard to understand, with United's older guard living on past glories – and perhaps Sir Alex's swan song was as much theirs as his – while the next generation have yet to deliver.
Vidic, no longer the force he once was, looks set to leave the club at the end of the season, with his agent ruling out an extension to his current deal which expires later this year. Rio Ferdinand has made just one league appearance since September, routinely left out of the matchday squad – as he was today – and likely to leave Old Trafford at the end of the season too.
Meanwhile, Evans struggled against Chelsea's speed and urgency on transition and has failed to reach the standards he hit last season, while Chris Smalling and Phil Jones have yet to graduate from useful utility men – the latter's long-term role is seen at centre-back, though deficiencies in midfield have limited his chances to play there.
Moyes, noted for the solidity he brought to Everton for a decade, has struggled to impose those same ideals at United. Under greater pressure to attack, control games and score goals, his side look too open, too easily exposed. Yet, interest in Benfica's Ezequiel Garay and a recent scouting trip to see Cagliari's Davide Astori show that the Scot sees a need to add fresh blood to the defence, that work on the training ground will not sufficiently improve an out-of-sorts back four.
Another match, another reason for pessimism around Old Trafford as yet another shortcoming is added to list of deficiencies Moyes must contend with and solve. Regardless of the return of Rooney and Van Persie, or the addition of a midfielder, United must cure a porous and ill-disciplined defence or risk continuing to be undermined.