DEBATE
Germany's 1-0 friendly win over England on Tuesday was the perfect precursor to the first clash of the season between the Bundesliga's two biggest clubs.
While all of Bayern Munich's German stars came through the international break unscathed, Borussia Dortmund's two remaining fit defenders, Mats Hummels and Marcel Schmelzer, picked up injuries, leaving them with a full-blown injury crisis ahead of their biggest game of the season.
Sections of the BVB support have claimed that Germany boss Joachim Low favours the Bayern contingent in the national team, but could this possibly be true?
Chief Editor of Goal Germany, Falko Bloeding, and Goal International's Bundesliga expert Enis Koylu go head-to-head over the issue…
"LOW HAS A SPECIAL FAVOURTISM TOWARDS BAYERN"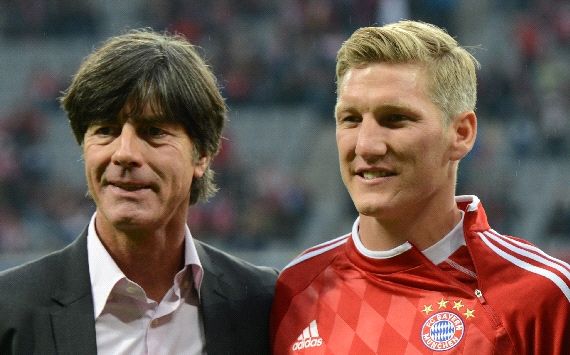 By Falko Bloeding
Even before Germany's double-header against Italy and England, it was pretty clear that Joachim Low had a special favouritism towards Bayern. Now, following the events of the last week, it is pretty clear that – consciously or subconsciously - there is an anti-Dortmund agenda at work.
On Monday, during the pre-match press conference ahead of the clash at Wembley, Low insultingly referred to Dortmund playmaker Henrikh Mkhitaryan as "Micky-something". Are we really supposed to believe that he doesn't know the name of one of the Champions League finalists' star players? Can you imagine the outrage of Bayern fans had Low labelled Thiago Alcantara, "Thiago Alcan-something"?
After the 3-3 friendly draw against Paraguay in August - when Ilkay Gundogan suffered his back injury - Low surprisingly criticised Mats Hummels. This was out of character from the Germany coach, who rarely singles out his players in public. It was particularly peculiar in this instance as the whole team had played badly and, while Hummels was far from his best, Per Mertesacker and a number of Bayern players had also performed poorly, too.
After the disastrous Euro 2012 semi-final defeat against Italy, Low didn't attack the abominable Bayern pair of Toni Kroos and Philipp Lahm. Instead, he took the blame himself. So why condemn Hummels after a meaningless friendly?
Low's defenders point out that BVB fans should be happy that their players are now regularly capped by Germany – which was once another grievance. But, Dortmund's players certainly have to work harder to earn and retain the trust of Low. It took three phenomenal seasons before goalkeeper Roman Weidenfeller was handed his first call-up, while Hummels was consistently brilliant month after month and still did not receive the trust of his national coach.
Low's team selection against Italy and England favoured Bayern massively ahead of this weekend. Manuel Neuer and Lahm were sent home to rest early, while Marco Reus and three other Dortmund players had to play against England. Low knew that BVB already had a defensive crisis following the long-term injury to Neven Subotic, yet he risked additional injuries in a worthless friendly by fielding Hummels and Marcel Schmelzer, both of whom then got injured. His actions were at the very least negligent.
Follow Falko Bloedging on

"DORTMUND CONSPIRACY IS A DEFENSIVE MECHANISM"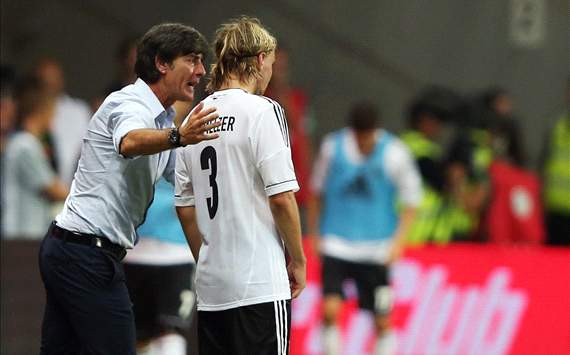 By Enis Koylu
Low said prior to Germany's friendly with England that Dortmund's clash with Bayern is none of his business. And he's right – his only job is to produce a national team capable of winning matches.
Indeed, they may have been missing Manuel Neuer and Philipp Lahm, but they were still able to overcome England, with a 'B team' of players picked to test their suitability for a World Cup place.
It's somewhat natural that a Bayern contingent dominates the first XI. Despite Dortmund's rise in recent years, they remain the biggest team in Germany, with a group of players who have proved themselves time and time again at club and international level.
Hummels, one of those injured on Tuesday, was once a shoe-in for the national team, but a run of poor form for club and country saw him dropped for Jerome Boateng, who had gone through a similar episode around a year ago, only to win his place back thanks to some excellent performances.
It's not as though Low took a sledgehammer to either Hummels or Schmelzer – both injuries could just as easily have happened to any one of the plethora of Bayern players who featured across the two recent friendlies.
Six of the Bavarians' stars featured against Italy, with all but one – Mario Gotze – playing the 90 minutes. Just three BVB stars played and only Hummels went the full distance. Four Dortmund players turned out for their country against England. Just as many Bayern players played for the whole match, Gotze and Toni Kroos, who played more than any other
Nationalelf
player during the November friendlies.
Dortmund have had rotten luck that all of their defenders are injured for the most important week of the season – but it is just that – ill fortune. Bayern have also had the misfortune of losing their star player Franck Ribery to injury following France's midweek international.
Claims of a conspiracy perpetrated by Low seem like little more than a defence mechanism for BVB fans, who are now anxious ahead of facing a team they believed they had the beating of.
Follow Enis Koylu on