SPECIAL REPORT
By Ben Hayward | Spanish Football Writer
"We don't play Tiki Taka," Pep Guardiola growled. "I don't like that expression - it seems as if we are discrediting our opponents." That was back in 2010-11, at the height of Barcelona's brilliance under the Catalan coach. But call it what you will, back then the
Blaugrana
boasted a clear playing philosophy admired and recognised throughout the world.
Gerard Pique looked back in an interview with
European Sports Media
this week. "With Pep, we had an identity," he recalled. "We played the same way in Granada, in Malaga, on pitches full of puddles... the team really believed in Pep."
One of the most frank footballers at Camp Nou, Pique is not afraid to speak his mind. The defender got himself into trouble last season with former Barca boss Tito Vilanova after the
Blaugrana
were humbled by Bayern Munich in the semi-finals of the Champions League. "Changes are needed," he said. And in an interview with
La Gazzetta dello Sport
earlier this season, he went further. "For several years we had coaches from the inside - first Pep and then Tito. And we exaggerated our style of play, perhaps to the point where we were slaves."
Slaves to Tiki Taka? Strong words - and a great headline. But Pique also qualified his statement, by adding: "Now 'Tata' (Martino) has come in from outside; he has the same football vision, of keeping the ball, but he can count on other options as well. And that is something very positive because we have variations."
LAPORTA & CRUYFF COULD RETURN IN 2016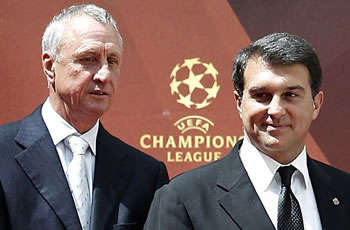 Former president Joan Laporta has been hugely critical of Sandro Rosell's mandate and plans to put himself up for election in 2016 - with Johan Cruyff as his right-hand man and a possible return for Pep Guardiola as coach.

Cruyff chose Frank Rijkaard in 2003 and put his faith in Guardiola five years on, in what proved to be an inspired selection. The Dutchman's presence would also likely guarantee continuity on the football field; Johan was the man who introduced the idea of an Ajax-style academy as he left Camp Nou as a player back in the 1970s and it was he who set the ball rolling with the inclusion of many La Masia graduates during the Dream Team era.

"This board of directors has an obsession to destroy the legacy that we built with such success and effort," Laporta said earlier this year as he revealed his intention to put himself forward. "Every day I'm more enthusiastic and I feel prepared to return to be president. The elections have to be in 2016 and then will be the moment to make the relevant reflections at a professional, personal and family level. I am seriously considering it."

On the possibility of bringing back Guardiola, he said: "We will see. We have a good relationship and I will be eternally grateful to him. But he is at Bayern and he has made a great decision."

Cruyff, though, would definitely have a part to play. "He inspired our model - he advised me," Laporta said. "He would have whatever role he wanted."

The idea of mixing up Barca's style is, in fact, nothing new. In his final season in charge, Guardiola gave the Catalans a slightly more direct style with the introduction of wingers Cristian Tello and Isaac Cuenca, while the signing of Alexis Sanchez was supposed to allow for a more straightforward approach - particularly away from Camp Nou.
Guardiola considered that teams were beginning to get to grips with Barca's passing plan and results in his last season would appear to confirm his worst fears: Barca were held away to Real Sociedad, Valencia, Espanyol, Villarreal, Betis and at home to Sevilla; the Catalans lost at Getafe, Osasuna and at Camp Nou against Real Madrid, losing La Liga by nine points. A disappointing defeat to Chelsea in the Champions League semi-finals also frustrated the former club captain and, despite the tweaks to the side's style, the two top titles had been lost.
Guardiola's genuine tiredness following four stressful seasons in the job was a major factor in the Catalan's decision to step down in 2012. However, his rocky relationship with president Sandro Rosell was another. Unlike predecessor and foe Joan Laporta, Rosell was not sold on Tiki Taka, originally favouring a physical and powerful high-tempo style more associated with Jose Mourinho or Brazil boss Luiz Felipe Scolari (Rosell was in close contact with the Brazil team as he worked with sponsors Nike ahead of and during the 2002 World Cup).
This probably did not come under consideration (or was not known) by many Barca
socios
as the club members voted Rosell to succeed Laporta in 2010. After all, Sandro was the big-name candidate and had been remembered fondly by Barca fans for his instrumental role in bringing Ronaldinho to the Catalan club in the summer of 2003.
But upon election, Rosell immediately distanced himself from Johan Cruyff, stripping the Dutch legend of his title of honorary president (bequeathed to him by Laporta). That, perhaps, was the first sign of a change of direction. Laporta's reign had been based on Cruyff's ideas; Rosell's would not be.
Nevertheless, the current chief knew he was on to a good thing with Guardiola's great team and, when Pep decided to move on in 2012, he opted for continuity with the appointment of the coach's right-hand man: Vilanova.
Tito, too, tried to create a more direct Barca on the road, in an attempt to make the Tiki Taka style less predictable, but Vilanova's reign was interrupted by his need to spend time away for cancer treatment and although the team's Liga campaign proved almost impeccable, Barca were virtually playing from memory by the end of the season. And in 2012-13, the
Blaugrana
won just one of six fixtures against Madrid, lost at Celtic and Milan, could only scrape past Paris Saint-Germain on away goals in the Champions League before being utterly humiliated by Bayern in a 7-0 aggregate loss. Against the best teams, they had played predictably - yet nobody could have predicted just how poorly.
Vilanova was forced to step down in the summer to continue his recovery and, with senior members of the first-team squad privately expressing their concerns at the possible appointment of Luis Enrique, Rosell opted for Martino.
The Argentine made the right noises at his unveiling as he spoke of recovering the very best elements of Barca's play under Guardiola. However, the Catalans lost the possession (albeit narrowly - by 51 per cent to 49) in the 4-0 Liga win at Rayo Vallecano in September - the first time that had happened in 317 games.
Barca now also occasionally look to play the ball long. "I don't see the problem," Martino said recently. "I saw Rafa Marquez play long passes - and he was here in 2009!" The Argentine later referred to club legend Ronald Koeman, famed for his use of deliveries from deep. Even Guardiola, in fact, utilised long passes during his time as the deep-lying midfield lynchpin at Camp Nou.
One of the keys to Barca's possession philosophy over these last few seasons has been Xavi. The vice-captain completes more passes than any other player on the pitch (often over 100) but, entering the twilight of his brilliant career at 33, he now needs rest to recover and is being rotated by his coach - along with the rest of the squad. When he is absent, Barca's possession percentage invariably drops slightly, yet the midfielder completed 83 minutes in the game against Rayo (when Alex Song played instead of Sergio Busquets).
With Pep we had an identity: we played the same way in Granada, in Malaga, on pitches full of puddles...



- Barcelona defender Gerard Pique

Even without Xavi, however, Barca's golden generation of midfield masters is likely to go on for several seasons yet, with Andres Iniesta (29) set to sign a new deal, Cesc Fabregas only 26 and Busquets just 25. The next group, however, is unlikely to be up to a similar standard and one of the bright hopes, Thiago Alcantara, has already left to join Guardiola at Bayern.
For the meantime, though, Tiki Taka appears intact under 'Tata': the goalless draw at Osasuna on Saturday may have been disappointing, but the idea was essentially the same and possession close to 73% in Pamplona. "I haven't come here to change anything," the coach has reiterated.
Indeed, Martino's mixing up of Barca's play with variations and longer passing when required seems wise. After all, even the greatest systems must evolve and this brilliant
Blaugrana
side cannot always triumph by playing the same way. Even Pep found that out.
With Cruyff's input now dismissed, however, and Guardiola gone, there is no guarantee Barca will stick to their current style while Rosell remains in charge. And if there is a change in direction at Camp Nou,
Blaugrana
fans will mourn the loss of Tiki Taka - even if Pep is still irked by the term.
Follow Ben Hayward on