By Greg Stobart
He is an all-time great, the most expensive signing in football's history and earns a staggering salary while plying his trade at one of the world's most prestigious clubs - yet
Cristiano Ronaldo
has, at times, not appeared content at Real Madrid this season.
CRISTIANO RONALDO'S CAREER STATS

TEAM
YEAR
APPS
GLS
Sporting
2002-03
31
5
Man United
2003-09
292
118
Real Madrid
2009-
199
201
Disgruntled and displeased enough, in fact, to give Manchester United a slight hope of re-signing their former star, though it would take something well beyond the €93 million fee they received from the Spanish giants in 2009 to pull off the unlikely coup of the summer.
Ronaldo worried Madrid last September when he spoke of his "sadness" at the Santiago Bernabeu, insisting his discontent was nothing to do with the financial terms of a contract that expires in 2015.
Money will, of course, have something to do with it, but for Ronaldo it is more what his salary package represents: status. The 28-year-old became frustrated that his value to the side has not been emphasised, annoyed that his €9.4 million annual salary puts him on the same wage as Kaka, a bit-part player who has never come close to justifying his own colossal €69m fee.
Florentino Perez, the club president, has made extending Ronaldo's contract his main priority and claimed last week that he would not even sell the Portuguese forward for €1 billion.
The reality is that Real Madrid will have to offer Ronaldo something in the region of an earth-shattering €468,000-a-week and with Jorge Mendes, the shrewdest and best connected agent in the business, fighting his corner the Portuguese stands a chance of getting what he wants.
But while a new contract remains unsigned, the vultures will continue to circle. United, in particular, have made their intentions known and the feedback they have received on their intention to bring Ronaldo back to Old Trafford has been positive.
The United fans afforded him a hero's reception on an emotional return to Manchester during Real Madrid's last 16 Champions League success earlier this year, after which Ronaldo left the door tantalisingly ajar to a potential return.
He described that night, on which he scored the goal to decide the tie in Madrid's favour, as "very emotional", spent time in the United dressing room after the game and even took the time to speak to the Glazer family.
Aside from resolving the future of a disgruntled Wayne Rooney, David Moyes is looking for a big-name signing to kickstart his succession of Sir Alex Ferguson but the numbers involved - a potential €94m-plus fee plus wages in the region of €468,000-a-week - means the chances of a deal this summer are remote to say the least.
THE VIEW FROM ABROAD

ADRIAN BOULLOSA, GOAL SPAIN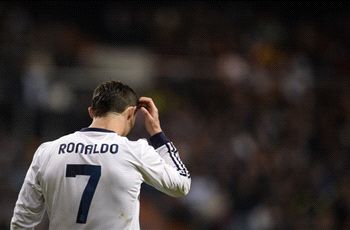 "Cristiano Ronaldo will continue at Real Madrid next season. He wants to be the best player in the world, and is aware that to fight with Messi, he needs to be at the Santiago Bernabeu.

Despite losing the Champions League and Spanish League to Barcelona, CR7 has never had the supporters and the president so close to him. In fact, Florentino Perez has claimed several times that the striker is the best player in the world. After Mourinho's leaving (the relationship between both wasn't good in recent months), Ronaldo is excited again about the new Real Madrid project - which he is at the heart of."
And if Ronaldo was available, there would be plenty of competition. Jose Mourinho would also love to take Ronaldo with him to Chelsea while Paris Saint-Germain and Manchester City have previously made attempts to sign the former Sporting man with eye-watering financial offers.
In reality, though, Real Madrid are hugely unlikely to sell a player who has scored an astonishing 201 goals in 199 appearances for their club and is virtually irreplaceable with his speed, power, creativity and goalscoring ability.
Perez has gone on the charm offensive with Ronaldo to massage the Portugal captain's ego, to convince the player that he can enjoy his football in Madrid and that the club will support his obsession to be recognised as the best player in the world.
Ronaldo has watched his nemesis, Barcelona superstar Lionel Messi, win the last four Ballon d'Or awards and wants personal accolades to add to his desire for Champions League trophies and Liga titles.
The new coach at the Santiago Bernabeu will want to build the side around Ronaldo, just as his predecessors did, and Real are targeting new attacking players this summer such as Gareth Bale and Luis Suarez to support their main man.
Ronaldo's age and contract situation mean his market value is diminishing, but the club also recognise that the player himself is a highly lucrative brand, that CR7 and Real Madrid together sell shirts and raise huge commercial revenues.
His time to leave Madrid is very unlikely to come this summer, but the longer Ronaldo delays signing a new deal, the more you sense an impending transfer saga. And if this time next year he has just one more season left on his contract, then a return to Old Trafford will be on the cards.