ANALYSIS
By Rupert Fryer
That Neymar would eventually don a Barcelona shirt was never in much doubt. His mind had long been made up. It was a case of when, rather than if.
The 21-year-old leaves Brazil with over 100 senior goals, having twice been named the continent's best player and having starred so regularly in domestic Brazil he became the first player since Pele to be
declared hors concours
.
His performances had produced equally stunning results for his club, too, as he led the
Peixe
to three state championship titles, a Copa do Brasil and their first Copa Libertadores success in almost half a century.
Neymar was the hottest property in world football. His father revealed there were as many as six bids with the highest arriving from Chelsea, and a total package worth
more than the €120 million offered by Real Madrid on Friday
. Man City and Bayern Munich were also snubbed in favour of the "Sporting project" on offer in Catalunya.
Chelsea had come the closest to luring the youngster away from Brazil prior to the events of this past week, with the Blues so confident they had their man in 2010 that a plane ticket to London was booked in his name before a last minute U-Turn resulted in a contract extension at Santos.
He would become the symbol of a new era in Brazilian football. With European-style rewards on offer, thanks largely to as many as 11 sponsors assisting Santos with his lucrative salary, Neymar became the first true Brazilian wonderkid with no real financial incentive to make the move, with estimated annual earnings of €24m placing him at number 33 on the
Goal Rich List
.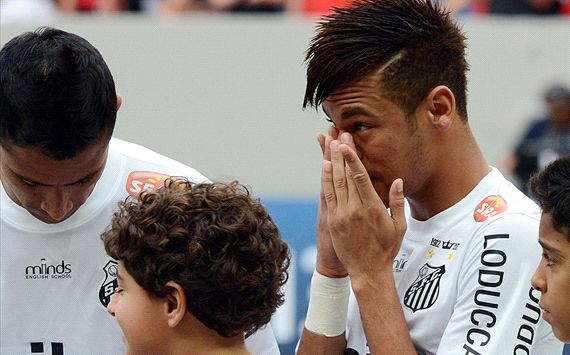 Time to go | Neymar bade an emotional farewell to Santos against Flamengo
Barca always had the edge, however, and, two years ago, are believed to have made a down payment of €10m. Negotiations were bound to be complex. Third-party ownership has become part of daily life for Brazil's top clubs as they continue to temporarily ease their financial woes via the short-term fix of auctioning off a few percent of their biggest assets.
Sports investment group DIS - a subsidiary of supermarket chain Sonda Group - owned 40% of Neymar's economic rights while TEISA held 5% and Santos the remaining 55%. The €28m is said to have been shared out between them.
A further €30m is believed to have been paid to the player himself. Neymar will earn an additional €7m for each of the five seasons to which he committed to in Spain.
Barcelona's Champions League defeat to Bayern Munich was so emphatic it raised questions over the fundamentals of a philosophy that had brought the Spanish champions' so much success in recent years. Barca President Sandro Rosell needed to move.
So too did Neymar. He has struggled against teams who mark tightly, sacrifice a wide attacker in order to double-team and condense the space between the lines. There was a feeling he had learned all he could at home.
"The best time to leave for Europe would be before the World Cup in 2014… It would make him more mature"





- Ronaldo

"Neymar is too talented to be limited only to Brazil," said Ronaldo last month. "The best time to leave for Europe would be before the World Cup in 2014… It would make him more mature and he would have more experience to lead [the national team]."
There was no Libertadores football to test him this season either. With their star player spending so much time on international duty, for which the domestic season doesn't break, Santos failed to qualify for the continent's grandest club competition.
Neymar managed just 17 of his side's 38 league games last campaign, yet still finished joint-third top goalscorer with 14. But even with their star, coach Muricy Ramalho was likely to see his side struggle once again this season as those around him continue to repatriate stars from Europe.
The jeers that have greeted Neymar in Brazil have grown louder in the past 18 months too, with a demanding public increasingly laying the blame for a below par national team at the feet of Brazil's latest poster boy. There have also been boos heard from pockets of frustrated Santos fans.
The lure of playing with Lionel Messi played a huge role in his decision. Neymar has never been shy of voicing his opinion that the Argentine is the very best around and that to play with him would be a "dream".
"[Messi] is the one and only, he's the king of football," the Brazilian told the press in 2011.
Now there is a young pretender to the throne. At some stage, however, Neymar da Silva Santos Junior will be hoping to be much more than that.
Follow Rupert Fryer on