ANALYSIS
By Enis Koylu
"We're in need of a holiday, but we'll be active in the transfer market to make sure we're this competitive next season," Jurgen Klopp said while reflecting on what he called a "sh*t" result in the Champions League final against Bayern Munich.
It's been a long and exhaustive season for BVB and one which ended in the same away it finished – a 2-1 loss to their hated rivals from Bavaria.
There have been many lows and many highs – the wins over Real Madrid, the euphoria of their late comeback over Malaga and their arrival on the global stage were matched by finishing 25 points behind Bayern in the Bundesliga, their sickening defeat at Wembley and the departure of Mario Gotze – to Bayern.
And, with Robert Lewandowski, their leading goalscorer looking likely to follow their prodigious playmaker to the Allianz Arena, it would seem there is every reason for doom and gloom at Signal Iduna Park.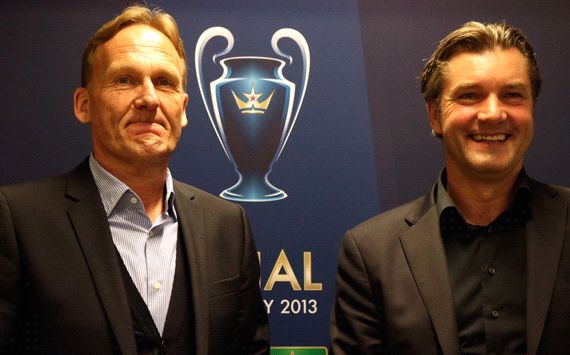 Brain Trust | Watzke & Zorc must spend the summer rebuilding with Klopp
That said, it has been a landmark season and one from which Dortmund can build. Klopp has confirmed his status as one of Europe's up-and-coming coaches, gaining a host of envious international admirers on the way and the club's philosophy has won widespread plaudits.
The Champions League run, coupled with the fees they will get from Gotze and (possibly) Lewandowski, will give them financial clout which they have never possessed in their history, while they are now in a position of prestige to attract players.
And it could not come at a better time. The second half of the game against Bayern exposed their main shortcoming in the Bundesliga: they have the XI to compete with anyone in world football but lack the back-up. After a season that went on longer than expected, they were exhausted, while the Bavarians were fresh, having had the luxury of resting their stars for the majority of their last Bundesliga games due to their superior squad.
Lukasz Piszczek has been nursing a hip problem for months and will not feature again until November at the earliest, with BVB delaying surgery until the end of the season. They simply had no other choice – they have not got the reinforcements to fill in for him.
It is a similar story on the other side of defence, too. Marcel Schmelzer is the only player able to play on the left and when either full-back has been missing, Kevin Grosskreutz or Jakub Blaszczykowski, wingers by trade, have been shunted into defensive roles, such is the ineptness of Oliver Kirch and Chris Lowe (who was shipped out to Kaiserslautern in January).
Julian Schieber has largely failed to provide credible backup to Lewandowski, and Grosskreutz's deployment in a plethora of positions and lack of regular gametime have seen his form slip dramatically downwards.
Reinforcements are a must, particularly if BVB are to be as competitive as this season, as Klopp promised.
And so their attention must turn to bringing in big names to replace Gotze and Lewandowski and their recent exposure has seen them linked with a host of players.
And while some of the paper talk seems fanciful, Ajax have confirmed an approach for Christian Eriksen, who has admitted he would not be averse to a move to Germany, while Edin Dzeko of Manchester City is a confirmed target, with his current employers not averse to a sale.
"We're in need of a holiday, but we'll be active in the transfer market to make sure we're this competitive next season"





- Klopp

Another immediate concern is ensuring that no more of their star names leave. Gotze's exit was enabled by his buyout clause and worryingly, Marco Reus, their biggest attacking threat after the 20-year-old and Lewandowski, also has one worth either €30 million or €35m.
Club CEO Hans-Joachim Watzke has insisted no more of Dortmund's players will be offered contracts with such clauses and talks with Reus are a necessity, as is extending Ilkay Gundogan's current deal, which expires in 2015.
As to whether they can challenge Bayern next year remains to be seen. The Bavarians will be on a high following their (likely) treble win but how Pep Guardiola fares in the Bundesliga is still unanswered.
Dortmund will be in the role they relish playing – that of the underdogs. With two of their star players leaving and their main rivals having come off the back of an historic season, nobody is expecting much from BVB.
They have fared best when nobody expects anything of them. In 2010-11, not even Klopp would have foreseen a Bundesliga triumph, while they only got going last season when people had already written them off.
The Dortmund journey is not over yet. Mats Hummels, Piszczek, Schmelzer, Roman Weidenfeller, Blaszczykowski, Sven Bender and, most importantly, Klopp are in it for the long haul. But failure to act this summer could be fatal.
Follow
Enis Koylu on