COMMENT
By Joe Wright
In the 93rd minute, Branislav Ivanovic rose above the crowded box to power home a looping header to seal another trophy for Chelsea. A moment of history for the sport, back-to-back European titles for the club, and all of it taking place on one of the game's grandest stages. It's just a shame it was only the Europa League.
Europe's secondary tournament has long been considered little more than an unremarkable sub-plot to the season. Montpellier owner Louis Nicollin, at the start of his side's triumphant Ligue 1 campaign in 2011-12, roared: "All I'm worried about is that we might qualify for the Europa League. That'd p*** me off. What a rubbish competition."
The problem is, unusually with a Nicollin quip, there are plenty who agree with him - and it seems unlikely Chelsea's thrilling smash-and-grab victory in Amsterdam will do anything to alter that perception. Prior to Wednesday's final, Petr Cech claimed he hoped "never to play in the competition again". Walter Mazzarri was forced to affirm his commitment to it after his side were humbled by Viktoria Plzen, when Napoli had more than one eye on overhauling Juventus in the Serie A title race.
Lazio were another Italian outfit who seemed to not take their European adventure seriously, despite becoming the first side from the
bel paese
to reach the quarter-finals of the revamped competition. Libor Kozak, top scorer in the tournament with 10 goals in 11 games, has managed only four starts in Serie A for the
Biancocelesti
.
And then there's Atletico Madrid. Winners of two of the last four tournaments and featuring superstar Radamel Falcao, a player who owes much of his global reputation to Europa League exploits with Atleti and Porto. But Atleti had bigger fish to fry this season: the race to break the Real Madrid-Barcelona duopoly in La Liga and a run to the Copa del Rey final. That they were dumped out of Europe by Rubin Kazan seemed scarcely newsworthy by comparison.
All of these sides reflect the current trend: when balancing domestic and continental duties, something has to give. And it's invariably the Europa League that does.
MAXIMUM POTENTIAL REVENUE FOR 2012/13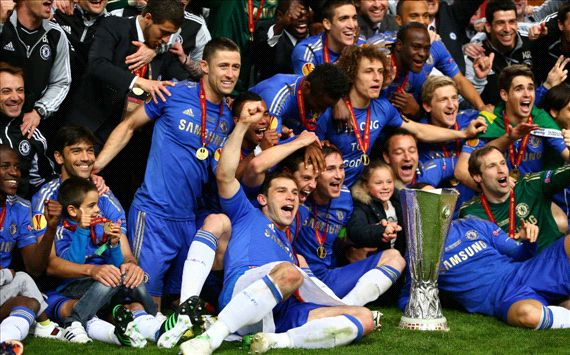 | | | |
| --- | --- | --- |
| STAGE | CHAMPIONS LEAGUE | EUROPA LEAGUE |
| GROUP WINNERS | €17.6m | €2.9m |
| QUARTER-FINALISTS | €25m | €3.9m |
| SEMI-FINALISTS | €29.9m | €4.9m |
| WINNERS | €37.4m | €9.9m |
| GROSS AMOUNT DISTRIBUTED TO CLUBS (EXC. MARKET POOLS) | €530m | €208.75m |
Even after the revamp in 2009, the Europa League has continued to wither in the shadow of its illustrious older brother. The old Uefa Cup was shaken up in a bid to raise its profile, but the change of name, the cut-and-paste group stage format and the tame attempt at an iconic matchday anthem has only served to underline the problem: however much you dress it up, this will never match the Champions League.
The financial rewards on offer, the prestige, the reputation - none of it is a significant enough for Europe's top guns. Edinson Cavani and Gareth Bale, two of the continent's most stellar names and summer targets for the elite, both reached the knock-out phase of the tournament in 2012-13. Given the choice, neither is likely to do so again.
Of course, the tournament's 58-year history boasts plenty of moments to be proud of, but its current decline is clear. Viewing figures and sponsorship pale in comparison to the Champions League. Clubs in Italy, Spain and England in particular favour domestic duties over group stage trips to the likes of Anathorsis Famagusta or Mlada Boleslav. And just four years after a major overhaul, Uefa president Michel Platini has already confirmed they will discuss the possibility of scrapping the whole tournament in favour of a larger Champions League beyond next season. Hardly the vote of confidence it needed.
Financial figures certainly don't paint a positive picture either. When Bayern Munich face Borussia Dortmund at Wembley on May 25, the victors stand to take their total earnings from this season's Champions League prize fund to more than €37 million. Chelsea, meanwhile, will pocket less than a quarter of that for lifting the trophy in Amsterdam on Wednesday, having made only around €1m less for suffering a group-stage exit in the defence of their continental crown.
There's no denying that financial boons remain an incentive for some of the Europa League's contenders - Basel will consider earnings of €4.1m for reaching their first-ever European semi-final a major bankroll boost. But the lure of prize money is negligible when compared to the almighty coffers on offer in Champions League football and especially when you consider that three of the four Europa League semi-finalists began the season in the tournament's big brother.
All I'm worried about is that we might qualify for the Europa League. That'd p*** me off. What a rubbish competition



- Louis Nicollin

So how can the Europa League be saved? In the immediate future at least, the answer is simple: Uefa must win back the fans. As Chelsea players and supporters alike warmed to the notion of clinching back-to-back European titles, Uefa did their level best to nip the burgeoning interest firmly in the bud by offering supporters just 9,500 tickets for the final (a mere 18 per cent of the stadium capacity).
"It'll be like Munich or Moscow - loads of blokes in suits wandering around having got off sponsors' coaches. They're not real football fans, they're just there because it's an occasion," Tim Rolls, a spokesman for the club's supporters group, told Goal when asked about the ticket allocation earlier this month.
"I hoped when Platini came in that he'd be a breath of fresh air because he's played the game at the highest level, but he just seems to be as corporate as the rest of them."
The cash-cow image is arguably more harmful to the Europa League than any other tournament given its lack of appeal. A major windfall is not possible, but the gap between revenues for Champions League and Europa League participation must be reduced if the bigger sides - the ones who can better restore the tournament's lustre - are to take it seriously.
Condensing the tournament would help. Including all qualifying rounds, a total of 193 sides took part in this season's Europa League representing 53 Uefa associations, including three teams selected for Fair Play rankings. The logistics are enough to put off sides from entering, since coaches are concerned about embarking on lengthy summer away trips at the height of pre-season preparations. Fewer sides would increase competition for places, and free up funds for interest-piquing prize-money.
Another consideration put forth by Platini is to grant Europa League finalists a Champions League berth for the following season. While it may sound counter-productive to award the best sides in the tournament with a way to escape a return to it, there can be no denying this would be an appealing prize. A mere shot at Europa League success would not stop Gareth Bale considering suitors this summer, for example; but the chance to return to the Champions League by winning it might just convince him to stay.
At the time of publication, Uefa had failed to respond to this writer when asked if their blueprints to scrap the Europa League and expand the Champions League had been developed. It should be hoped that the plans, which would do little more than further water down European competition, have been shelved completely. Platini must show a "fresh" approach, rather than simply cutting away perceived dead wood.
Fulham's memorable run to the final after trouncing Juventus and beating reigning champions Shakhtar Donetsk, Athletic Bilbao's destruction of Manchester United in 2011, historic campaigns for Basel and Fenerbahce this season culminating in a thrilling final between two European heavyweights - all have taken place since the 2009 revamp and all are moments worthy of recognition in the annals of Europa League history. Rather than pulling the plug, Uefa must act to ensure the competition has a future - as well as a past - to be proud of, or the blue and white confetti in Amsterdam will simply become more detritus for the footballing scrapheap.
Follow Joe Wright on