TACTICAL ANALYSIS
By Fabio Porta
Bayern Munich's moment is on Tuesday. After near misses in two of the last three seasons in the Champions League, it is imperative that the Bavarians assert themselves as Europe's best club - and there will be no better way to do so than against the team who hold the crown they hope to usurp - Barcelona.
While the match-up of two teams running away with their respective domestic leagues will throw up many key battles across the field, the place where they could have the most joy is down either wing.
An injury to Toni Kroos in the first leg against Juventus saw the old axis of Franck Ribery and Arjen Robben - or
Robbery
- reunited down both flanks for the Bavarians and, tactically speaking, the young playmaker's hamstring problem could not have been more timely for his side.
HOW THE TEAMS COULD LINE UP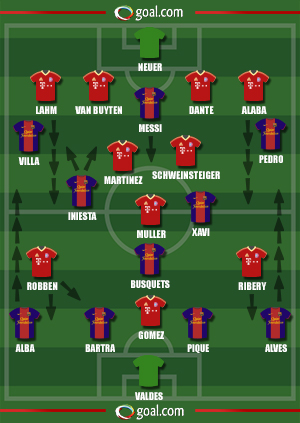 Alba and Alves will leave holes for Robben and Ribery to exploit with the help of Lahm and Alaba

Simply speaking, Barcelona have been vulnerable in the wing-back positions since the solidity provided by Eric Abidal was curtailed by the Frenchman's battle with cancer. Now Dani Alves and Jordi Alba are to be found on either side of the
Blaugrana
back line, and while both are accomplished players, both are more likely to be in the opposition half than defending.
The Brazilian's value to the Barca team is indisputable. His forays into the final third add a degree of unpredictability to the attack, while his presence also provides the outlet for the midfield as they look to hit their opponents down the lines.
However, with Abidal taking up his place in the defence, Barca were able to switch to a three-man back line with relative ease and help stave off any threat of a counterattack. Alba, who joined in the summer from Valencia, offers no such protection.
The result is obvious. The Catalans look susceptible on the break frequently and it is not surprising since both defenders position themselves far too far forward.
Bayern's quality on the wings gives them the opportunity to hit Barca where it hurts. Gaps will open up that Robben and Ribery will most certainly be able to exploit. And while two attack-minded wingers may leave them short-handed out wide, Philipp Lahm's 65 per cent ratio of tackle completion dwarves that of Alves and Alba, who average at around 50% each.
And, in truth, Bayern's best chance of success relies on a wide game. While Alba and Alves are happy to push forward on the wings, Barca's play is centred through the middle and, with the likes of Andres Iniesta, Xavi and Lionel Messi in the Catalans' ranks, they have the quality to win any game there.
The understated member of Tito Vilanova's midfield three is, of course, Sergio Busquets, and his role will be more vital than ever for his side. With Bayern boasting four in-form attackers, with the wingers joined by Thomas Muller and Mario Gomez, the Spain midfielder's calming presence will most certainly be needed.
If Barca play a counterattacking game, Ribery and Robben's direct running will be complemented by the pace and delivery that both Lahm and David Alaba possess, which will come to the fore thanks to Bastian Schweinsteiger and Javi Martinez's willingness to drop back and cover them.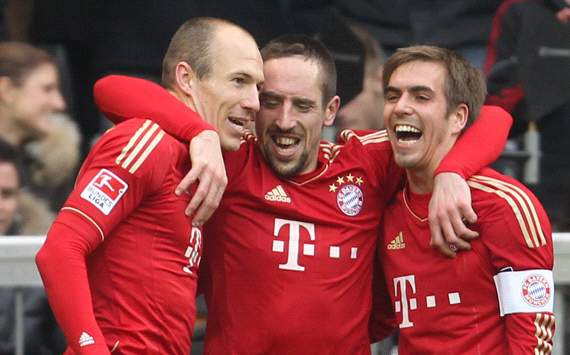 Wingmen | Bayern's wide players must exploit any opportunity that comes their way
Opportunities will arrive for the Bavarians, and Jordi Roura's admission that his side might give Eric Abidal his second start since a liver transplant last year at the Allianz Arena was a telling one - they want a secure foundation from which to attack.
Of course, much depends on how the match itself pans out. Arjen Robben and Franck Ribery will only receive service if the side can manipulate possession, and though Alaba and Lahm have enjoyed great seasons, the likes of Iniesta, David Villa and Pedro certainly have enough ability to disturb them.
Bayern face a tough task in halting the
Blaugrana
attack, but they have a genuine opportunity to exploit Barcelona's weaknesses on the flanks. Even if the visitors dominate possession, opportunities will come down the wings which they must exploit or face another season of unfulfillment.
Follow Fabio Porta on