COMMENT
By Liam Twomey
It feels strange and sad to realise it has been almost a decade since Gianfranco Zola bade a teary farewell to Stamford Bridge on May 11 2003, having helped
Chelsea
defeat
Liverpool
and secure qualification for the Champions League on the final day of the season.
Zola lit up English football for six years before honouring his promise to finish his playing days at hometown club Cagliari. But long after he had left, his legacy lived on. The Champions League football he helped bring played a big part in convincing Roman Abramovich to buy the Blues a month later and the rest, as they say, is history.
In the 10 years since, Chelsea have won everything they could ever have wanted – except the admiration of neutrals. They have scaled unimaginable heights but, aside from the brief blossoming of Joe Cole, never really came close to finding a footballer with the genius or the charm of Zola.
JUAN MATA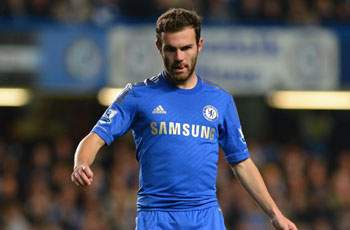 SEASON SO FAR

GAMES PLAYED
GOALS
ASSISTS
50
18
28

AVERAGE PLAYER RATING


3.35
WHAT THEY SAY

"Mata is a player who is very dangerous getting into the box and also outside the box, so we are very pleased with him. Even without the ball, he is working really hard and when we are in possession, he is making a difference. The Premier League has a lot of good players and Mata is one of the best, for sure."
- Rafael Benitez

Until August 2011, that is, when Juan Mata arrived in west London. In his debut season, the Spaniard added fantasy to the pragmatic and workmanlike Blues side which salvaged a lost campaign with an FA Cup and Champions League double. This term he has been the best player in England.
If it sounds like a bold claim, it is. Robin van Persie has almost certainly fired Manchester United to a record 20th league title. Gareth Bale has matured into a match-winner of the highest calibre. Luis Suarez has added a clinical edge to his phenomenal industry and skill, and Michu has been a genuine revelation. All the more impressive, then, that Mata has managed to outshine them all.
The Spaniard is the top assister in the Premier League, having laid on 10 goals for his team-mates. It is a figure which becomes all the more impressive when you consider the strikers he has been providing for are Fernando Torres and a Demba Ba who increasingly appears to have traded in his shooting boots when he acquired that snazzy face mask.
Mata has also scored 10 himself, meaning he has been directly involved in 20 of Chelsea's 58 league goals – just over a third. These superb numbers do not even take into account the fact that he also often plays the pass
before
the pass which leads to a goal, dropping deep, looking up and finding the likes of Eden Hazard and Oscar in a position to torment opposition defenders.
What is clear is that when he does have the ball, Mata is a constant threat. He plays 2.7 key passes on average per game – the same as Suarez, while Bale averages 2.5. He creates a chance on average every 28.38 minutes, a figure only bettered by David Silva (24.07) and Leighton Baines (28.06).
In buying Hazard, Oscar, Victor Moses and Marko Marin, Chelsea spent close to £70 million on creative talent last summer. Yet Mata remains the hub of the Blues' attack, and their reliance on him is almost total. Of the four Premier League matches he has not started this season, Chelsea have drawn and lost against QPR, been held at home by Fulham and tasted defeat away at West Brom.
He has played in 50 of his team's 53 matches – bagging 18 goals and 28 assists – after a summer which included Euro 2012 and Olympic commitments. Bale has played 42 games, van Persie 41, Suarez 40 and Michu just 36. If his skills do not astonish, his consistency and stamina should.
But it is not just Mata's statistics which are compelling. Like Zola and few others, he is a footballer who, by the way he conducts himself, has managed to transcend the petty tribalism which pervades English football.
Unlike Bale and Suarez, he has not earned a reputation for diving. He rarely harangues referees or opponents. Wherever he plays in the country, Mata is not booed or in any way targeted by opposition fans. He is respected by all and admired by many, even as he helps defeat the teams they support.
It helps, of course, that to watch him on a football pitch is nothing short of a delight, regardless of your allegiance. Zola used to play the game 'with a smile on his face'. Mata's expression is more usually one of intense concentration as he constantly drifts into space and probes for openings. He leaves the smiling to the spectators as he expresses the joy of his art with his magical feet.
In the midst of a campaign consumed by Chelsea's apparent need for chaos and overshadowed by racism rows, brutal managerial sackings and fan hostility, Mata has presented a likable face to the world. He has navigated internal politics effortlessly, publicly attempting to unite a fractious dressing room behind a hugely unpopular manager without suffering any discernible fan backlash.
Off the pitch, he appears a model professional, devoting himself to academic study and training, even following in the footsteps of his hero, the evergreen Ryan Giggs, by taking up yoga once a week in an attempt to preserve his health and prolong his career.
He publishes his own blog, 'One Hour Behind', in Spanish and near-flawless English, and attracts none of the vitriol often associated with footballers' forays online.
On the pitch, he has emerged as a genuine leader, scoring at crucial times home and away against Arsenal, as well as against Tottenham and Manchester United. Eight of his 10 league goals have come away from home. When Frank Lampard and John Terry finally depart the Stamford Bridge dressing room, it is Mata who looks likeliest to take up their mantle.
Despite this, he is unlikely to be named PFA Player of the Year. Chelsea's lack of significant success this season will count against him. Van Persie has built up a season of goodwill, while Bale enjoys the momentum of a sensational 2013. Individual recognition may have to wait.
Not that Mata or his admirers should care too much – Zola never won the award either.
*Statistics provided by whoscored.com and EPLIndex