ANALYSIS
By Enis Koylu
Another weekend, another Bayern Munich win. The 3-2 victory over Fortuna Dusseldorf on Saturday was their 10th in as many games in 2013, and they are looking good value for an historic treble.
Indeed, over four months have passed since
die Roten
last suffered a defeat - a 2-1 home reverse to Bayer Leverkusen, who had goalkeeper Bernd Leno to thank for making an astonishing number of saves.
Despite the heavy pressure the
Werkself
were made to endure, they thoroughly deserved their win, one which bore remarkable similarities to their other defeat this season, a 3-1 loss to BATE in Minsk that will go down as one of the all-time Champions League shocks.
Both teams came out against Jupp Heynckes' side with an obvious plan to drop back and soak up the initial bout of pressure to which Bayern routinely subject opponents at the start of matches. Midfielders and wingers joined their defensive colleagues, creating a wall the Bavarians found difficult to surpass.
Once the opening wave ends, if Bayern are not ahead, they become visibly frustrated. They continue to dominate possession and encamp themselves outside the opposition penalty area, but their build-up play becomes more frantic and less measured.
It is then about picking your moment. In their pursuit of an opening goal, Bayern continue to commit all of their midfielders and both wing-backs forward, leaving central defenders exposed. Both BATE and Leverkusen were able to exploit this brilliantly, and take their rare chances on the break.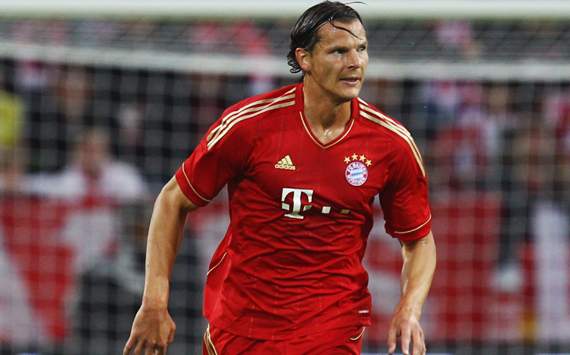 Van Buyten | The Belgian has been thrust back into action since Holger Badstuber's injury
Score the first goal, and Bayern are on the ropes. Only twice have they come from behind to win this season, and they have not overturned a half-time deficit so far this term.
Indeed, had Thomas Muller not scored on the stroke of the break against Dusseldorf on Saturday, the Ruhr outfit might have had more to show for their Allianz Arena exertions than a gutsy, but ultimately futile, performance.
It is a strategy that has worked to great effect since Heynckes took over. Monchengladbach coach Lucien Favre used it to great effect last season, producing a masterclass of counterattacking football to lead his side to a 3-1 triumph at Borussia Park and a 1-0 win in Munich, with the Foals finding space and exploiting it time and time again.
FEW AND FAR BETWEEN
Bayern's eight defeats in 2012

Team
Competition
H/T
F/T
Date
B04 (H)
Bundesliga
0-1
1-2
Oct 28
BATE (A)
UCL
1-0
3-1
Oct 2
BVB (N)
Pokal
1-3
2-5
May.

12

Madrid (A)
UCL
2-1
2-1
Apr 25
BVB (A)
Bundesliga
0-0
1-0
Apr 11
B04 (A)
Bundesliga
0-0
2-0
Mar 3
Basel (A)
UCL
0-0
1-0
Feb 22
G'bach (A)
Bundesliga
2-0
3-1
Jan 20
The gaps left by the waves of Bayern attacks leave the centre-backs stretched and many teams have found joy against the Bavarians, crossing to forwards who have space to run into and dominate.
Of course, to beat the best, you need fortune on your side. Leverkusen had a Jerome Boateng own-goal to thank for their Allianz Arena conquest as Bayern struck the woodwork twice, while the frame of the goal saved BATE once.
Another recurring theme of the few games in which Bayern have struggled this season is the absence of key players. An injury to Bastian Schweinsteiger left them with an uneasy-looking central midfield pairing of Luiz Gustavo and Javi Martinez, and it showed. They lacked a leading presence in midfield who drives them forward with his vast array of European experience.
Meanwhile, with Arjen Robben and Franck Ribery missing against B04, David Alaba, a midfielder-turned-defender played on the left wing, and the Austrian, nursing his way back to fitness, visibly struggled to recreate the penetration which makes his team-mates stand out.
While Gladbach's method of avoiding defeat versus
die Roten
has continued into this season, with the Foals recording a 1-1 draw in Munich back in December, another team to have had a phenomenal record against them in recent years, Borussia Dortmund, have been found out.
Jurgen Klopp's side famously recorded five straight victories against the Bavarians as they became Germany's top team, consistently overrunning their rivals in midfield to great effect, even putting five past them in last year's DFB-Pokal final.
But Bayern learned from the defeats and even beat Dortmund at their own game, most notably in the DFL-Supercup in August, which saw them kill off the game within the opening 11 minutes, and the recent Pokal quarter-final, when they smothered their opponents, limiting them to just a handful of chances and winning 1-0.
For his part, though, Klopp was less than impressed by their tactical evolution. "They're a bit like the Chinese in the economy and industry. They look at what everyone else does, then copy it. They take the same path, just with more money and different players. And they've become better for it."
Their acquisitions in the summer have been key in this. Dante's no-nonsense approach in defence has seen them snuff out potential threats early, Claudio Pizarro, Mario Mandzukic and Xherdan Shaqiri added depth where it was obviously needed, while Martinez provides greater stability and passing than Gustavo did before him.
Quite simply, if you want to beat Bayern, a slow-paced game where you look to turn the screw on them and camp outside their penalty area will not work for anyone, save perhaps an in-form Barcelona. The only way may well be to sneak past them.
Bayern have the quality, balance and adaptability to overcome anyone in the world. To overcome them, you need tactical nous and a huge dose of luck.
Follow
Enis Koylu on