ANALYSIS
By Kris Voakes | Italian Football Writer
It says much about Juventus' dominance of Serie A over the past 18 months that questions are being asked as to whether the Bianconeri's progression to the Champions League quarter-finals is Napoli's greatest hope of winning the Scudetto. According to the theory, any attempts by Antonio Conte to rotate his squad in order to maximise his side's chances in Europe could help the Neapolitans close the gap in the domestic league.
However, the Turin outfit have now bolstered their squad to admirable lengths, so much so that they have a second-string XI which could beat most teams in Serie A. With players such as Paul Pogba, who was taken on a free from Manchester United, Fabio Quagliarella – signed from second-placed Napoli – Simone Padoin and Federico Peluso, who were both integral members of a strong Atalanta side, and Mauricio Isla – a regular in Udinese's back-to-back Champions League contenders, it is fair to suggest that a Juve 'B' side would hold their own in the top flight given the chance.
The strength in depth, of course, has a positive and a negative impact on the squad as a whole. On the plus side is the fact that Conte has a whole raft of experience and quality from which to choose at any given time, but conversely he has the task of keeping a large number of players happy. Modern footballers are no more content sitting on the bench than those who would do so back in the days when there was little or no rotation of squads. Pogba himself has already left one huge club due to a lack of playing time.
Another down side to the practice of building up such a hefty squad of players is the lack of opportunities it affords some of the talented youngsters the club has on its books. And the loaning out of those players leaves Juventus partly at the mercy of the loaning club in terms of the short-term development of a player. For as long as Juve are entrusting an outside party with one of their key assets, they cannot dictate the full extent of their usage by a team who have their own goals and objectives to consider.
BIANCONERI 'B' | How a second-string Juve might line up

GOALKEEPER

Marco Storari
| | | |
| --- | --- | --- |
| CENTRE BACK | CENTRE BACK | CENTRE BACK |
| Martin Caceres | Luca Marrone | Federico Peluso |
| | |
| --- | --- |
| WING BACK | WING BACK |
| Mauricio Isla | Paolo De Ceglie |
| | | |
| --- | --- | --- |
| CENTRE MID | CENTRE MID | CENTRE MID |
| Simone Padoin | Paul Pogba | Emanuele Giaccherini |
| | |
| --- | --- |
| CENTRE FORWARD | CENTRE FORWARD |
| Alessandro Matri | Fabio Quagliarella |
In that light, it may be time for the FIGC (Italian FA) to consider following the model of Spanish football, which allows clubs to enter a 'B' team into the domestic professional leagues. If Inter, Juventus, AC Milan and others so wished, the practice would allow the clubs to better manage the development of their key young stars. Rather than keeping players in the youth setup until the age of 19 or 20, then loaning them to a multitude of outside sources, teams would be better placed to keep a core of their most exciting talents together and allow them to play with a select few experienced heads who are still considered worthy of the club's shirt, despite not being first-team regulars.
While the example XI above would obviously not all be content with playing Serie B football each week, and a handful would be needed to sit on the first team's bench, there would be scope to keep some of them playing 90 minutes per week when not called upon by Conte. The likes of Padoin and Emanuele Giaccherini are getting nowhere near the amount of football they were playing before moving to Juve, and would surely benefit more from regular playing time in the knowledge they could be recalled to the first team at any moment, as opposed to rare 15 minute cameo appearances.
The use of 'B' teams is commonplace in Spain, and there was even one remarkable occasion back in 1980 when Real Madrid's second choice 'Castilla' side beat Atheltic Bilbao, Real Sociedad and Sporting Gijon to reach the Copa del Rey final, where they lost to their own club's first team. As a result, they earned a spot in the following season's Uefa Cup, beating West Ham United 3-1 in Madrid before going out in extra time of the second leg. Clearly, this is a success story of unparalleled proportions, but those Castilla players would never have gained anything like the kind of group experience they did from that cup run by being farmed out on loan to various lower league sides.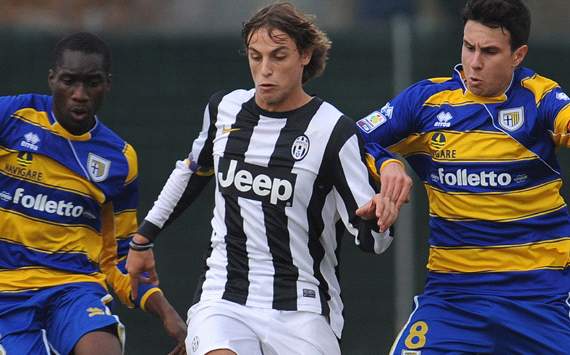 Stefano Beltrame | One of a host of Juve youngsters stuck behind countless older heads
What's more, Serie B is an exciting but fundamentally flawed league. In a domestic game that attracts few supporters outside of the traditional giants, tiny attendance figures are far too prevalent in the Italian second tier. The addition of great names such as Juve, Milan and Inter, second strings or not, would perhaps add some lustre to the league that is currently missing, albeit at the expense of some of the strugglers at the lower end of the table. The flip side, though, is that promotion from the Lega Pro divisions could come with the greater reward of big dates against some of the country's top names.
A mix of some of Italy's top young talents and reliable first-team squad figures would certainly be an attraction that many fans in cities such as Modena, Padua and Reggio Calabria would see as a real bonus when weighing up whether to head over to their local ground each weekend.
The alternative is for Juve and the other top clubs to continue stockpiling talent on their benches, robbing Italian fans of seeing some quality players from taking to the field each week.