COMMENT

By Daniel Edwards
Even Eduardo Galeano, the great Latin American author and chronicler of the fate of his continent across countless articles and texts, is no exception to the fanatical support football enjoys across the region. In his seminal tome on the beautiful game,
Football in Sun and Shadow
, Galeano brings his own literary slant to the sport; and some of his most impacting words are saved for the role of the game's superstars.
"The ball seeks him, recognises him, it needs him. In the bosom of his foot, it rests and makes its bed. He inspires brilliance in the ball, he makes it talk, and in that dialogue millions of mutes converse. The nobodies, those condemned to be nobodies forever, can feel like somebodies for a moment, thanks to those passes given back to them in an instant," the Uruguayan explains on describing his idols, summarising in a matter of paragraphs the rush any fan or player receives when witnessing somebody with a special talent on the ball.
Galeano, however, errs in one argument. This brilliance is described as lasting just a fleeting moment; but as his compatriot Alvaro Recoba, and 'El Chino's' Argentine adversary Juan Roman Riquelme, will prove on Thursday evening, some stars last an eternity before beginning to wane.
Recoba turns 37 in 10 days, but as a player who even at his peak never excelled in the physical side of the
RECOBA'S GREATEST MOMENTS

16/6/12 - Nacional vs. Defensor Sporting
With the clubs' play-off deadlocked at 0-0, 'El Chino' ghosted past his marker and chipped home to bring the title to Parque Central.
6/5/98 - Inter vs. Lazio
The Uruguayan did not make it off the bench, but marked one of the biggest successes of his career as Lazio were blown away 3-0 in the Uefa Cup final.
9/1/05 - Inter vs. Sampdoria
A virtuoso performance off the bench was capped by a stunning volley, helping Inter score three goals in six minutes and down the Genoese side 3-2.
game, the advancing years do not seem to be taking their toll. The veteran ex-Inter legend was a key part of the Nacional side that stormed to the Uruguayan Championship in 2011-12, scoring the goal which sealed victory in the play-off over Defensor Sporting.
The strike was vintage 'Chino'; picking the ball up on the edge of the area from Vicente Sanchez, the daintiest of touches sent the No.10 streaking away from his marker, before the Defensor keeper was left palming at thin air as Recoba's delicate chip nestled into the corner. A 1-0 win earned the
Bolso
their 44th title, and proved that even at 36 their playmaker could still wow fans as he did for so many years in Italy.
His rival in blue and gold, on the other hand, completes a remarkable turnaround as he prepares to reunite with coach Carlos Bianchi in the Copa Libertadores competition the pair all but made their own at the start of this millennium.
Riquelme returned to professional football at the weekend after quitting Boca following last year's final defeat at the hands of Corinthians, eight long months of tears, recriminations and transfer rumours ending with a return to the Bombonera. His first game back, a shock 3-1 defeat at home to relegation strugglers Union, could not have gone worse for the
Xeneize
, but there were signs that Roman still had the magic which makes him such a favourite with supporters across Argentina.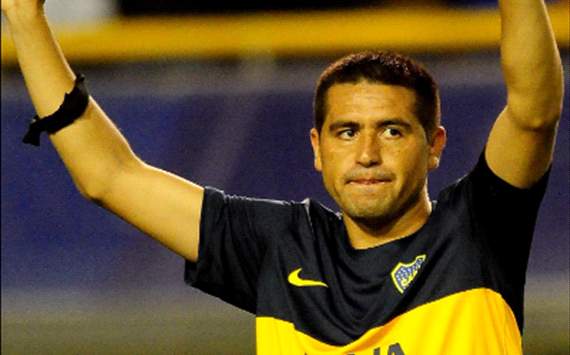 The Prodigal Son | Riquelme salutes the Bombonera in his latest comeback
The question now, at 34 years old, is whether Riquelme can make a success of his latest sensational comeback to Argentine football. The man himself has dismissed concerns, stating that the same issues were raised when he cut his European career short in 2007 to return to the Bombonera.
RIQUELME'S GREATEST MOMENTS

16/6/06 - Argentina vs. Serbia
An imperious display from the No.10 as he starred in one of the Albiceleste's greatest-ever performances, destroying Serbia in the 2006 World Cup.
2004/05 - Villarreal
Discarded on loan by Barcelona, Roman responded by putting in one of the greatest seasons of his career with the Yellow Submarine, scoring 15 in 35 games as his new side finished third in La Liga.
20/6/07 - Gremio vs. Boca Jrs.
Riquelme had been in stunning form throughout Boca's charge to the Libertadores final, and his two goals in Porto Alegre ensured the Xeneize's sixth South American crown as Boca romped the tie 5-0 on aggregate.
But that was six years ago, and after several not-insignificant injury battles during the intervening period, not to mention such a prolonged period of inactivity, eyes will be on the enigmatic genius to prove that the incredible talent he possesses with the ball at his feet will still be enough to compensate for growing physical deficiencies.
Thursday's clash with Recoba, no stranger to doubts over his fitness himself, and Nacional, will go a long way in telling us whether Riquelme and Boca have the fortitude to go one step further than 2012 and lift the Libertadores after a lukewarm start to 2013.
With Boca leaking goals domestically under a coach who, after so much success on the club's bench, is struggling to find a consistent winning formula, and Nacional having started well in the Copa but coachless after sacking Gustavo Diaz following a winless start to the Clausura, both teams will be under pressure to perform in the Bombonera as they strive to take one of two qualification places out of Group 1.
Galeano believes that when a side can call upon a true idol, they are in fact playing with 12 players, not 11; what should be clear to any football fan is that both Recoba and Riquelme are capable of once more taking on the role of talisman, becoming the 12th man and leading their teams to great things. If the two find form on Thursday evening, it promises to be a game no fan of the beautiful game can afford to miss.
Follow Daniel Edwards on