COMMENT
By Kris Voakes | Italian Football Writer
When you're running away with a league title, the odd defeat is not normally considered costly. However, Juventus' 2-1 home reverse to Sampdoria could so easily have turned out to be more damaging than a simple loss of three points thanks to the late injury sustained by Claudio Marchisio.
The midfielder had already collected a heavy knock moments before, pulling up after getting his body into the wrong position as he attempted to tackle Eder out wide. And yet, despite being in obvious pain, he was allowed to return to the field to make up the numbers and collapsed in agony when chasing a loose ball in the first minute of injury time. That he will miss less than three weeks of action is the result of good luck rather than fine judgement.
Yes, Juventus were trailing, but this was no crunch clash. It wasn't a title decider. Their position as capolista was not at stake. Sampdoria were even down to 10 men themselves. The risk really wasn't worth it.
MATCH FACTS | Juve 1-2 Samp



JUVENTUS
SAMPDORIA
Shots
16
10
On Target
8
4
Possession
64%
36%
Corners
14
3
Bookings
4
6
Sendings-off
0
1
Yet with the potential negatives far outweighing the positives, Antonio Conte gave the go-ahead for one of his three first-choice midfielders to go back onto the pitch even though he was clearly well below par in a physical capacity. Had he sustained ligament damage as he fell to the ground upon his return, he could well have missed the remainder of the season. The diagnosis is a fortunate one at best. Marchisio cannot be faulted for his regular displays of Juventinita, but he needs to be reined back in when his desire puts his body and his side's Champions League prospects in jeopardy. But the coach failed to do just that.
It wasn't Conte's first mistake of the day either. Juventus shouldn't have been second best against an 11-man Samp, let alone one reduced to 10 by the first-half sending-off of Gaetano Berardi. Instead, the Blucerchiati had more drive, more competence in front of goal, more belief in their gameplan, and more structure within their short-handed formation.
With Kwadwo Asamoah unavailable, Stephan Lichtsteiner suspended and Giorgio Chiellini injured, the
Bianconeri
were already missing key runners and influential defensive minds in vital areas, so the decision not to have Arturo Vidal take the field of play was a puzzling one. The Chilean stands alongside Chiellini as the Turin side's most important player when his team are without the ball, and the absence of both contributed heavily to Juve's abysmal showing whenever Sampdoria were on the ball.
Federico Peluso had a nightmare debut, regularly allowing Mauro Icardi time and space in the right-hand channel, and the Argentine scored the two goals that turned the game around in the favour of Delio Rossi's side. Chiellini's worth can only be exemplified greater with each game he misses as the lack of defensive support on the left makes fools of replacements left, right and centre. Marchisio's more attacking instinct means the job of the left-sided centre-half is tougher than that of Andrea Barzagli on the right, and Peluso found the going particularly difficult.
It wasn't just him though. There were signs from early in the piece that Samp could be a danger. Andrea Poli missed a good chance early on with a man overlapping to his left as the visitors were given time and space which is normally alien to opponents of Juventus. There were also openings for Eder and Marcelo Estigarribia.
Simply put, the team selection was a list of comical errors. While the absence of Vidal was the most glaring, Simone Padoin was also selected on the right-hand side in Lichtsteiner's usual spot despite the availability of the infinitely more capable Martin Caceres and Mauricio Isla.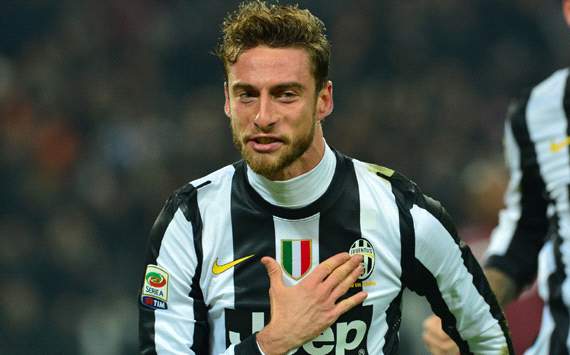 Marchisio | His unquestionable passion saw him risk too much
Padoin was a foot soldier of a midfielder at Atalanta, and his signing last January was a strange one from day one. But his continued use as a right wing-back is only adding to the delusion. Why pick him there when you have millions of Euros worth of better players on the bench who actually do fit into that position? The use of Padoin in the same spot in the second half against AC Milan instead of Lichtsteiner was one of the gravest errors of Angelo Alessio's spell as matchday coach, and it appears Conte has not learned from that lesson.
Beyond that, there was the latest episode of the soap opera that is Alessandro Matri's continued employment at Juventus. The quicker Juve bring in a new striker and Matri is relieved of his duties, the better. If David Trezeguet and Alessandro Del Piero were 'Friends', Matri is the spin-off 'Joey'. He's a poor excuse for a replacement, and despite scoring only 10 goals in 32 games last season when given regular opportunities, he is continually handed chances by Conte.
Peluso had a horrible start, and will have to improve massively if he is to earn a deal beyond the end of the season, but Padoin and Matri simply are not Juventus quality, and should certainly not be chosen when better options are available.
Is the Bianconeri's squad good enough to win the title with a wet sail? Definitely. But if Conte and his players keep making bad decisions, they could yet be their own bigger challenge at home and abroad.
ELSEWHERE...
The 2012-13 season only gets worse for Jonathan, with the Inter wing-back guilty of missing a gilt-edged chance to put his side ahead away to Udinese. After the Brazilian somehow side-footed wide following brilliant work by Antonio Cassano, the Friulani immediately took advantage by opening the scoring in what would eventually be a 3-0 home win. While Juan Jesus' sending-off ensured that there was no way back, it was Jonathan's wasted opportunity which really changed the game, coming on the back of an excellent 15-minute spell for the Nerazzurri at the start of the second half. Antonio Di Natale capitalised on the stroke of luck to score twice, leaving Andrea Stramaccioni with much work to do as Inter look to remount a Champions League challenge.
Lazio's late victory over Cagliari on Saturday night was given extra importance by Fiorentina's surprise home defeat to Pescara on Sunday as the Champions League scramble took another twist. However, it was Napoli who made the biggest noise in that respect with a magnificent 4-1 win against Roma in Sunday night's posticipo. Edinson Cavani's latest hat-trick once again propelled the Partenopei to victory, with Christian Maggio sealing the win after Pablo Daniel Osvaldo had shown Zdenek Zeman why he probably should have started the game. If there is one downside for the San Paolo side, it is that Cavani has given another nudge to those big clubs searching a regular goalscorer. If there is one player Napoli cannot afford to lose, it is most definitely the Uruguayan.
AC Milan picked up three points by seeing off Siena at San Siro, but it was their less important triumph this week. Their victory over the racist boo-boys was much more vital for football as a whole, and the very idea that Sepp Blatter could cast doubt over the legitimacy of their walk-off is preposterous. Milan rightly defended their actions in a club statement, and immediately put the ball back in Fifa's court. If football is to beat this cancer, then the game's governing bodies must be made to feel the pressure on the subject and the Rossoneri continue to set a marvellous example.
Follow Kris Voakes on