Chelsea
have overcome their fair share of hurdles in the Champions League over the last 12 months and
Roberto Di Matteo
's side's latest obstacle is likely to have a major say on whether they will have the chance to defend their crown beyond Christmas.
The Blues are second in Group E going into the penultimate round of fixtures but with Tuesday's opponents Juventus hot on their heels, a defeat for either side in Turin could deliver a fatal blow to their hopes of reaching the last 16 and beyond.
With that in mind the pressure is certainly on Di Matteo to find a winning formula, or at least avoid a losing one, and
Goal.com
's team of experts have put themselves in the manager's shoes and offered up what they consider the team to do the job in Italy...
'START STURRIDGE OVER FRAIL TORRES'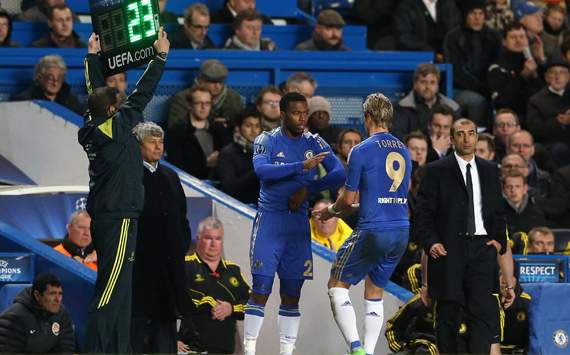 Wayne Veysey | Goal.com UK Chief Correspondent
Chelsea's strengths are the drive of Ramires and the creativity of the holy trinity of Juan Mata, Oscar and Eden Hazard (three of whom were rested from the starting X1 for the 2-1 defeat at West Brom).

CECH
| | | | |
| --- | --- | --- | --- |
| IVANOVIC | CAHILL | LUIZ | COLE |
| | |
| --- | --- |
| MIKEL | RAMIRES |

STURRIDGE
Their weaknesses are clear for all to see, in the centre of their John Terry-less defence and the absence of a reliable centre-forward who sends shudders through the opposition every time he bears down on goal.
Didier Drogba was that man, and Fernando Torres is plainly not. Nor, does it seem, he ever will be again, certainly at a consistent level in elite competition.
Chelsea will benefit from Juventus' need for a victory, and Roberto Di Matteo's refreshed team should create plenty of opportunities. I would start with Daniel Sturridge up top rather than the frail Torres, whose reasonable goal return this season masks a mediocre all-round output. Sturridge is an erratic finisher but he does not suffer from Torres' lack of self belief.
At the back, I believe the experience of Branislav Ivanovic and Ashley Cole is needed to deal with the threat from Juventus' wing-backs. Gary Cahill's defending does not match his velvet touch in the opposition box, but he should start alongside David Luiz, whose perm always seems to bounce with far more effervescence in Europe than it does in the Premier League.
'MATA & HAZARD MUST DO THEIR DEFENSIVE WORK'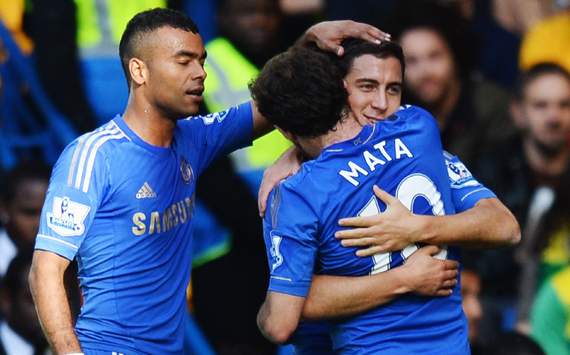 Peter Staunton | Goal.com International football writer
Chelsea's deficiencies at the centre of defence have been well exploited by opponents on the domestic scene as well as in Europe and without captain John Terry, the European champions always appear to be a team likely to concede goals.


CECH
| | | | |
| --- | --- | --- | --- |
| AZPILICUETA | IVANOVIC | LUIZ | COLE |
| | |
| --- | --- |
| MIKEL | RAMIRES |


TORRES
Their most commanding and able central defender in the absence of Terry is Branislav Ivanovic who usually plays on the right. However, Cesar Azpilicueta is a natural fit for the right-back berth which allows Ivanovic to push inside in place of Gary Cahill, who was given the run around by Shane Long at the weekend.
Azpilicueta has a good instinct for supplementing the attack when required and could help to make life uncomfortable for Kwadwo Asamoah by doubling up with Juan Mata or Eden Hazard. Defensive work must be done by those two as their wan contributions in that regard against Shakhtar Donestsk meant Chelsea were overrun in wide areas.
Asamoah and Maurico Isla, or Stephane Lichtsteiner, need no second invitation to maraud downfield and, in a game that Juventus need to win, they will carry the attacking impetus for the hosts.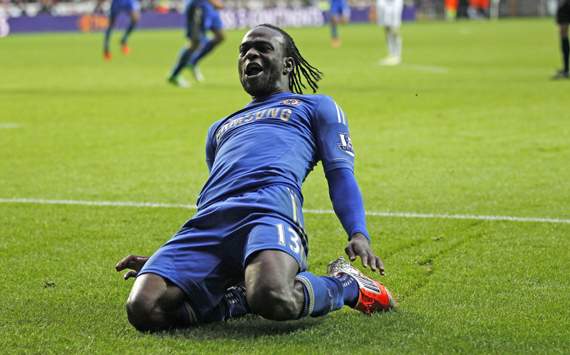 Stephen Darwin | Goal.com UK Assistant Editor
If there's one game Chelsea could do with having their captain colossus on the pitch, it's this one. The absence of John Terry at the Juventus Stadium leaves a gaping hole in the Blues' back four that David Luiz and Gary Cahill seem incapable of sufficiently papering over.


CECH
| | | | |
| --- | --- | --- | --- |
| AZPILICUETA | IVANOVIC | CAHILL | COLE |
| | |
| --- | --- |
| MIKEL | RAMIRES |


MOSES
The Brazilian's horror show against West Brom should see him dropped, with Branislav Ivanovic an able replacement to slot in alongside Cahill, allowing Cesar Azpilicueta to continue at right-back.
Frank Lampard is another who, had he been fit, would have been pushing for a start but in Ramires and John Obi Mikel, Roberto Di Matteo has two reliable anchors, proving the reins are sufficiently applied to the marauding former Benfica star, in particular.
The attacking triumvirate of Juan Mata, Oscar and Eden Hazard picks itself so the major question mark is over Fernando Torres and whether Di Matteo keeps the faith. With one fortuitous, to say the least, goal in seven, the £50 million man is experiencing an all too familiar slump in form and a Torres lacking in confidence is no use to Chelsea.
This is where Victor Moses comes in. The 21-year-old has shown, in the smattering of chances he's had in a Chelsea shirt thus far, that he has an eye for goal and giving the former Wigan man the nod would even offer Di Matteo the flexibility to utilise a false-nine system.
With Moses able to drop back when Juve are in possession, Chelsea will have a better chance of winning the midfield battle, with the likes of Hazard and Mata capable of interchanging with the Nigeria international to keep the hosts' back four guessing.
'CHELSEA HAVE TO SELECT PACY FULL-BACKS'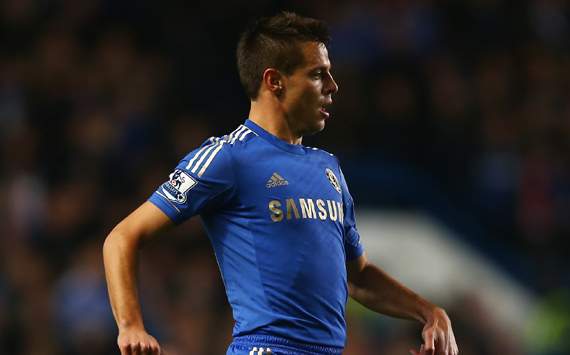 Carlo Garganese | Goal.com International Deputy Editor


CECH
| | | | |
| --- | --- | --- | --- |
| AZPILICUETA | IVANOVIC | LUIZ | COLE |
| | |
| --- | --- |
| MIKEL | RAMIRES |


TORRES
Although they showed signs of tiredness during the month of October, Juventus are usually an extremely fit team who press ferociously and attack with great speed and quick movements off the ball.
At Stamford Bridge, due to the tight pitch Juventus weren't able to stretch Chelsea as much as they potentially will on Tuesday night. Therefore, it is important Chelsea select two pacy full backs who can keep up with the attacking raids of wing-backs Asamoah and Isla or Lichtsteiner. David Luiz is also a better choice to Cahill for this reason.
The five midfielders pick themselves as Frank Lampard is not fully fit, Oriol Romeu is not good enough, while Moses perhaps lacks the experience to start such a game - which is also a reason why Fernando Torres must be employed as the lone striker, despite not being in the best of shape.
HAVE YOUR SAY
Which of our experts do you agree with? Should Torres keep his place or is it time Di Matteo gave Sturridge or Moses their chance to shine? Just how do the Blues cope without their skipper and is David Luiz really up to the job of keeping Juve at bay?
Let us know your views and have your say in the comments section below!