ANALYSIS
By Ben Hayward | Spanish Football Writer
Jose Mourinho
had never won a game of football in
Levante
. The
Real Madrid
coach had lost two and drawn one in his previous three visits to the Ciutat de Valencia and looked like leaving unsatisfied once again after Angel's equaliser on Sunday. But then, something strange and quite unexpected happened -
he was saved by the cantera
.
Mourinho has received criticism recently for his failure to trust young players, but was down to the bare bones in this match. With senior strikers Gonzalo Higuain and Karim Benzema both sidelined through injury and Cristiano Ronaldo withdrawn at the interval after a dizzy spell in the dressing room, the Portuguese threw on Kaka late in the game. And with the seconds ticking away, his team 10 points behind Barcelona (who had earlier beaten Mallorca) and the Primera Division dream distant, he turned to Alvaro Morata.
MESSI OVERTAKES PELE AS BARCA WIN AGAIN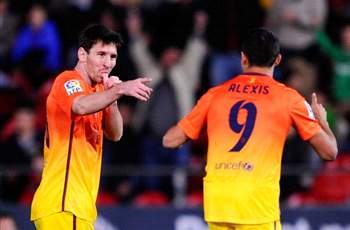 Barcelona raced into a three-goal lead at Mallorca, then complicated matters by conceding twice, before winning comfortably in the end thanks to Lionel Messi's second to make it 4-2 on the island.

That goal, a left-footed drive rifled into the top corner, saw the Argentine surpass Pele's mark of 75 goals in a calendar year and leave him just nine short of Gerd Muller's all-time record of 85 for club and country, set in 1972-73.

Messi was fortunate to see the second strike stand as Alexis Sanchez was in an offside position and obstructing goalkeeper Dudu Aouate, who had made a mess of the Argentine's shot to make it 2-0 earlier in the game.

With 31 points from a possible 33, Barca have now equalled Real Madrid's best-ever start to a Primera Division campaign.

Messi, meanwhile, has up to 13 games left to break Muller's mark, albeit achieved in 60 games, while Leo has 76 from 59 so far.
The youngster did not disappoint. His first and only meaningful contribution was to glance a header past Gustavo Munua to make it 2-1 and seal three precious points for Madrid which may come in very handy indeed at the end of the season. Mourinho must have been grateful.
However, the Portuguese was quick to take some of the credit himself. "I was the one who brought him up to the first team [from Real Madrid Castilla], nobody else," he boasted. "I was the one who took him on three pre-season tours. Who stopped him from leaving? That was me. Who was the one who offered him a contract? That was me too. And who takes care of managing him? Me."
It was hardly modest but Mourinho likes to take credit when and where he can. The 49-year-old also praised his new hero and claimed the striker has a future at Real Madrid. When Higuain and Benzema return, however, his chances are likely to be scarce once again.
Earlier, stand-in striker Ronaldo took a brutal blow above the eye from David Navarro inside two minutes and the 27-year-old failed to appear after the interval, having suffered dizzyness at half-time.
Luckily for Madrid, the Portuguese had given his side the lead after he was patched up, controlling a Xabi Alonso free kick, diverting his way past Navarro on his thigh to avoid the ball bouncing on the sodden surface and smashing a volley into the net.
The conditions were dreadful and the game should probably not have been played in the first place, with Wayne Rooney even taking to
Twitter
to deride the decision to go ahead with the fixture.
But with Spain in action in midweek in a friendly against Panama and very little space in the calendar, it was never likely to be postponed.
Madrid had coped better in the first half but were pegged back by Angel, who held off Pepe to beat Iker Casillas, after Mourinho's men had twice hit the crossbar.
Alonso then missed a penalty which shouldn't have been awarded anyway after Navarro fouled Jose Callejon outside the box, and it seemed as if Madrid would drop two more points and slip 10 behind Barca in the title race.
But Morata made sure that did not happen and showed Mourinho the
cantera
can be useful, too. On a night of high drama which included a brawl between the two sets of players behind the scenes after the game, Madrid survived in adverse conditions, losing Ronaldo, missing a spot kick and, above all, a waterlogged pitch. In the end, though, thanks to Morata and the
cantera
, Mourinho's men came through it to remain afloat in La Liga.
Follow Ben Hayward on