COMMENT
By Robin
Bairner
Most of us will at one stage or another have woken up with a dry mouth, thumping headache, churning stomach and a panging sense of regret after a night on the tiles. Few of us, however, will have experienced the pain of
Yann
M'Vila, who was sentenced to a 20-month hangover by the France Football Federation (FFF) on Thursday.
The young midfielder, who was heavily linked with a move to Arsenal prior to the summer, has been banned from playing for any France national team until July 2014, meaning that while he is technically eligible for the World Cup in Brazil, he could not participate until the quarter-final stage, should
les
Bleus
get that far.
His crime was to break a curfew while on duty with the Under-21 side prior to a European Championship play-off with Norway. Along with four others – Antoine
Griezmann
,
Wissam
Ben
Yeddar
,
M'Baye
Niang
and
Stade
Rennais
club-mate Chris
Mavinga
, who all received 14-month bans - M'Vila went nightclubbing before the 5-3 second-leg defeat that sealed their elimination.
While this act was extremely foolish and entirely reprehensible ahead of such a big game, the punishment appears inconsistent with the crime. After all, M'Vila has seen a large chunk of his burgeoning international career hacked away, with the possible opportunity of playing at a World Cup frittered away in a moment of youthful foolishness.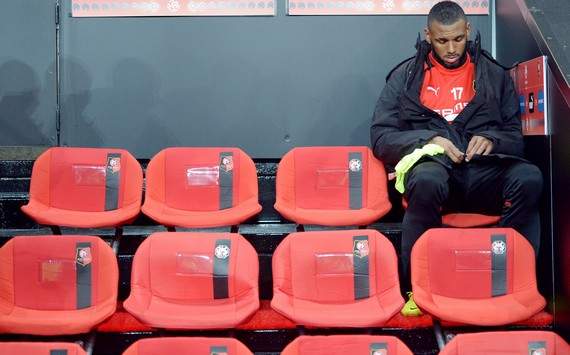 Dejected |
M'Vila must prepare himself to watch the national team for months to come
"For me, the sanction is disproportionate," said
Thierry
Fillion
, the player's agent, following the decision. "It does not surprise me given the hype around this case.
"I wonder about the meaning of this decision, which makes a scapegoat of M'Vila."
Support has also come from

Loic

Remy, who told the media
: "It's heavy. For the players, it's a difficult situation. They are young, they made a mistake. We all make mistakes."
Taken in the wider context of the French game, however, this was a punishment that was entirely necessary.
M'Vila and his cohorts must pay for the sins of those that have gone before them. For close to a decade the France national side has been treated impertinently by key players, and with the FFF failing to take several opportunities to regain their respect, the their position has been weakened.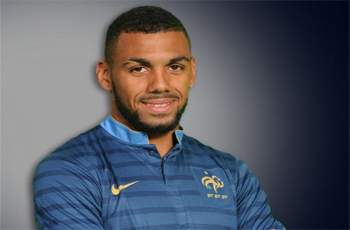 "I wonder about the meaning of this decision, which makes a scapegoat of M'Vila
"


The seeds were sown during one of France's great highs, the World Cup of 2006, in which Raymond Domenech's side were beaten to the crown by Italy following a dramatic penalty shootout.
Zinedine
Zidane's
dominance of the dressing room, though, should have been a warning heeded for years to come and the coach, who lacked the respect of his players and the authority to lead, should have promptly followed the retiring legend out of the door.
Domenech

clung on to his role largely through nepotism in the FFF and sores were allowed to fester until 2010, when one of the great football rebellions took place during the World Cup in South Africa.
Nicolas
Anelka
was sent home in disgrace after a frank exchange of views with the coach at half-time as France lost to Mexico, and the entire team, led by senior players such as Patrice
Evra
, Franck
Ribery
and Eric
Abidal
, went on strike at an open training session, leaving hundreds of watching fans perplexed and the media in a frenzy.
Laurent Blanc's reign promised much, but ultimately ended in a similar manner to Domenech's, as the squad disintegrated once more at a major finals, this time Euro 2012, with
Samir
Nasri
and M'Vila among the villains on this occasion.
Top players have sullied the France name all too often in recent memory, with the culture having seemingly been accepted as normal over the course of a decade.
The FFF's decision to hand lengthy bans to M'Vila & Co. may on the face of it seem harsh, but it is about regaining respect, not only for themselves but for the national jersey.
It may cost them Ben
Yeddar
,
Mavinga
and
Niang
in the long run, as they are still eligible to play for other nations, but it is a small price to pay.
M'Vila, meanwhile, must reflect on another blow to his stalling career, though it will probably only be during the 2014 World Cup that the enormity of this ban sets in on a personal level. It will be the worst and most prolonged hangover ever.
Follow Robin

Bairner

on