ANALYSIS
By Kris Voakes | Italian Football Writer
The signing of Andrea Pirlo was seen by many as the catalyst for Juventus' 2011-12 Scudetto triumph, but it was also obvious to the majority that the renaissance of the regista came largely thanks to the graft of Arturo Vidal alongside him.
The Chilean was perhaps more vital than even Pirlo in the Bianconeri's relentless high pressing game which formed the basis for their first official title in nine years.
But less than six months on, the Chilean is going through a period he has not previously experienced in the black and white shirt. Bogged down under a rolling schedule of three matches in seven days, Vidal's natural high-energy game in the centre of midfield is being compromised. And the effect that it has had on Juventus is phenomenal.
Yes, Juve are sitting pretty in Serie A. One-fifth of the way into the season, they are three points clear of second-placed Napoli, with head-to-head advantage making for a virtual four-point gap. They remain unbeaten in 12 games in all competitions, and they have a relatively toothless pack limply meandering behind them in the Scudetto 'race'. That looks fine on the surface.
PARALLELS | How Vidal's slump has affected Juve's dominance

VIDAL
JUVENTUS


AVERAGE RATING

TACKLES PER GAME

POSSESSION %

Before Sep 20
3.50
5.00
63.25
Since Sep 20

2.64

2.43

53.86

However, their complete turnaround in form cannot be overlooked, with their current Champions League position – they are third in Group E after three draws in their first three games – speaking volumes as to their present difficulties. Scratch below the surface, and the stats tell a noticeable tale.
Over their last half-a-dozen games they are averaging almost 10 per cent less ball possession per game than they were able to boast over the opening weeks of the season, and the parallels that can be drawn with Vidal's form are stunning. As the Chilean has flagged, his tackling stats have fallen, and his match ratings have disappeared towards the lower end of the pack, meaning the Bianconeri have struggled to exert the same force on fixtures.
No longer is there the repetitive platform being built of Vidal winning the ball, feeding Pirlo or Claudio Marchisio, and Juve getting back to work in the opposing half. Now, the Old Lady have more work to do as a collective, and their results in Europe have been the first to suffer. It also took late goals to see off Siena and Napoli in Serie A, while Fiorentina took one point off them, but could easily have had three.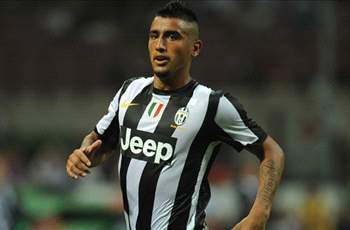 "Vidal is one of the best in the world, but Conte shouldn't be starting him in every game. Lately he has been slow and laborious
"



- Romeo Agresti



So what can Antonio Conte and Juventus do in order to help Vidal, and – by extension – themselves? Well, the answer only really comes after fully exploring what the basic issue is.
"You can only really put the decline in Vidal's form down to poor physical and mental conditioning," says Goal.com's Juventus expert Romeo Agresti. "Even last season he experienced a significant drop for a period and, psychologically, these periods can happen.
"The Chilean is one of the best midfielders in the world, so we can exclude any notion that he has just come up against better opponents of late. And I wouldn't say the injury he suffered against Chelsea is a reason for his recent run, especially since he came back almost immediately after that game and had a decent impact [as a game-changing substitute against Chievo]."
In that case, what might the resolution be?
Agresti continues: "Right now I don't think Conte should be picking Vidal to start every game. Against Siena recently in Serie A, he found the going very difficult, and also against Napoli he appeared slow and laborious before being replaced by Paul Pogba.
"So, I think the coach should seriously consider taking the chance to leave him out occasionally, especially since there are now plenty of alternatives in the Juve squad, such as Pogba, Luca Marrone, Emmanuele Giaccherini, Simone Padoin, etc. Against Catania, it would be advisable to give Vidal a rest and start with somebody nearer the top of their game."
But will Conte heed such advice? There have been several opportunities to rest Vidal already this term, but he has largely opted to keep the Chilean involved.
Looking at the statistics, it is clear to see why the Juventus coach is keen not to lose what his No.23 adds in the midfield. Last season, Vidal made 133 tackles in 33 games at 4.04 per game. Compare that with the 57 Pirlo made in 37 matches at 1.54 and Marchisio's 59 in 36 at 1.64, and it is clear the Turin outfit's game is changed completely by Vidal's potential absence.
There needs to be some leeway, though, otherwise Vidal will soon reach breaking point. It would be suicidal to leave him out of a Champions League fixture, but surely Juve can get away with giving him regular rests in a Serie A competition which has practically become a one-horse race even before il Giorno dei Morti.