COMMENT
By Kris Voakes | Italian Football Writer
One is known as the 'Lion King', the other 'Simba', but as Juventus continue their desperate search for a King of the Jungle, Pablo Daniel Osvaldo may well be a better bet than Fernando Llorente when it comes to finally adding a striker to their squad in the January transfer window.
As Goal.com exclusively revealed yesterday, Osvaldo has become a serious alternative to the Athletic Bilbao hitman in the Bianconeri's thinking, having previously appeared to have been beaten by Llorente as their first-choice striker signing. Juve seemed so sure that they'd be able to pick up the Basque hitman at a later point that they signed Nicklas Bendtner on loan from Arsenal in August as a stop-gap measure, and even admitted that the Dane was not the player they'd wanted over the summer.
But Llorente's situation at Athletic only seems to get cloudier, and a falling-out with coach Marcelo Bielsa has left him on the outside looking in once more, having already been dropped in favour of Aritz Aduriz earlier in the season. While, on the face of it, this could hasten an exit from San Mames for the Spain international, there is also the potential for Los Leones to play hard ball in January rather than let their No.9 leave on the cheap.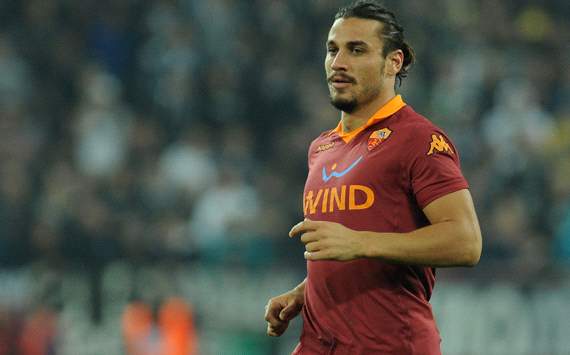 The wizard of Os | Osvaldo has become exactly the type of striker Juve need
They may not hold the cards, since Llorente's contract is up next summer, but Athletic would be entirely within their rights to force the striker to see out his deal if they don't get the fee they want for him. Add to that the fact that the player himself may see holding out until June as a good way to boost his options – not to mention his value in negotiations – and this could count against Juve.
And as a result, they have added Osvaldo to their list of possibilities. Although on the face of it the Argentine-born Italy striker might be observed as a secondary option should things not pan out in the Bianconeri's favour with Llorente, the Roma centre-forward is arguably the more suitable addition, especially for a January signing. It all partly depends on Juve's success or otherwise in the Champions League, since any addition would have to be reviewed should they only be playing Europa League football come February.
But supposing they do make the last 16, there is a real need for a winter addition to hit the ground running in a way not seen during the summer, with games coming thick and fast as soon as fixtures resume after the mid-season break. That means a player with vast Serie A experience would be preferable over one still feeling his way around. What's more, Llorente would limit Juve's options elsewhere when it came to the Champions League.
LLORENTE v OSVALDO | The numbers



LLORENTE
OSVALDO
Age
27
26
Club Games
353
198
Club Goals
130
65
International Caps
21
4
International Goals
7
2
Transfer value in January 2013
€10-15m
€20-25m
Whereas Osvaldo's Roma have no European involvement this term having finished seventh in the Italian league last season, Llorente has already played Europa League football since the current campaign began, meaning he would take up their only slot on the 18.19 regulation Uefa have in place allowing players to feature in the Champions League having already played in European competition.
Therefore, it would mean them being hugely restricted when bringing in any other winter targets. Normally, this might be a small price to pay for a quality signing, but Osvaldo is arguably of equal or better quality than Llorente, making this just a further factor going in the favour of signing the Giallorossi man.
In terms of their playing style, not much separates their qualities, but Osvaldo's power, pace, strength, aerial ability, eye for goal and teamwork have all already proven a hit in Serie A since signing for Roma in the summer of 2011 for €15 million. He is bolshie enough, and talented enough, to walk straight into a massive club such as Juventus, with the huge demands they put on their players, and be able to fit straight in. His mental and physical attributes would seem to fit the bill superbly, and he's got a year extra in the tank compared to Llorente too.
His attitude has been questioned by Roma coach Zdenek Zeman in recent times on the back of another apparent bust-up with team-mate Erik Lamela, but when he has played this season, he has been phenomenal, scoring the goal of the season so far on the opening day, grabbing a goal and an assist in the win at Inter, and then finding the net from the penalty spot in his only other appearance so far – away to Juventus – before Zeman benched him for Atalanta's visit last weekend. He also netted his first two goals for Italy in the 2-2 World Cup draw with Bulgaria.
Given that his contract doesn't expire until June 2016, Roma may hold out for a big fee to potentially rule Juventus out. But if the price is right, Osvaldo would be well worth the extra cash in order to bring in a player as close to the finished article as the Bianconeri can hope to get in the January window. And with his qualities in front of goal being the one thing the club has lacked for the past 18 months, he could be the final piece in the jigsaw for a club aiming to be serious contenders in Europe once more.