Mark Doyle


Italy Expert

Follow on

COMMENT
On Tuesday afternoon,
Mario Balotelli
took a stroll into Krakow city centre to indulge in his other great passion: shopping.
Having contributed to his country's progression to the knockout stages of Euro 2012 the night before with an acrobatic strike against Republic of Ireland that perfectly illustrated the way in which he marries an awesome physique with terrific technique, the Italy forward should have been in a relaxed frame of mind. However, it quickly became clear that he was not.
Indeed, with his shopping spree having been rudely interrupted by some snap-happy paparazzi, Balotelli snapped back. "Leave me alone. What do want from me? I am not doing anything wrong."
That he could not enjoy his free time in peace was lamentable, but not in the least bit surprising. This very public excursion was never going to remain private for long. Balotelli must have known that. As the most high-profile player in the Italy squad, he is used to being shadowed by the press everywhere he goes.
BALOTELLI'S EUROS SO FAR


PLAYER RATING v SPAIN




Cut a frustrated figure throughout and picked up a needless booking for dissent. Showed no urgency when presented with a fantastic opportunity to score.

PLAYER RATING v CROATIA




He made runs into the right spaces, battled well but should have been much more clinical from the positions he found himself in. Never turned up in the second half.

PLAYER RATING v REPUBLIC OF IRELAND




Scored a great goal from a difficult position to seal victory and caused a lot of problems to Ireland's defence after coming off the bench.
In that light, Balotelli's overreaction was telling. Admittedly, he is a surly character at the best of times, but it was hard not to conclude that the Palermo native is even more on the edge than usual.
He promised his interntational coach Cesare Prandelli before Euro 2012 that he would not run the risk of dismissal in Poland and Ukraine, and yet in his first outing, against Spain, he looked like a red card waiting to happen before he was replaced midway through the second half.
The pressure has been building on him ever since and scoring his first strike at a major international tournament has done nothing to calm the notoriously volatile striker.
While Balotelli often greets goals with stone-faced indifference, his effort against the Irish prompted him to unleash a tirade of abuse that Leonardo Bonucci felt obliged to forcibly suppress.
The subsequent run-in with the paparazzi was interpreted by the Italian press as further evidence that all is not well with Balotelli. The dailies claimed on Wednesday morning that the player feels burdened by an undue amount of on his young shoulders; convinced that no matter what he does, he cannot win. Agent Mino Raiola all but confirmed this later in the day. "Mario told me, 'I don't understand. When we lose, I lose but when we win, I'm not doing well enough.'"
It has often been said that Balotelli is a special case; now, it seems, he feels like one. He believes that there are double standards at work within the press and that he is judged by a different set of criteria to his team-mates. No wonder then, that he apparently does not feel like a part of the squad; alienated from the rest of the group. In a group of 23 players, he is, in his mind, all alone.
Bonucci was quick to point out that on Wednesday Balotelli was laughing and joking in training with Antonio Di Natale, his principal rival for a starting berth, while Daniele De Rossi insisted that the Manchester City man appeared fine to him. However, it was telling that the Roma man added: "There are always some who are more involved, and some less." The implication was clear: the Azzurri's No.9 falls into the latter category.
That is not to say the 21-year-old is disliked. As Claudio Marchisio quite rightly claimed this week: "No one ever writes that, above all else, he is truly a good person - but we know it." However, whether he is 'one of the boys' is inconsequential.
Football, after all, is not a popularity contest. If it were, John Terry would not be in the England squad. Just because Balotelli does not feel a part of the group does not mean he should not be a part of the starting lineup. All that matters, as De Rossi opined, is scoring goals, and Italy have a better chance of doing just that in Kiev with Balotelli up front.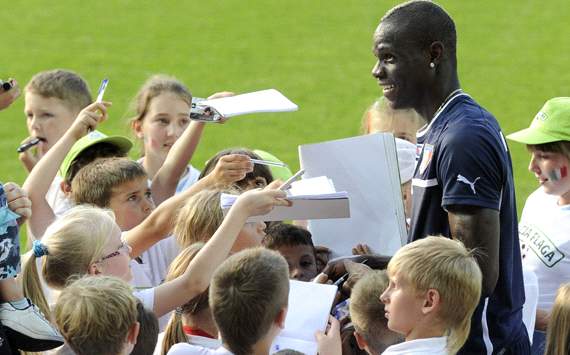 Crowd Pleaser | Italy simply do not have another forward like Super Mario within their ranks
There is an undeniable temptation to pair Antonio Cassano with Di Natale on the presumption that their movement and nimbleness will cause John Terry and Joleon Lescott all sorts of problems. However, given how defensive and deep-lying Roy Hodgson's side have been in the tournament thus far, just how much space will there be for Cassano and Di Natale to exploit behind England's defence? Italy would be much better served by Balotelli's power, presence and aerial ability.

Would it be a risk? Of course, but no greater a risk than relying on the equally petulant and red card-prone Wayne Rooney. As is the case with the Manchester United forward, Balotelli's is a talent that cannot be ignored, especially in a game of this magnitude and one likely to be decided by a moment of inspiration.

Balotelli, of course, is a source of as much frustration as inspiration, but there is no denying his status as a potential match-winner. "His goals come when you least expect it," Gianfranco Zola mused on Wednesday. "I have coached him with the Under-21s and I can say that we have not yet seen the best of him."

That could change on Sunday. Given that he will be going up against several City team-mates, there is an inescapable feeling that this is the perfect stage for Balotelli. Of course, in light of this week's events, much will hinge on how he's feeling.

"With Mario, a lot depends on the moment, his mood," Prandelli admitted. "But he's generally a golden boy." This would be a fine time for the boy to become a man.