The unpredictable stars have been overlooked in favour of the coach's Estudiantes favourites, but the importance of a bit of magic in midfield should not be forgotten
COMMENT

By Daniel Edwards | South American Football Editor
There was a time in Juan Roman Riquelme's career when being left out of the national set-up for Argentina, indeed any hitch that befell the mercurial Boca Juniors star, would provoke a minor media scandal. It is a glowing tribute to how the veteran playmaker has mellowed and matured over the last three years that his latest omission, from the squad that will take on Ecuador and Brazil in the next seven days was met with a magnanimous acceptance from his end.
The 33-year-old ex-Barcelona man has been in devastating form for his club as they chase a triple crown of Clausura, Copa Libertadores and Copa Argentina in the first six months of 2012, but when asked about that same form not being sufficient to take him back into the Albiceleste set-up, his response could not have been more diplomatic.
"Any other time I would have been annoyed, but now I take everything with greater calm. [Sabella] will have his preferences and of course, if I cannot be there I will support from outside," Roman explained before the squad was announced; and when it was confirmed that players such as Jose Sosa, Rodrigo Brana and Pablo Guinazu beat him to the call-up, he kept a dignified silence as promised.
There were plenty of people ready to fight his corner, however. Explosive Argentine journalistic legend Horacio Pagani stormed off the set of a regular football discussion programme having berated Sabella's reliance on honest journeymen such as the players mentioned above, having posed just one question to the rest of the panel. "Who is the creator? Who is the creator in this team?" Horacio pressed his colleagues, finally walking off-camera exasperated when the only name brought to light was that of Lionel Messi.
It is hard to argue against that logic. Not only Roman failed to make the cut; Carlos Tevez was left out of contention once again despite a brilliant end to the season with Manchester City, while Javier Pastore is another man out in the cold. The trio of outcasts may be headstrong, inconsistent and not necessarily the best team players, but there can be no doubt that, each in their own unique way, they would add a certain magic and unpredictability that is sorely absent from the honest toilers picked in their stead.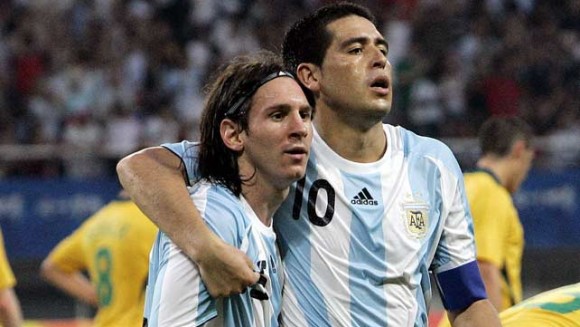 A deadly duo |
Messi and Riquelme have proved in the past they can star together
It is undeniable that, taking Messi out of the equation since that in 2012 one cannot consider him as a playmaker rather as an outrageously talented forward who creates plenty for his partners, there is a paucity of creative talent in this team. Sabella will look to avoid this by packing the side with forward talent - aside from 'La Pulga', Gonzalo Higuain and Sergio Aguero will start up front while Angel Di Maria becomes almost a fourth frontman as he takes up his place in midfield. This reliance on pace and directness going forward feeds into Sabella's reading of the modern game which influenced him so deeply at Estudiantes, which tells him that the traditional role of the No.10 or playmaker is now dead.
Just like Mark Twain, however, reports of the creative midfielder's demise appear to have been greatly exaggerated. Where would either Barcelona or Spain be without Xavi at the axis of their play, distributing at his convenience and constantly probing for holes in the opposition back-line? And let's try reading the No.10's obituary to fans who have seen Brazil take the field this week against Denmark and USA. The delicate, slightly-built Oscar appears the antithesis of the physical, rapid game that supposedly rules the roost in the 21st century. The Internacional man showed the value of true class with two superb performances as an orthodox playmaker, and is touted as the man in midfield the Selecao have lacked for years.
Argentina are fortunate enough to be blessed with this type of player. Riquelme is playing his best football for the last five years, while Erik Lamela is another young, cultured midfielder worth gambling on if Pastore has yet to convince. Instead, this type of measured risk has been overlooked in favour of a conservative squad based on the players Sabella knows and respects; eight of the current squad were part of his effective but unspectacular Estudiantes team; great for morale and familiarity but it sacrifices the imagination and creativity that is available elsewhere.
| | |
| --- | --- |
| Xavi and Oscar have demonstrated that there is still a place for a creative midfield presence in the world's most successful teams | |
There is a lot on which to commend the coach as he approaches the end of his first year in charge. Young, hungry defenders such as Ezequiel Garay and Federico Fernandez have been introduced, while he showed his willingness to take certain risks by delving into the Chilean league to dig out the excellent Matias Rodriguez at right-back. There is also something extremely refreshing about his character; thoughtful and showing a quiet strength in interviews and team selections, 'El Pachorra' emits a confidence that was conspicuously absent during the tenures of emotional roller coasters Diego Maradona and the weak, ineffective Sergio Batista.
It is that thoughtful confidence that has allowed him to overlook the clamours to put an in-form Riquelme into the squad, choosing instead to maintain what he believes to be the strongest section of the Seleccion while leaving himself open for experimentation in weaker positions. It is laudable, as is his faith and commitment in that team which fought so hard to take the 2009 Libertadores to La Plata. As Xavi has proved, however, and Oscar is beginning to demonstrate so successfully, there is still a place for individual talents to shine - and one ignores them at their peril.