SPECIAL REPORT

By Daniel Colasimone in Buenos Aires
Craig Johnstone once concluded that playing football for Australia was like representing England at surfing. With the progress the Australian game has made since Johnstone's trailblazing days at Liverpool in the 1980s, it is unlikely anyone would make such a claim now. However, it would still surprise many to discover that gifted young Australian players are now being invited to Argentina to learn their trade at one of the world's most prestigious football academies.
Not only is it remarkable that these youngsters are moving to a country known for exporting football talent rather than importing it, but they are actually flourishing alongside some of South America's most talented junior players.
The opportunity for these Australians to hone their skills in the fertile lands that produced Diego Maradona, Gabriel Batistuta, Lionel Messi, and countless other masters of the footballing arts comes courtesy of a programme adopted by River Plate and initiated by two Argentine brothers.
This program is run through the River Plate Football Academy in Melbourne, under the guidance of Argentine coach Daniel Santomil. The school was first known as the South Eastern Piranhas until, in 2006, Daniel and his Argentina-based brother, Eduardo, approached River Plate with the idea of replicating the club's famous junior development programmes in an Australian setting. The club, aware of Australia's rich sporting heritage and potential to one day emerge as a footballing power, accepted the offer to begin a collaboration. In a further boost, as of February 1 this year, the Piranhas/River Plate academy have been integrated into the South Melbourne football club, meaning an expansion in both the size and scope of the project.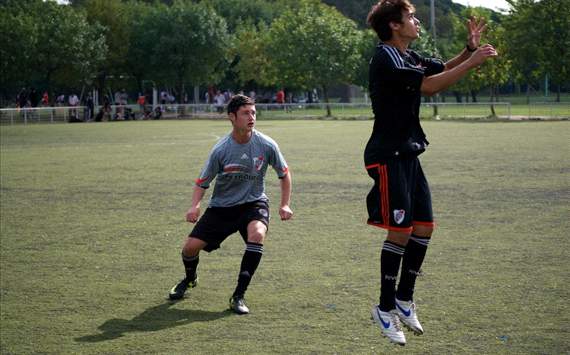 The cradle of football | River's youngsters are put through their paces
"My brother and I started this project six years ago with the idea of bringing South American football to Australia," explains Eduardo at River Plate's training facilities in Buenos Aires, which adjoin the club's majestic home stadium, the Monumental. "In terms of creating future footballers, the best school in Argentina was here at River Plate, which is why we brought the project here."
Last June River Plate was relegated to Argentina's second division for the first time ever after years of financial mismanagement by directors, yet the club's status as a producer of world-class talent remains unaffected. Argentina's Under 17 squad at last year's World Championship contained six River players, which is not an uncommon quota for the club throughout the various junior age levels. Playing alongside and against that standard of footballer on a daily basis in training or match situations is obviously a huge positive for any developing youngster.
The Santomil brothers envisage mutual long-term benefits for both Australian football development and the Argentine club itself in what Eduardo calls an exchange of "social, cultural and sporting ideals".
"Australia may not be a top-tier football nation at the moment, but we believe it has the human and footballing potential to be one of those top-tier nations," says Eduardo.
"In Australia we see great athletic potential, a very good sporting standard, but on a footballing level, development doesn't go beyond a certain point. You can reach a 'seven' by Argentine standards. We feel that we can contribute to Australian players reaching their potential as 'eights', 'nines' or 'tens'," he says.
The programme is already bearing fruit. Among the first group of six Australian players to travel to Argentina was George Lambadaridis, who was mentored by Daniel Santomil for many years before spending six months at River Plate in 2006. During that period he trained alongside the likes of Erik Lamela, a player touted as a future star for Argentina and sold by the club to Roma in December last year.
Upon returning to Australia after his six-month spell, Lambadaridis received an official invitation from River to return to their academy. He elected instead to finish his secondary schooling before spending a stint with Belgium's Club Brugge. The 20-year-old talent is now establishing himself with the Brisbane Roar in the Hyundai A-League.
There are currently four Australians of 15 and 16 years of age training with River's junior teams, and several others who have come through the programme sprinkled throughout Argentina's top two divisions, working to make a name for themselves at clubs like Independiente, Chacarita and Atlanta.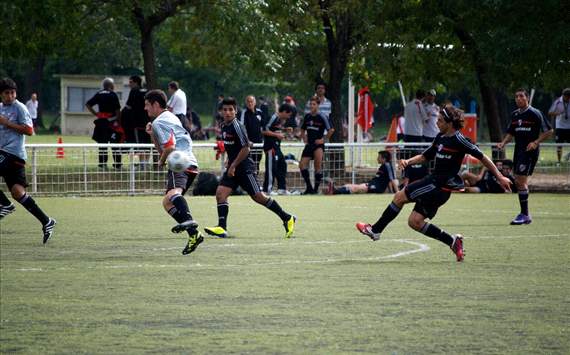 In famous company | Jack Caminiti blocks a shot from Giovanni Simeone
Every October a new batch of players is selected from among the 120-150 boys coming through the Australian subsidiary to travel to Argentina and be observed at the 'mother' academy in Buenos Aires. This trial period can last from six months to a year. When asked about their short-term goals, the unanimous mind-set amongst the boys who have made it this far is a desire to stay on in Argentina for as long as possible, with the aim of eventually earning a professional contract with River Plate.
After an early morning training session, Lajos Hun, a 15-year-old goalkeeper from Melbourne, explains why being in Argentina has forced him to take his game to another level.
"It's so different," says Hun. "I'm a goalkeeper so I have different needs, and goalkeeper training here has just been, 'wow'."
"In Australia I would never really get picked on for what I needed to improve on, it was always like 'well done, you're the best,' but here I'm with other goalkeepers, I train with the Argentine goalkeeper in my age group. I'm always under the pump, always have to train well, and they're just pushing me to become better," he says.
Jack Caminiti, 16, who plays in defence, agrees. "It's different more or less in every sense. You have to think quicker, play quicker … play harder."
"It's so professional." They aren't teaching you how to kick a ball. That is stuff you should already know. They are focussing on other areas," he says after a practice match where he marked Giovanni Simeone, the son of Argentina legend Diego and a player who, at the age of 16 already has a €15 million buy-out clause in his contract.
For boys with aspirations to play at the highest level for Australia one day, it is clear they view learning the game the Argentine way as a distinct advantage.
"Going back to play in Australia now would be like playing in slow motion. People would be surprised how different we are. Australia has always had kids playing in England and Europe, but not South America before so it will be something different for them," Caminiti says.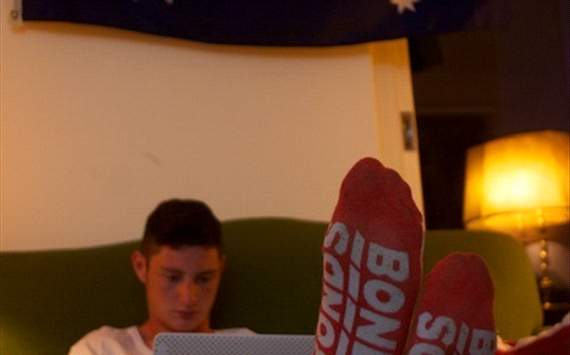 All work and no play... | Caminiti takes it easy after training
Santomil points out that manner in which Argentines conceptualise football ensures that when the boys first arrive in the country, they undergo a steep learning curve.
"Compared to Australia, coaches here look at players through a different prism. A player who was a 'No. 10' (advanced midfield playmaker) in Australia, when he is brought over here, the coach will try him as a defensive midfielder, a winger, a right-back, a centre-back – all over the field. The idea is that one day he will have the potential to play in any position if need be," says Santomil.
"Not only that, he learns the limitations of each position. You're creating a mental structure that enables the player to develop differently," he says.
He uses another of the current crop, 15-year-old Raymond Lay, as an example to prove his point. Lay was a gifted, but comparatively immobile attacking midfielder when he arrived in Argentina, yet has now found a role at right back, a position that requires a great deal more running and defensive awareness.
"He was only able to make that move through a great amount of hard work," says Santomil. "He saw what was required of him when he got here and is striving to meet those expectations."
Lay says the Argentine players were very welcoming to their new Australian companions, and adapting to the culture has been relatively easy. The transition to a foreign way of life is helped by the fact the boys live together in groups, under the care of either a parent or one of the school's trainers. Still, there were certain aspects of the Latin American culture that initially struck them as unusual.
"Stuff like kissing your team-mates to say hello is a bit weird at first, but you get used to it," Lay says.
"Not kissing passionately, just on the cheek," Hun elaborates.
In a footballing context, the young Australian players speak in awe of the passion that Argentines have about football, and the sheer magnitude of the sport in the country.
"It's a lot bigger here, the crowds are massive, everything about it is huge," says Lay.
Hun agrees: "They live for football here."
"Stuff like kissing your team-mates hello is a bit weird at first, but you get used to it... not passionately, just on the cheek"






- Lay gets to grips with Argentine greetings

Santomil emphasises that it is important for the programme to develop the boys not just as footballers, but as human beings, meaning that when they eventually return to Australia they will not only have picked up extremely valuable footballing knowledge, they should also be better prepared for a possible future career as globetrotting professionals.
"Every one of the boys is a project for us," he says. Eduardo and his brother are clear about what their long term goals are.
"We want to demonstrate eventually that the work they are doing in Australia is equivalent to that here in Argentina, and as a consequence the boys could come over here with the potential to play in the first division. When we started the project the idea was that someday an Australian player could wear the River jersey," Eduardo says.
"And they boys are already making great advances towards that. When you see them out on the pitch with their team-mates, you can't tell which are the Argentines and which are the Australians," he says. "And that's saying a lot."
An Australian playing for one of Argentina's most popular and successful clubs? On the old Craig Johnstone football equivalency scale, that must be akin to teaching an Argentine to tango.
Photography by Beatrice Murch
Follow Daniel Colasimone on