COMMENT
By Chris Myson
In early August, there was a huge buzz gathering in the press room at Ibrox, where
Chelsea
had just beaten
Rangers
3-1 in their last pre-season friendly before the 2011-12 campaign was due to start.
Andre Villas-Boas, then the manager, spoke to the gathered journalists after the match and revealed that Romelu Lukaku, the Anderlecht wonderkid, was on the verge of signing for the club in a deal that would be worth up to £18 million.
Two years of preceding speculation, which had seen the powerful striker linked with almost all of Europe's biggest clubs, was over and it was the Blues, a club the player always admired, who had won the race to sign one of the continent's hottest young properties.
However, the optimism and excitement felt by Chelsea fans on that day is yet to materialise into anything of note, with the Belgium striker's first season at Stamford Bridge having effectively been a write off.
Roberto Di Matteo is set to make wholesale changes to his starting XI against relegated Blackburn Rovers on Sunday, in preparation for next week's Champions League final, which means Lukaku may well be involved.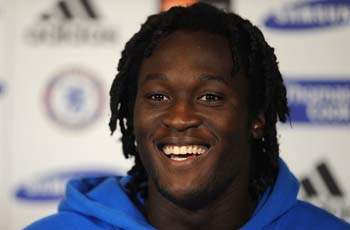 "I need to play more games. It has not been as I imagined at Chelsea. Both Villas-Boas & Di Matteo have stuck with experienced players."
But that would be the exception, rather than the rule, for the past campaign. Both Villas-Boas and Di Matteo have not seen fit to hand Lukaku first-team opportunities and he is yet to start in the Premier League, making just seven substitute appearances as he still waits for his first goal.
The frontman is still young – he only turns 19 on the day of the Blackburn game – but there can be no doubting this has been a wasted year in his development.
He himself admitted this week: "I need to play more games. It has not been as I imagined at Chelsea. Both Andre Villas-Boas and Roberto Di Matteo have stuck with experienced players.
"I haven't always agreed with their decisions, but as a player you have to accept the decisions of the coach and I don't have any regrets about joining Chelsea.
"Playing games is the most important thing for my career right now and for that reason it's better to look at other places."
A loan move now looks likely next season, but the player has had to watch from the sidelines throughout this campaign and the year of stagnation has proven costly in his development.
All this has taken place while he watches Thibaut Courtois, his fellow countryman, loaned out by the Blues after being signed this summer and gaining valuable experience at Atletico Madrid, winning the Europa League and playing week-in, week-out in La Liga.
Meanwhile, another Belgian youngster - Kevin De Bruyne - was signed by Chelsea in January but allowed to remain with Genk until the end of the season so he can continue his own development.
If Chelsea felt Lukaku was not yet ready to contribute at the highest level, he should have been allowed to remain with Anderlecht for another season or loaned out elsewhere in Europe, which is what they now plan to do, albeit a year late.
The closest he got to a move was when Stoke expressed an interest in January, only to be told he wouldn't be allowed to make the switch due to Premier League rules.
Lukaku has sensational potential, he has been labelled the 'next Didier Drogba' but that is not just down to the similarities in their appearance.
Tall, strong, powerful and ideal for a lone striker role, Lukaku also has pace and is equally comfortable in scoring with his head or his feet – he appears to be a younger version of the Ivorian club icon.
He will get the chance to come good at Chelsea in the future, but with him being a prodigious talent – he already has almost 20 caps for Belgium and was a regular at Anderlecht – there are many who feel he could have contributed this year as the Blues both enjoyed and endured a topsy-turvy campaign.
Some of the game's other emerging young prospects, Eden Hazard at Lille and Christian Eriksen of Ajax, could have moved on to bigger clubs last season but chose to stay put and progress their game further, with them now finding themselves in a far better position on and off the pitch to potentially move on this summer.
The Blackburn game gives Lukaku a chance to show the Blues what they have been missing as well as advertise himself to scouts ahead of a temporary switch next season, but whatever happens he will be watching on from the sidelines as they play in the showpiece clash against Bayern Munich next Saturday.
As that takes place, Lukaku and his club will be forced to reflect on a season that, after their huge investment, can only be considered a waste. They will hope the future is brighter.