Goal.com names the top three stand-out performers for the Bianconeri in 2011-12 and then declares the overall winner. Have your say below!
Following one of the most underwhelming seasons in the club's history, Juventus set about fixing things, and quickly. In came a new coach in Antonio Conte, new players, and the move to a new stadium also gave the club a fresh edge. The progress made off the field looked set to manifest itself on the pitch as early as the first day of pre-season training.
Suddenly, with the new acquisitions fitting in quickly, and the advantage of not playing in Europe, there was a building belief that this could be the season Juve bounced back. Indeed, the dream of a 28th official Scudetto became more and more achievable with each passing day.
Before anybody knew it, the Bianconeri were unbeaten and looking unbeatable, racking up points game after game to eventually see off all challengers. By the time the run-in came around, they had hit their best form of the season, and with AC Milan struggling, the Serie A title was theirs. Add a Coppa Italia final appearance to the mix, and it has been the perfect season, Napoli permitting...
Below, in alphabetical order, are
Goal.com
's three nominees for Juventus' player of the season, based on their club performances in all competitions. We then cast our vote at the bottom before leaving it up to you, the readers, to have your say.
| | |
| --- | --- |
| | ANDREA BARZAGLI | DEFENDER |
Competition
Games

Goals
Assists
Booked

Sent off

League
34
0
1
3
0
Coppa Italia
3
0
0
1
0
Europe
0
0
0
0
0
Others
0
0
0
0
0
Total
37
0
1
4
0
With the Bianconeri rearguard having conceded just 19 goals in the league in a currently unbeaten campaign, much of the credit goes to the 31-year-old World Cup winner. While Leonardo Bonucci made good progress and Giorgio Chiellini performed well when playing both centre-back and left-back, Barzagli was the real wall erected in front of Gianluigi Buffon.
With 37 appearances in all competitions, only an injury against Chievo saw him miss games, and after winning the Bundesliga with Wolfsburg in 2008-09, his first Italian title was fully deserved. His contract expires next summer, but already the club are looking to extend his deal. Only a fool would allow the best defender in Italy this season to leave.
| | |
| --- | --- |
| | ANDREA PIRLO | MIDFIELDER |
Competition
Games

Goals
Assists
Booked

Sent off

League
36
3
13
6
0
Coppa Italia
3
0
0
0
0
Europe
0
0
0
0
0
Others
0
0
0
0
0
Total
39
3
13
6
0
"Revenge is a dish best served cold" goes the old adage. And 365 days after celebrating a Scudetto with Milan, Andrea Pirlo was back in the role of key protagonist on the field in another title win. With few words and lots of work, he has transformed a side that couldn't string two passes together into one that opponents cannot get the ball from.
Racking up 13 assists, the Bresciano has become the man his team-mates thank most for the 28th title. The regista wasted little time in convincing Conte to renounce his favoured 4-2-4 to adapt to his characteristics, and so he has directed play from a 4-3-3 and then 3-5-2 with great aplomb. It was a winning gamble, because Pirlo has been second to none.
| | |
| --- | --- |
| | ARTURO VIDAL | MIDFIELDER |
Competition
Games

Goals
Assists
Booked

Sent off

League
33
7
3
12
1
Coppa Italia
1
0
0
1
0
Europe
0
0
0
0
0
Others
0
0
0
0
0
Total
34
7
3
13
1
Juve originally wanted Gokhan Inler in their midfield last summer, but the Udinese man chose Napoli instead. As a back-up, the Bianconeri brought in the Chilean, and have never looked back, while the Swiss is busy wondering whether he made a big error in turning down the move to Turin.
Vidal's workrate, sacrifice, and hunger for the ball in all circumstances has seen him get through the work of three men all season. He has broken up countless opposition attacks, shown great ability on the ball, and also grabbed seven goals, many of which came during the vital closing stages of the campaign as Milan fell away.
It is easy to see why Bayern Munich were willing to pay €20 million for his services. Juventus fans remain delighted that Bayer Leverkusen decided to sell him for half the price in order not to reinforce their domestic rivals' squad.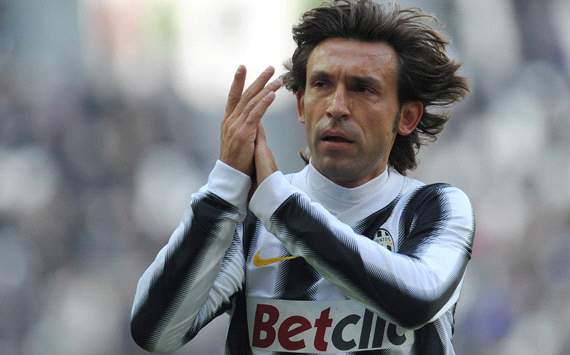 The best regista in the world. This season, he has been the best player on the pitch in almost every game, but the most important in the destination of the Scudetto came in week 32 against Lazio. His magnificent performance, with his fantastic assist for Simone Pepe providing the icing on the cake, helped the Bianconeri to return to the top of the table after Milan won away at Chievo. They would not be knocked off their perch from that point on.