The Portuguese claimed his seventh league title in 10 years last week as he led Real Madrid to Liga success over Barcelona. Is he now the best trainer to ever grace the game?
ANALYSIS
By Ben Hayward | Spanish Football Editor
It was his most satisfying moment. As Real Madrid thrashed Athletic Bilbao 3-0 at San Mames on Wednesday to clinch their first Liga title since 2008, Jose Mourinho raised the five fingers from his right hand and two from his left to signal seven: the league championships he has won in his short coaching career.
Those seven successes in 10 years, and just nine full campaigns, make Mourinho one of the most decorated coaches in the history of the game. He has also now tasted title triumphs in four different countries, winning in his native Portugal before subsequently sealing success in Europe's three major leagues - England, Italy and now Spain. But this one was sweeter: it had been the hardest of all, he later claimed. And to win it, he had brought down his fiercest foes, Barcelona, a team tagged by many observers as the best in history.
But if Barca are seen as the best side to ever grace the game, what of the coach who has defeated them on three separate occasions, in Liga, Copa del Rey and the Champions League? No other tactician has toppled the Catalans quite like Mourinho has managed to. So if Barca are the greatest team, is Jose the finest coach in history?
THE MULTI-LEAGUE WINNERS

ERNST HAPPEL



Legendary Austrian won eight league titles in four nations with Feyenoord, Club Brugge, Hamburg and FC Swarovski Tirol. Also one of only three men to have won European Cups with two different clubs (Feyenoord and Hamburg).
TOMISLAV IVIC



Croatian clinched three leagues with Hajduk Split, and bagged titles with Ajax, Belgians Anderlecht, Greeks Panathinaikos and Porto. He won seven leagues in total and also lifted the Copa del Rey at Atletico Madrid.
GIOVANNI TRAPATTONI



Claimed seven Serie A titles (six at Juventus and one at Inter), plus one apiece at Bayern, Benfica and Red Bull Salzburg. He also led Juve to the European Cup in 1985, and is the only coach to have won all Uefa Club cups and the Club World Cup.
It is always difficult to compare coaches and teams from different eras of the game, but Mourinho's numbers speak for themselves. Barely a decade into his coaching career, the Portuguese is one of just a few bosses to have claimed titles in four countries, the only one to have clinched championships in the three most prestigious leagues and one of just three to have won Champions League crowns at two different clubs. His is undoubtedly a winning formula.
At Porto, Mourinho took over mid-season in his first campaign but led the Dragons to back-to-back titles after that, as well as the Uefa Cup and the Champions League, before departing for Chelsea, where he claimed two Premier League prizes.
After missing out to Manchester United in his third season, he was forced out by owner Roman Abramovich early in his fourth campaign. Then, at Inter, he won successive Scudetti as well as another Champions League, among other trophies, before a move to Madrid yielded a Copa del Rey in his opening campaign, which ended disappointingly as Real missed out on La Liga by four points to Barca.
But his second season would be better, Mourinho promised. And he remained true to his word as his side captured La Liga last week. Seven titles in 10 years, with nine campaigns completed and only two relative disappointments, which ended in second-placed finishes, in any case. Quite a record.
Unlike many of the great coaches before him, Mourinho has yet to fail. Since his first full season at Porto, the Setubal-born boss has claimed at least one trophy every season - at four different clubs. In total, he has already racked up 19 titles for those teams (six at Porto, six at Chelsea, five at Inter and two at Madrid).
With Madrid, however, he has been up against a side described by many as the greatest team ever - and he has beaten them. Three times - twice with Madrid, once with Inter.
Mourinho has already confirmed he will stay in Spain next season and the Portuguese will look to improve his side even further as Guardiola departs. The big goal now with Madrid will be La Decima: a 10th Champions League crown for the capital club. After claiming the Champions League with Inter in 2010, he revealed his motivation for winning Europe's premier club competition in three different countries. That's his next target. Achieve it and he really will be out on his own. Liverpool legend Bob Paisley bagged three European Cups in his ultra-successful spell in the Anfield dugout, but no other coach has managed a hat-trick of wins. To do so with three different sides from three different nations really would be a unique achievement.
All of Mourinho's last three teams have helped him with incredible investment in the transfer market, so while his shrewd spending at Porto brought considerable success, it remains to be seen if he could repeat those feats at a club with lesser resources, as Brian Clough did at Nottingham Forest, for example.
Football has changed since then, however, and nowadays, a European showpiece between Forest and Malmo (the 1979 European Cup finalists) is merely a distant dream. Perhaps Porto against Monaco in 2004 is the last comparative example, but the rich have become richer in the modern game and the gap has widened. It's therefore logical that Mourinho should search for sides that give him the best opportunity to succeed.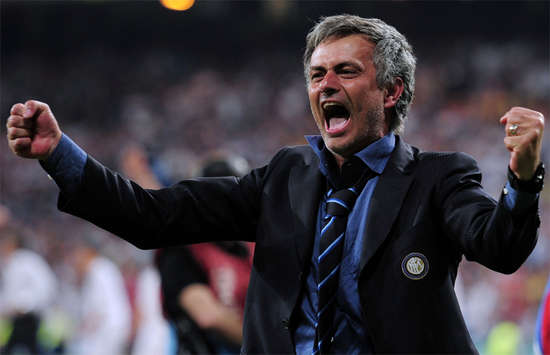 That winning feeling | Mourinho celebrates Champions League success with Inter


Mourinho's ability to adapt to different countries, cultures and competitions is incredibly impressive. He is prepared to move out of his comfort zone, accept a challenge, learn a new language and generally do what it takes to make his current club a success. And he has done it every time so far.
And although he has been criticised by fans and by the press at times, his players cannot speak highly enough of him. From Cristiano Ronaldo to Zlatan Ibrahimovic, all of the top players coached by the self-styled Special One have been generous in their praise for the Portuguese. They love him. Players crave a winner, a coach capable of maximising their own personal experience. And Mourinho does that - without fail. He has an aura about him - and he has the results to command respect. His attention to detail, of course, is second to none, and footballers are often taken aback by the meticulous methods and precision in training, as well as the detailed dossiers he hands out before games with every relevant piece of information they could need on their rival players. He leaves absolutely nothing to chance. Winning so many trophies or going nine years without losing a home game in the league, have nothing at all to do with luck.
So is he the best ever?
That depends on the definition of greatness. If achieving sustained success, rebuilding numerous title-winning teams at one club, such as Sir Alex Ferguson at Manchester United or Giovanni Trapattoni with Juventus in the 1970s and 80s, is the mark of a complete coach, Mourinho is clearly not it. He has yet to build a dynasty at any of his clubs and given his short-term strategy for success, he is never likely to do so.
And then there's the question of resources. Porto aside, all of Mourinho's titles have come after significant spending: Chelsea, Inter and Madrid all invested huge sums of money to allow the Portuguese to build brilliant teams and it could be argued that other coaches would also achieve great things given such a helping hand. The most obvious example being Roberto Mancini at Manchester City, now on the brink of bringing home the Premier League title following an overwhelming outlay by the Sky Blues in recent seasons.
But what about style? Mourinho may have picked up 19 trophies since embarking on his coaching career, but none of those teams will be remembered fondly by future generations for their beauty nor their purism. Jose brings results, but pretty play does not come with it.
Although not a defensive coach, his sides owe more to pragmatism and efficiency than to possession and elegance. His Madrid team may yet prove to be an exception to the rule, having hit well over 100 goals in La Liga this season, but this has come largely via a counter-attacking philosophy, far removed from the possession play and perfect passing pioneered by Barca. Will any of Mourinho's sides be remembered by future generations alongside the great Ajax team of the 1970s, Arrigo Sacchi's Milan, Guardiola's Barca or even Brazil's World Cup winners of 1970. Probably not.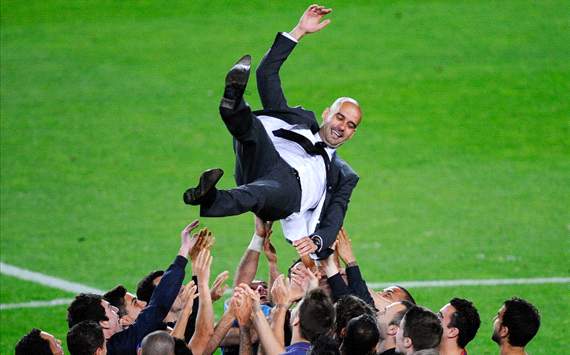 Success and style | But can Guardiola be a hit elsewhere?


Mourinho probably doesn't care, anyway. His is a win-at-all-costs mentality, but that has seen a former friendship with Guardiola soured to the point of enmity following persistent provocation from the Portuguese, while his poking in the eye of Barca assistant and coach-to-be Tito Vilanova was both shameful and regrettable. Clough, though, once famously punched his own fans on the pitch, while former Fiorentina coach Delio Rossi came to blows with one of his own players only last week.
Such behaviour has certainly tarnished Mourinho's image, but it nevertheless has little bearing on his coaching abilities. He is far from the only coach to employ mind games and he is less concerned with preserving a perfect image than Guardiola, for example. Perhaps he should, but many top players, including Diego Maradona and Zinedine Zidane, blemished their careers with unsavoury moments either on or off the pitch. And Guardiola, it is worth remembering, has been sent off more than any other player in the history of Barcelona.
Mourinho is yet to test himself in an international role, but few coaches have enjoyed success with both club and country. Argentina's Carlos Bilardo, Brazil's Luiz Felipe Scolari, Netherlands' Rinus Michels, Germany's Franz Beckenbauer and Italy's Marcello Lippi have all tasted triumph at both levels, but none can compare to Mourinho at club level. That cannot be the mark of greatness, particularly as an international side cannot be similarly strengthened - you only have the players at your disposal and have to make the best of it.
Perhaps it is too early to judge Mourinho anyway. At 49, the Portuguese remains young in coaching terms, has declared he intends to go on for up to another 20 years and may end up as the most decorated trainer the game has ever seen.
| | |
| --- | --- |
| Bad behaviour has certainly tarnished Mourinho's image, but it nevertheless has little bearing on his coaching abilities. He is far from the only coach to employ mind games and he is less concerned with preserving a perfect image than Guardiola, for example | |
If he can keep on winning at the current rate, it will be extremely difficult to argue against him being the greatest ever. Paisley claimed 20 trophies in just nine years at Liverpool, while Ferguson has collected almost 50 titles at Aberdeen and United. Trapattoni has racked up over 20 cups in four different countries, Michels and Johan Cruyff favoured style over substance but still achieved success, while others, such as Clough, Happel and Helenio Herrera have achieved remarkable results in different conditions.
Of the current crop, Guardiola may yet challenge Mourinho. The Barca boss is set to depart at the end of the season, having lifted 13 trophies (with a possible 14th still to come in the Copa del Rey) in just four seasons at the Catalan club.
Pep has achieved success with style at Camp Nou, but all of the ingredients were there in terms of playing personnel and football philosophy. He and Barca enjoyed a symbiotic relationship, and reproducing such spectacular results elsewhere will be a completely different challenge.
Perhaps we are witnessing the two top trainers of modern times. At the moment, however, Mourinho's ability to replicate results in numerous different countries, cultures and championships means he has the edge over Guardiola. The Portuguese is, as Diego Maradona once said, the boss. Like him or loathe him, he's the best there is, and quite probably the best there has ever been, too.

Follow Ben Hayward on