COMMENT

By Ben Hayward | Spanish Football Editor
Living in Barcelona has its advantages. The Catalan capital boasts beautiful buildings, a charming cafe culture, fantastic food, and special sights, sounds and sensations on every corner. The sun shines, too, on around 300 days every year. It's a Mediterranean marvel.
But ever since 2008, there has been an added attraction: the finest football this city has even seen. A place graced by Salvador Dali, Andoni Gaudi, Pablo Picasso and numerous other illustrious individuals in times gone by has more recently been touched by a team. Not Johan Cruyff's Dream Team, but Guardiola's great group - the Pep Team.
"When they [Barca] signed him I said: 'Madre mia, we're going to be flying'," Xavi recalled recently. And not only did they fly, but they flew to greater heights than ever witnessed before at Camp Nou. The trajectory was tremendous; the journey, magical.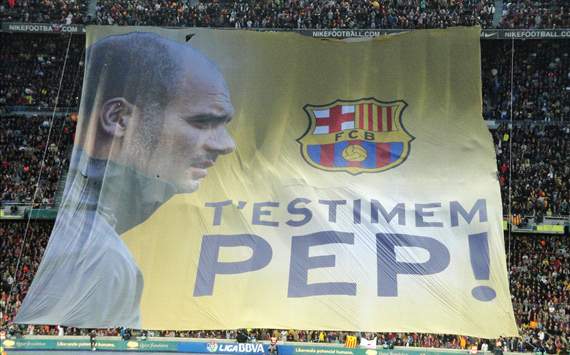 We love you, Pep! |
Barcelona fans pay tribute to Guardiola on Saturday
But that journey is now nearing its end. After four fantastic seasons, 13 titles and many more memorable moments along the way, Guardiola departs this summer. It's not over yet, of course, with two more matches still to play and the real chance of ending in sumptuous style with a 14th trophy - the Copa del Rey - later this month. On Saturday night, however, Guardiola bade a fond farewell to Camp Nou, wiping away the tears as he addressed the fans after the 4-0 win over Espanyol (his last game as coach at the club's famous home) and later paying his final respects to the hallowed turf with his wife and children, well after midnight, with the stadium now empty.
The football that had preceded meant more to Lionel Messi than anyone else. The Argentine struck four times to surpass 70 goals in all competitions and 50 in La Liga alone, meaning he is now five clear of Cristiano Ronaldo in the race for the Pichichi with just one Primera Division game left. His numbers are nothing short of sensational and the Argentine was afforded his customary ovation. Saturday night, however, was all about Pep.
MOURINHO'S MADRID CLOSE IN ON 100 POINTS




Without Guardiola, Jose Mourinho may never have come to Spain in the first place. It was a poor performance from Madrid at Granada, but a penalty from Cristiano Ronaldo and an own goal in added time by David Cortes mean Mou's men are still on course for a record 100 points. Pep raised the bar; Jose jumped higher.
Barca cannot win La Liga, but the Catalan congregation have seldom seen such greatness as in the last four campaigns, which have yielded three Primera Division titles, two Champions League crowns, two Club World Cups and a host more trophies. The Camp Nou crowd voiced their affection and admiration for their coach with continuous cheers and a brilliant banner which read: "We love you, Pep!" Simple and sincere.
Elsewhere, social network sites were awash with tributes to the 41-year-old, from all over the world. Whether the current Catalan crop, as constantly claimed, are actually the finest footballing force in our lifetime, is a matter for debate and discussion, but in terms of pure passing, possession play and perfection, Guardiola's Barca have defined an era, and they have done so by achieving something which had seemed impossible: they made the beautiful game even more beautiful.
So the Camp Nou lights may have gone out for Guardiola on Saturday, but for those of us lucky enough to live in Barcelona these last few years and watch the Catalan side up close in all their glory, or for those fans and neutrals who have admired from afar, this team will live long in the memory. Thanks, Pep.


Follow Ben Hayward on