Argentina legend Diego Maradona has millions of fans all over the world, but Khalid Bastaki, who hails from Bahrain - a long, long way away from Buenos Aires - isn't your average hero worshipper.
Khalid - a 29-year-old market and finance analyst who lives in Sanad, 10 kilometres south of the capital Manama - has idolised Maradona since he was a child. As a boy, he was gifted Diego's famous No. 10 Argentina shirt by an uncle and recalls watching him weave his magic live on TV at the 1990 World Cup. But his love for the Napoli legend goes beyond his footballing skills.
"I don't consider myself an ordinary fan of Maradona," Khalid reveals.
"It was not only because of his symbolic status in Argentina, Boca Juniors and the world of football. It goes beyond that, I was amazed by his personality and character on and off the pitch. His life story itself was very inspiring."
Such is his obsession with Diego that when Khalid plays football three times a week, he always ties the laces on his boots "exactly how Maradona used to".
He adds: "I watch Maradona clips every single day! I wake up in the morning and the first thing I see is a huge No. 10 above my head, which is painted on my room's wall with the same font of Maradona's 1986 Argentina jersey."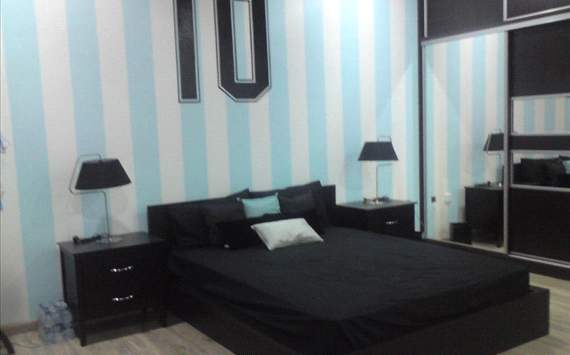 Bedroom tribute | Khalid's Maradona-themed bedroom sets the mood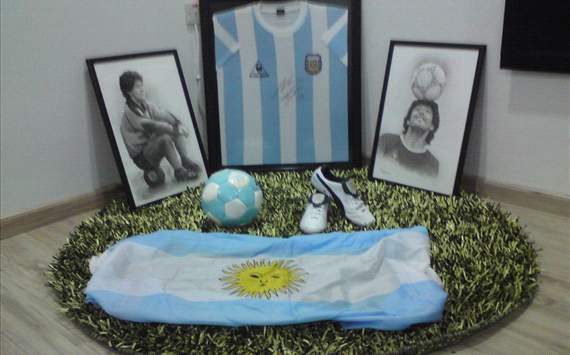 Maradona shrine | Khalid's mementos of his hero
Indeed, for Khalid, Maradona's life story has taught him many lessons which he has adopted for his own life, and it's this message he wanted to share with his hero.
So when the Argentine became coach of Al Wasl in May last year, Khalid just had to meet him.
"The moment I heard about the news of him being appointed at Al Wasl Club, I had a feeling that this was a golden opportunity to finally turn my dream of meeting Maradona into reality."
Khalid contacted Al Wasl by phone day after day, week after week, month after month. He persisted until it finally paid off and Maradona's local guide, impressed by Khalid's determination, facilitated a meeting in early March.
Khalid flew from Bahrain to Dubai, before driving straight to Al Wasl headquarters from the airport with two friends who documented the meeting.
At Al Wasl, Khalid would present Diego with a gift, a three kilogramme clear crystal engraved with his personal message, which read: "Following your stories, I learned what a dream come true means, what happiness means, what sadness means, I learned how to fall and rise again, how to appreciate talent that we have, how to do what we want without shame, how to take chances, how our emotions drive us to things that might lead us to what life is hiding. From you I learned not to prepare a speech and instead speak what is in my heart.
"Diego, in you I believe, you inspire me and every single word you say has a lot of meaning. You are a legend and legends live forever, you are a hero from a fairytale, but you exist."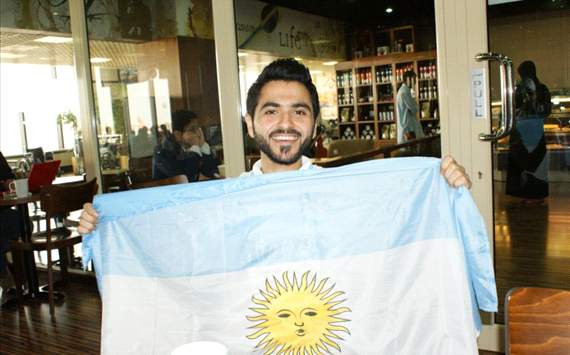 At the airport | Khalid prepares to fly to Dubai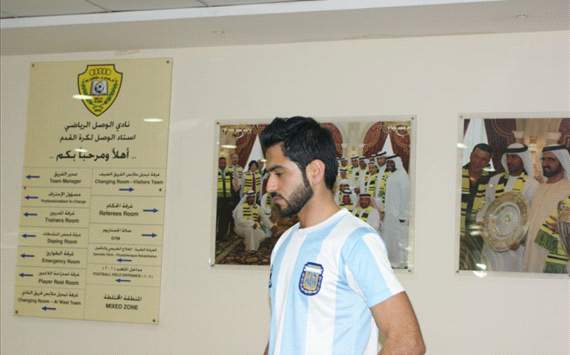 Nervous energy | Khalid waited 45 minutes for Maradona to arrive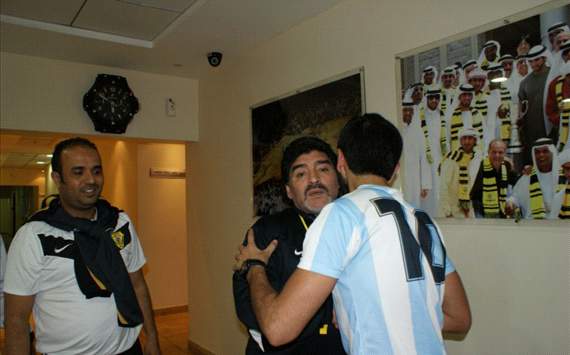 The moment he met his idol
| Maradona was serious at first
Khalid recounted the very first moments he saw his idol: "I was so nervous, my eyes were filled with tears but my friends who came with me from Bahrain were talking to me all the time while I was waiting, plus Maradona's local guide was telling me to relax and keep calm so that I could talk to Diego.

"And the moment came, my idol and my influence, Diego Armando Maradona showed up, my heart was beating really fast, I was speechless for a few seconds and all his magical moments on the pitch started playing back in my head."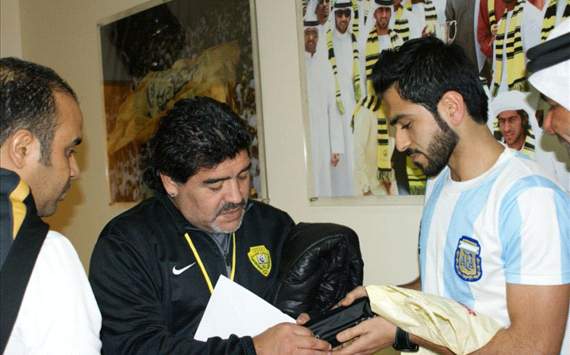 Gifts for his hero
| Maradona was won over by Khalid's presents
"Maradona was so serious at first, he did not want to waste a lot of time while his team were waiting on the pitch ready to kick off their training session. Diego thought that I was only here to take photos and get an autograph.

"Things changed when I gave him the first gift, which is a three kilogramme clear crystal that I engraved with a message from my own words for my idol. At that moment, Maradona smiled and thanked me."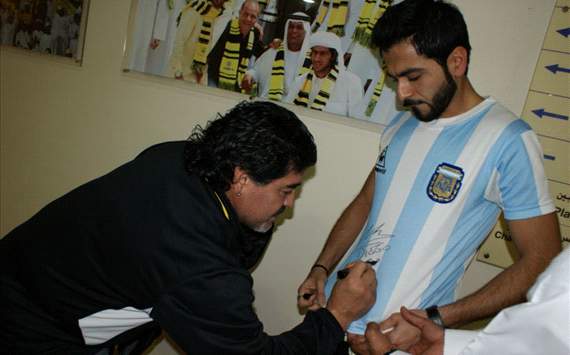 Special signature
| Maradona wrote 'Con Carino' on Khalid's shirt
Khalid continued: "He signed my Argentina 1986 jersey and under his signature he wrote 'Con Carino' which means 'With affection, lovingly, affectionately, fondly'."
"The best part of that meeting came when I told Diego that I had been waiting for this moment since 1994, Maradona smiled and put his left arm around me and took another photo with a smile on his face. It was in that moment that I felt my idol knew how much I appreciate him."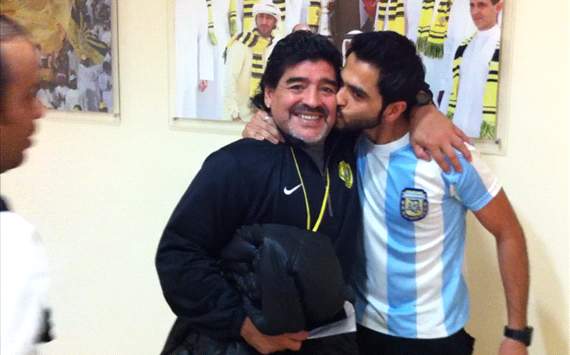 Best friends
| Maradona and Khalid share an embrace
Reflecting on the experience, a joyful Khalid concludes that having met his idol, he can now die a happy man.

"Meeting Maradona will forever remain the best achievement since I entered this world," he enthused.

"After meeting Maradona, there is nothing more I need from this life, except my parents' happiness. I'm ready to die!"