SPECIAL REPORT
By Kris Voakes and Peter McVitie
As Italy's attention begins to switch away from Piermario Morosini and back towards title races and relegation battles, it is of the utmost importance that the tragic events of last Saturday in Pescara are never forgotten.
Morosini will be commemorated across Serie B with each and every player in the second tier wearing his number 25 before it is then retired by his former clubs Reggina, Vicenza and his final side Livorno. His life will also be remembered at grounds in every other professional and amateur league with a minute's silence.
But the Udinese man's death on the Stadio Adriatico pitch must be remembered in an altogether different context for a long time to come, with his just the latest case in a string of high-profile collapses brought about by the kind of heart issues which blight sport at all levels.
There has already been a commitment from the chiefs of Lega Pro to ensure that the practice of having a defibrillator on standby will now extend at least as far as the top 134 venues in Italy. It is a vital step, but it is just one of many that needs to be made in the face of an increasing death toll, not just in professional football, but in all sports at all levels.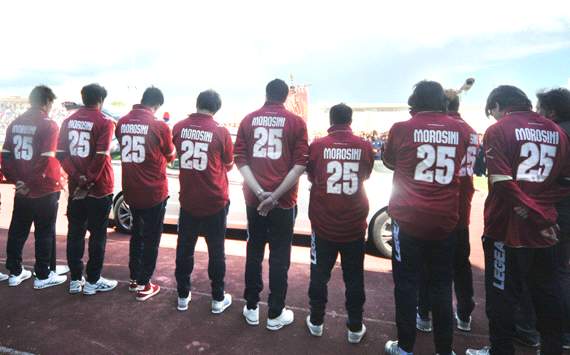 Livorno's tribute to Morosini | His number will be worn right across Serie B this weekend
Morosini may very well not have been saved even if every possible aid had been afforded him on Saturday, but the early detection of heart issues is a concern which needs to be addressed. Current information suggests the 25-year-old may have collapsed suddenly due to erratic electrical impulses in his heart, but the very circumstances surrounding his death need to act as a warning to everybody in sport, let alone football.
Italy is a country which has a good reputation in the detection and prevention of heart problems, with the case of Nwankwo Kanu a particular stand-out. Shortly after signing for Inter in 1996, the Nigerian was found to have a congenital heart defect, and in November of that year he underwent surgery to replace an aortic valve. Almost 16 years later, the striker is still playing football and since 2000 has been the patron of the Kanu Nwankwo Heart Foundation which helps to treat heart problems in children and young adults across Africa, and has overseen over 400 heart surgeries with a 98.5 per cent success rate.
Manchester City striker Mario Balotelli, a former team-mate of Morosini for Italy's Under-21 side, noted in an interview with La Gazzetta dello Sport earlier this week that in his experience there are things English authorities at least can learn from the controls in Italy. "New findings need to be acted on," said Balotelli. "In England there are not the heart checks we have in Italy. It is better to take precautions."
But if even a successful screening system cannot save a player, then the very best care is needed to give sportspeople even the slightest chance of survival. Clearly, the support structures put in place differ from league to league, country to country, sport to sport, and this needs to be addressed to give every player at every level the best care possible.
"One in 500 people out there playing sport will have an underlying condition that predisposes them to cardiac death"

- Dr Bruce Hamilton, Chief of Sports Medicine at Aspetar

In a sporting world which has seen such a huge increase in reported heart failure in recent times, more regular screening is the least that should be offered to a player. But what is it that the checks would be looking for? And why might there be issues for players in the first place?
Dr Bruce Hamilton, the Chief of Sports Medicine at Aspetar, a Fifa-accredited sports medicine hospital in Qatar, told Al Jazeera after Morosini's death that heart defects in young people are far more wide-ranging than many might have ever realised.
"There's a difference between a 25-year-old fit and healthy person and a 45-year-old 'weekend warrior'," explained Dr Hamilton. "In a 25-year-old it is a combination of participating in an intense sport and having an underlying condition. We know the most common cause of death in a young person related to sport is due to hypertrophic cardiomiopathy, and that has an incidence in about one in 500 people, so one in 500 people out there playing sport will have this underlying condition that predisposes them to cardiac death.
"There are a number of other causes as well, but if you just look at that number and think about the number of people playing all sports, let alone football, there are a lot of people at risk out there."
Dr Hamilton added:"Some 80 to 90 per cent of people who die in sport will die of a cardiac cause. In total 200,000 will die per year of heart related causes while participating in sport."
Speaking to Goal.com, Professor Sanjay Sharma, Consultant Cardiologist at BMI The Blackheath Hospital and Cardiac Risk in the Young charity, as well as cardiologist for the London 2012 Olympics, explained that the comparative increase in recorded cases at professional level is partly down to the rise in expectation and intensity at the top end of sports.
"The death rate of athletes at the moment is around one in every 50,000," says Professor Sharma. "I have noticed throughout the last 17 years that there have been slightly more deaths than there used to be and I think part of that is down to the fact that the pressure these athletes are under to perform is enormous.
"If you look at 30 years ago when people were trying to break four-minute mile records, this was supposed to be a very difficult thing but if you look at it now, people are running marathons at a rate of four-minute miles for the whole 26 miles. So people are pushing harder and harder and I'm sure this has something to do with it."
RECORDED CARDIAC-RELATED DEATHS IN FOOTBALL SINCE 1970

1970s
2000s

2010s
Nikola Mantov (1973)
John Ikoroma (2000)
Endurance Idahor (2010)
Pavao (1973)
Eri Irianto (2000)
Bartholomew Opoku (2010)
Michel Soulier (1977)
Catalin Haldan (2000)
Goran Tunjic (2010)
Renato Curi (1977)
Landu Ndonbasi (2002)
Ambrose Wleh (2010)
1980s
Stefan Toleski (2002)

Wilson Mene (2010)
Paulo Navalho (1987)
Marc-Vivien Foe (2003)
Andrei Mutulescu (2011)
Dursun Ozbek (1987)
Miklos Feher (2004)
Lokissimbaye Loko (2011)
Samuel Okwaraji (1989)
Andrej Pawitskij (2004)
Naoki Matsuda (2011)
1990s
Bruno Baiao (2004)

Bobsam Elejiko (2011)
David Longhurst (1990)
Serginho (2004)
D. Venkatesh (2012)
Michael Klein (1993)
Suvad Katana (2005)
Piermario Morosini (2012)
Amir Angwe (1995)
Nedzad Botonjic (2005)

Phil O'Donnell
Hedi Berkhissa (1997)
Alin Paicu (2005)
Waheeb Jabara (1997)
Paul Sykes (2005)
Emmanuel Nwanegbo (1997)
Rasmus Gren (2006)
Robbie James (1998)
Hugo Cunha (2006)
Axel Juptner (1998)
Mohamed Abdelwahab (2006)
Markus Passlack (1998)
Matt Gadsby (2006)
Stefan Vrabioru (1999)
Nilton Pereira Mendes (2006)



Marc-Vivien Foe



Ivan Karacic (2007)

Daniel Jarque
Antonio Puerta (2007)
Chaswe Nsofwa (2007)
Phil O'Donnell (2007)
Herve King (2008)
Rustem Bulatov (2008)*
Michael Baicu (2009)**
Daniel Jarque (2009)
Maurizio Greco (2009)
* Bulatov was a professional player taking part in an amateur game
when he died
** Baicu had recently retired from the professional game and died playing with friends
The table above backs up Professor Sharma's point, with seven recorded deaths in total between 1970 and 1989, compared to 10 in the 1990s and an unprecedented 28 in the 2000s. While poorer recording of such cases may play a part in some of the earlier figures, there is no doubting that there has also been an increasing problem on the field. This is particularly reflected by the cases of Marc-Vivien Foe, Antonio Puerta and Daniel Jarque, all of whom were playing at the top end of the world sport at a time when extreme fitness is demanded of all players.
But could a footballer's changing diet have a say on these increased numbers? In a study by Belli and Vanacore in 2005 looking into mortality rates in the top three leagues of Italian football between 1960 and 1996, it was found that players had considerably higher death rates for diseases of the nervous system, mainly from ALS (amyotrophic lateral sclerosis).
Dietary supplements and similar drugs were said to be among the potential causes of ALS, and Professor Sharma agrees that this may also play a part in present day cases.
"Death rates in athletes are generally low so it is difficult to be sure that something like performance enhancing diets or food supplements may be responsible. In general, athletes who die usually die of conditions they already had but didn't know about because 80 per cent of these conditions are silent.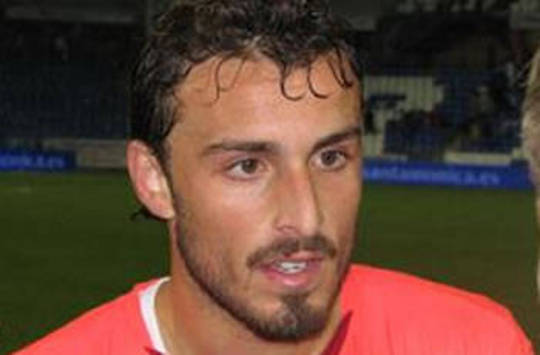 Antonio Puerta | Collapsed when playing for Sevilla in 2007 and later died in hospital
"We're finding increasingly that when athletes die, nothing is found in their post-mortem, suggesting that maybe in some cases performance-enhancing diets or supplements are maybe responsible but we can only say maybe, we cannot say definitively because there's no proof.
"When an athlete dies we perform toxicology screenings but they only test for illicit drugs such as amphetamines, cocaine and any other drug which could have poisoned an athlete, not specifically any supplements you may find in things like Red Bull, which, as you can imagine, if someone drinks about six cans of Red Bull before they go out to play a game, that theoretically could lead to a cardiac-driven disturbance, but because deaths in athletes are so low, we can only speculate about this because there's no proof."
But if many conditions are silent, how can detection be better applied in countries like England?
"I'm not saying we should mandate ECGs or make them compulsory, but I think we should make the practice available to anyone who competes at a high level to have these tests done and, unfortunately, that's not the case in most athletes in the UK," Professor Sharma responds.
"The vast majority don't get any tests because they're usually limited to the creme de la creme of athletes. I'm sure that if we were to make it available to more athletes we would pick things up. I can tell you that from my own experience as the cardiologist for the largest cardiology charity organisation, Cardiac Risk in the Young, we pick up a serious fault in one in every 300 athletes we test with the ECGs."
"If someone drinks six cans of Red Bull before they play, that theoretically could lead to cardiac-driven disturbance, but because deaths in athletes are so low, we can only speculate about this because there's no proof"



- Professor Sanjay Sharma, Cadiologist for London 2012




The message appears to be clear that there is only so much that can be done in any one case, and that cardiac problems are a natural consequence of the more competitive nature of sports in the modern world, but there is also a need for people to better understand how a sportsperson's heart can be monitored and treated when necessary.
The very fact that there are differing levels of control being applied from nation to nation needs to be addressed. If even Italy's apparent world-leading system could not save Piermario Morosini, then other countries need to ensure that they are at least up to speed with the Bel Paese in this respect, and Fifa, the IOC and world governing bodies in every sport must employ global guidelines on the minimum checks necessary. These checks must at least emulate Italy's current system.
More research must also be done at a medical level into the underlying causes of heart problems in the young. With post-mortems being unable to detect whether dietary supplements and the likes can help to put active youngsters' lives at risk, there needs to be studies put in place to monitor the use and effect of such substances. And if they are found to increase susceptibility to heart problems by even 0.001 per cent, then they need to be banished from sports.
Too many people are dying on the sports field, and with already more recorded cases in professional sports since the beginning of 2010 than there were in the entire 1990s, we are on course for an increase on the 28 deaths of the last decade. Simply put, that is not something we can idly stand by and allow to happen.
Whatever can be done for young athletes should be done. While complete eradication of heart-related deaths is an impossible dream, a reduction is not, and there are steps which can and must be taken to help address the single greatest issue facing sports today.