With four midweek games taking place on Wednesday night there was plenty to talk about for the Premier League's twitterati.
As ever, there was also a shed-load of non-football related rabble on display too.

Goal.com takes a look at some of the best reaction from yesterday's events ...
"At a fundraising dinner last night in a basement so haven't seen any action. I did not expect that result!! What happened?"
Gary Neville takes time out from his dinner in odd surroundings to let everyone know jsut how shocked he was at Manchester United's defeat to Wigan Athletic on Wednesday night.
"Disappointed, we didn't play well enough to get a result tonight, fair play to Wigan they played well. dust down + ready for villa sunday."
Rio Ferdinand provides his former team mate with the answer to "What happened" and pours the praise on the Latics in the process.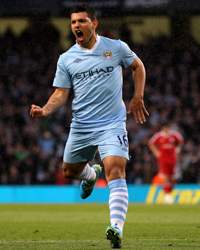 "Coming back to victory with @MCFC is as important as knowing never to give up. C'mon, City!!!"
Sergio Aguero uses some exclamation marks to excite Manchester City fans into believing their title dream is not over.
"Just for the info Gael is a boy name Gaelle is for girls. Like Joel and Joelle"
Gael Clichy becomes the latest player at Manchester City to join Twitter and immediately lays out the fact that his parents did not think he was a girl at birth.
"Fair to say the results tonight couldn't have been much worse for us ..."
Stuart Holden reveals his misery after the evening results put Bolton back into the bottom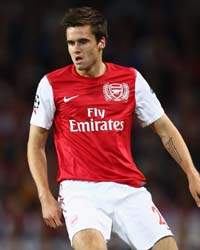 three.
"Carl Jenkinson says his Dad threw a party for him when he signed for Arsenal"
Jack Wilshere reveals just how excited Carl Jenkinson's dad was when his lad signed for Arsenal.
"Hello geezers I'm back to training today :) please follow my chelsea teammate @aphillip14 striker who's just come back from injury;) big hug"
David Luiz appears to be settling well into life in London, 'My old man's a dustman..."
"Training done been to the dentist now home for a nap @Tim_Cahill is cooking me tea tonight can't wait!!"
Everton
take team bonding to a new level as
Phil Neville
looks forward to a night at Chez Cahill.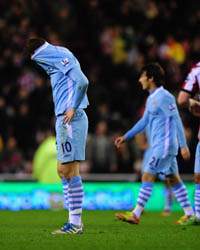 "My name is Edin... Not Edwin, not Eden, not Edim lol"
Yet another member of Manchester City's squad joins the Twittersphere and has to clear up his name. Just so we're clear, it's Edin Dzeko.
"Can only apologise for those of you that paid good money to come and watch that garbage performance tonight! #SafeTripBack :("
Ashley Williams pulls no punches after Swansea City's heavy defeat at QPR.
"I wish I could speak/tweet French half as good as his English. Not bad for 10yrs deep "
Gael Clichy gets praise from Joleon Lescott about the standard of his English, which is probably better than Manchester City teammate James Milner's in fairness.