Elsewhere, Alex Oxlade-Chamberlain and other young Gunners get down at a hip-hop gig, while Aaron Ramsey is more concerned with keeping an even tan in the current hot weather
There was a busy night of
FA Cup
and
Champions League
action last night and sleep was proving a key topic this morning, with players either citing a lack of it or keen to talk about their dreams.
Tottenham stars Rafael van der Vaart and Benoit Assou-Ekotto revealed the joys of waking up as Wembley semi-finalists, while Everton's victorious skipper Phil Neville was awoken early by his very own household fan club.
Elsewhere, it seems that forty winks are beyond Rio Ferdinand amidst the 'fallout' of Tuesday's taxi ride, while his former team-mate Gerard Pique is focused on anything but a sleepy start in Wednesday's Champions League clash in Milan.
Always a sight for the bleary-eyed,
Goal.com
picks the best of the day in Wednesday's Word on the Tweet ...
"Goodmorning! Great waking up after yesterday's result, very happy & proud! One more game to the final #FAcup #COYS"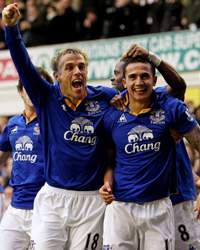 Rafael van der Vaart
is still revelling in
Tottenham
's 3-1 triumph over
Bolton
in the FA Cup, which sealed their semi-final date with Chelsea.
"6am my little girl comes inn singing "tell me ma me ma" think our house are looking forward to wembley!!!"
Phil Neville's
household was likewise bursting with excitement this morning after
Everton
's 2-0 win at
Sunderland
set up a Merseyside derby at Wembley.
"I wish i could begin to explain how good @Drake was last night! He went in sooo hard me and the boys were on one! #Drizzyyy"

Alex Oxlade Chamberlain
, so often in the limelight, became like any other screaming fan for the evening at the Canadian hip-hop star's gig.
"Some people want it to happen, some wish it would happen, others make it happen." Michael Jordan"
Barcelona
defender
Gerard Pique
delivers a telling maxim ahead of tonight's Champions League showdown with
Milan
.
"Morning #twittersfair. A average person has over 1500 dreams a year. I wish i could make just one happen each year #griddy. Enjoy ur day."
Louis Saha
seems stuck on cloud nine after netting the third at White Hart Lane as
Tottenham
reached the semi-finals of the FA Cup.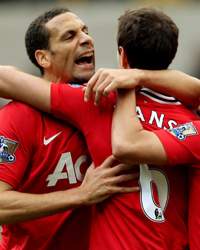 "That moment when you can't sleep.....its that moment people!!! Aaaaaaaaaaaaaarrrrrrrggggggghhhh!!"
Rio Ferdinand
battles insomnia. Perhaps Tuesday's "nuclear fart" had come back to haunt his dreams ...
"Nice little shave there after a 10min steam, feeling fresh!"
... though the
Manchester United
veteran is quickly back to his old self after a little manly grooming.
"Got a t-shirt tan already from training, some how got to try and even it up.I Can smell that a few people got there barbecues out today.."

There may be eight games to go in the Premier League, but it seems
Arsenal
midfielder
Aaron
Ramsey
already has one eye on his summer holidays ...
"Everyone is happy ??? Back to victory too. Lol. Hard but great game"
Spurs
full-back
Benoit Assou-Ekotto
reveals his delight at getting back to winning ways against
Bolton
.
"Stadium of light is one hell of an atmosphere and great to see both sets of fans lift the roof off.Wish Sunderland all the best as well"
Everton
midfielder
Tim Cahill
lauds the Wearside atmosphere after the Toffees' 2-0 triumph against
Sunderland
.
"Great results for Chelsea and Everton tonight. Been a long day. Ready to hit the sack. Night all."

Seemingly happy to abandon his old Merseyside allegiances,
Manchester United
striker
Michael
Owen
praises
Everton
and
Chelsea
after strong away results on Tuesday before returning to the land of nod.