ANALYSIS
By Mark Doyle
Ever since taking charge of
Juventus
as coach last summer,
Antonio Conte
has been trying in vain to play down his side's prospects of winning the Serie A title. So, the former Bianconeri midfielder will be feeling more than a tad bewildered this morning by giddy talk of his troops going through the entire campaign undefeated.
However, with Juve having extended their unbeaten run in all competitions this term to 24 games with a 2-1 victory over AC Milan in the first leg of their Coppa Italia semi-final tie at San Siro on Wednesday night, the Bianconeri boss is just going to have to deal with it - for a few more days at the very least.
Perugia (1978-79) and Milan (1991-92) are the only two previous sides to have ended a Serie A campaign unbeaten, but both sides tasted defeat in cup competitions, meaning Juventus are currently in a position to do something that no Italian team has done before.
So, can they do it? Well, a perusal of the Bianconeri's fixture list would suggest that it is by no means inconceivable.
The league leaders have already played five of the six sides immediately below them in the table away from home. In addition, Juve are now done with third-placed Udinese, having picked up four points from their two league meetings with the Friuli outfit.
As for the one major side that Juve have yet to meet on their travels, it's Milan, which, of course, is hugely significant.
Opponent
Venue
Competition
Score


Opponent
Venue
Competition
Date
Parma
Home
Serie A

4-1
Bologna
Away
Serie A
12/02
Siena
Away
Serie A

1-0
Parma
Away
Serie A
15/02
Bologna
Home
Serie A

1-1
Catania
Home
Serie A
18/02
Catania
Away
Serie A

1-1
AC Milan

Away
Serie A
25/02
AC Milan

Home
Serie A
2-0
Chievo
Home
Serie A
03/03
Chievo
Away
Serie A
0-0
Genoa
Away
Serie A
11/03
Genoa
Home
Serie A
2-2
Fiorentina
Away
Serie A
18/03
Fiorentina
Home
Serie A
2-1
AC Milan

Home
Coppa Italia

21/03
Inter
Away
Serie A
2-1
Inter
Home
Serie A
25/03
Palermo
Home
Serie A
3-0
Napoli
Home
Serie A
01/04
Lazio
Away
Serie A
1-0
Palermo
Away
Serie A
07/04
Napoli
Away
Serie A
3-3
Lazio
Home
Serie A
11/04
Cesena
Home
Serie A
2-0
Cesena
Away
Serie A
15/04
Bologna
Home
Coppa Italia

2-1
Roma
Home
Serie A
22/04
Roma
Away
Serie A
1-1
Novara
Away
Serie A
29/04
Novara
Home
Serie A
2-0
Lecce
Home
Serie A

02/05
Udinese
Away
Serie A
0-0
Cagliari
Away
Serie A
06/05
Lecce
Away
Serie A
1-0
Atalanta
Home
Serie A

13/05
Cagliari
Home
Serie A
1-1
?
Rome
Coppa Italia

20/05
Atalanta
Away
Serie A
2-0
Roma
Home
Coppa Italia

3-0
Udinese
Home
Serie A
2-1
Siena
Home
Serie A
0-0
AC Milan
Away
Coppa Italia
2-1
However, will Conte's men really be that scared of taking the Rossoneri on in their own backyard on February 25 given that they have now beaten the reigning Italian champions twice this season, comprehensively at Juventus Stadium early in the campaign, and now at San Siro in the Coppa Italia?
There is also the fact Milan will be without talismanic striker Zlatan Ibrahimovic for that crunch clash at the Giuseppe Meazza, with the Sweden international having been hit with a three-game ban for slapping Salvatore Aronica during last weekend's 0-0 draw with Napoli.
Looking elsewhere, Juve have on paper tricky trips to Liguria and Tuscany lined up for next month. Genoa, with Rodrigo Palacio currently in sensational form alongside new arrival Alberto Gilardino, could definitely prove a difficult obstacle to overcome at the Luigi Ferraris, while Fiorentina never want for motivation when it comes to tackling the Bianconeri.
The April meeting with Palermo in Sicily could also prove problematic but, on the face of it, Juve's schedule for the remainder of the season is not that daunting. Of course, a potential Coppa Italia final showdown with the always dangerous Napoli may need to be factored into the equation, but it is clear that the Bianconeri are in a strong position to make history this season.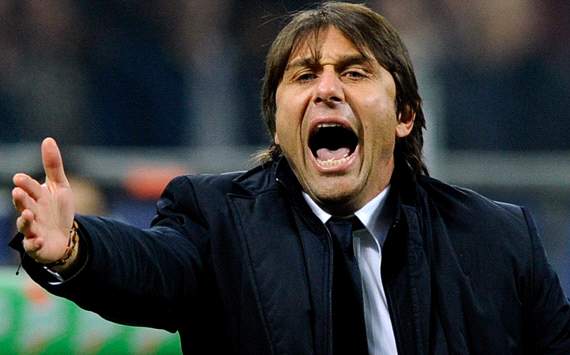 Instant Impact | Conte has reinvigorated Juve since taking over last summer
It would be remiss of us not to issue a word of warning, though. Firstly, during a 20-day spell between the tail end of March and the start of April, Juventus must first face Milan in the Coppa Italia again before tackling Inter, Napoli, Palermo and Lazio in the league. That is a run of games which will most likely make or break their season.

Secondly, it is worth noting that the aforementioned Perugia did not lose a single game in Serie A during the 1978-79 season but still failed to land the Scudetto. The Umbrians finished second to Milan on account of the fact that they had drawn a staggering 19 games over the course of the campaign. That stat is of particular relevance to Juve given that they have drawn nine of their 21 league games to date.

Still, with spring now upon us - though the current cold snap would suggest otherwise - the Bianconeri are still in contention to win the Scudetto and go through the entire season undefeated.

Achieving both feats would be nice but, for Conte and his players, only one is worth focusing on.