EXCLUSIVE
By
David Lynch
It is unusual, to say the very least, for a man who has been through as much as former Bolton midfielder Fabrice Muamba to be quite as laid back as he is. But for his unerring will and the vital medical intervention of others, this is a man whose date of death should have been March 17, 2012. As it stands, that day in fact marks the beginning of his life in its current guise.
The images of a 23-year-old footballer lay prostrate on the White Hart Lane turf, fighting for his life, are burnt into the memories of those who witnessed Muamba suffer a sudden heart attack that day.
The radio transmissions and television coverage surrounding the event are similarly indelible marks upon a football community which united in sympathy and a realisation of what is truly important in the immediate aftermath.
But, that his is a story which contained plenty of hardship prior to that point perhaps explains the admirable perspective Muamba possesses having overcome the ordeal.
"I don't worry too much about the future 'cause if you worry you're going to get another heart attack!" he said, instantly evincing the relaxed demeanour for which he is famed as we spoke in the Wilmslow home he shares with his wife, Shauna.
It is this attitude which means that, three months on from announcing his retirement from football on the advice of medical experts, Muamba is typically calm about his next move.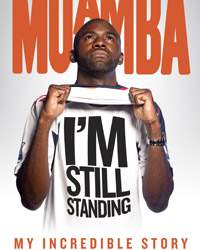 "I do miss the game but I have to be realistic because once upon a time I was dead"
"I'm just taking time and assessing where I fit myself into the game of football and hopefully when the time is right I'll make a decision and do what I think is best for me and move forward from there," he added.
"I will take my time and spend time with my family and my friends. I am able to do things that I wasn't able to do when I was playing professional and we'll see what happens in the future.
"I'm just grateful to be able to spend time with my friends and family and do this kind of interview to share my testimony with everybody.
"Also to motivate people that they should not take life for granted; one minute you're playing football, the next you might not be able to play football. So you always should cherish every moment you spend with friends and family and be able to always be cheerful because you never know what's around the corner."
Of course, the pitfalls which come with retirement from football, even for those who are not forced to do so early, are well-documented. Depression and an inability to cope with life outside the all-consuming world of the professional game are known dangers.
Former Hull City star Dean Windass recently spoke candidly about his fight with alcohol addiction and mental health problems as he attempted to replace the void left by football. But there are no such concerns for Muamba, who cites the circumstances surrounding his withdrawal from the game as sufficient deterrent for such demons.
"I miss the game but I have to be realistic because once upon a time I was dead," he continued. "It would have been great if I'd come back and played football but it's just not meant to be.
"For me I feel like that day is like my second birth, everybody knows me for that day. People knew me as a footballer but that allowed me to realise how important life is to one minute be up there with my friends and next minute to be down almost losing your own life."
Muamba's evident understanding of what is truly relevant was doubtless forged as a six-year-old child forced to part with his father. Marcel Muamba, a then-prominent advisor to a collapsing government, fled Zaire (now the Democratic Republic of Congo) in 1994 to head to the UK, fearing for his life as political opinion began to turn.
Fabrice may not have expected it at the time, but it would take five years before he could join his father in London.
"When Dad left to come to the UK it was different because, all of a sudden, life had changed," he said. "We started to be more cautious with things. We became an easy target for everybody, regarding who I was and who my Dad was.
"So it was quite difficult at that moment in time not to be near my dad. To be far from him was difficult but he wanted me to join him and to come to the UK. Every child needs their father and I'm no different."
The vigour to handle this, and the more high-profile difficulties he has faced since, is something Muamba feels he owes to his family, despite the lengthy enforced absence of his father.
"My strength comes with my faith and how I was brought up," he said. "All that combines together and makes me the person I am today. It's just about being able to be very realistic with life and you should never take anything for granted, that's how I look at life now."
Talk of realism is a common theme for the former England Under-21 international these days, and arguably a necessity given the journey he has had to take over the past year. Of course, his reality ended for 78 minutes just a matter of months ago, and he has met entirely different challenges ever since.
But all this simply means is that the determination which propelled him to the peak of English football following a far from ideal start is now focused entirely on squeezing every last drop of enjoyment from life.
Like so many of the battles he has previously faced, you can't help but feel that Fabrice Muamba will win this one too.
Fabrice Muamba: I'm Still Standing, RRP £12.99, Trinity Mirror Sport Media.
Click here to order from Amazon
Follow David Lynch on