Huawei have launched their unique new Ascend P7 Arsenal Edition smartphone.
The 4G-enabled handset's black metallic finish features the Gunners' iconic club crest mounted on the rear cover.
To add to the Arsenal experience, Huawei have also designed bespoke Arsenal menus and included dozens of wallpapers ranging from images of Highbury and the Emirates Stadium to celebrations of their 2014 FA Cup triumph. The finishing touch is a working clock based on the Gunners' famous Clock End.
Vinai Venkatesham, Arsenal's sales and marketing director, said: "The experience for our fans both live and digitally is very important to us, so we're really excited about the launch of the Huawei Ascend P7 Arsenal Edition.
"This new limited edition smartphone is designed to help our fans remain connected to the club wherever in the world they are.
"We are delighted to be collaborating with Huawei in this way at such an exciting time in the development of its brand globally and, in particular, in the UK and Europe."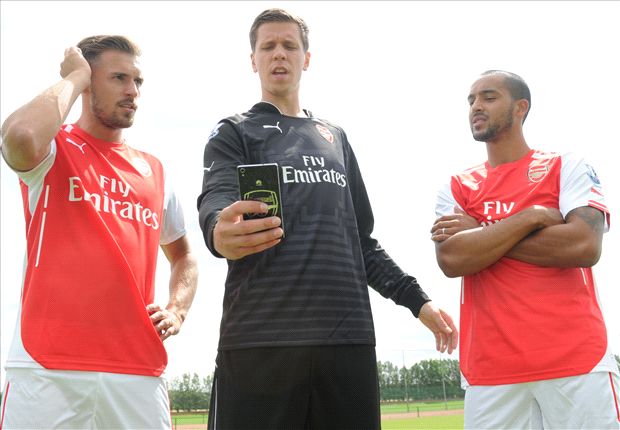 The Ascend P7 boasts a five-inch full HD screen and its 1920x1080 resolution is perfect for enjoying match highlights and playing games.
With up to 64GB of additional storage, there's room for nearly 20,000 Wojciech Szczesny-esque selfies using the 13-megapixel main camera or the eight-megapixel front facing camera.
Richard Ren, president of Huawei's EU consumer business group, said: "We are two powerful brands and this makes Huawei a great match for a club with the global stature of Arsenal.
"We are enjoying a really successful first six months as Arsenal's Official Smartphone Partner and are excited to announce the exclusive Arsenal smartphone in time for the new Barclays Premier League season.
"We have a few surprises in the pipeline to make every Arsenal fan's season the best ever, so watch this space."
Huawei, Arsenal's official smartphone partner, have launched the P7 Ascend Arsenal edition. The 4G phone is equipped with camera technology designed to take the ultimate football selfie.



Click here to pre-order the Huawei P7 Ascend Arsenal edition.