COMMENT
By Keith Hickey
American soccer's greatest-ever player can add another accolade to his long list of accomplishments. With his goal against the Philadelphia Union, Landon Donovan ended a 12-game scoring slump and passed Jeff Cunningham at the top of
Major League Soccer
's all-time regular-season scoring charts with 135.
He would go on to add another late in the game to make it two for the night and 136 for his career.
Three days after being controversially omitted from his fourth consecutive World Cup squad, it finally came. Slipping in behind the Philadelphia defenders, Donovan timed his back post run perfectly and finished Robbie Keane's well-placed low cross. Triumphantly, he sank to his knees in celebration, an image standing in stark contrast to the one painted by United States national team coach Jurgen Klinsmann.
He was at it again before the game was done. Another cross from Keane, at the top of the penalty area, and Donovan sidestepped a defender and picked his corner. The LA Galaxy were cruising 4-0 and Donovan, with two goals and an assist, was the inspiration. When he left the game in the 83rd minute, it was to raucous applause and chants of "U-S-A! U-S-A! U-S-A!" from the 21,000 in attendance.
Still relatively young at 32, the LA Galaxy forward has amassed an impressive collection of awards and achievements: five MLS Cups, four MLS Supporters' Shields and a US Open Cup win are joined by a staggering glut of individual accolades. Although he has only won the league's Golden Boot and MVP award one time each, Donovan has hit double-digit goal tallies in seven separate seasons, tied for most all-time, and is the only active player of those who have done so.
Best of the Best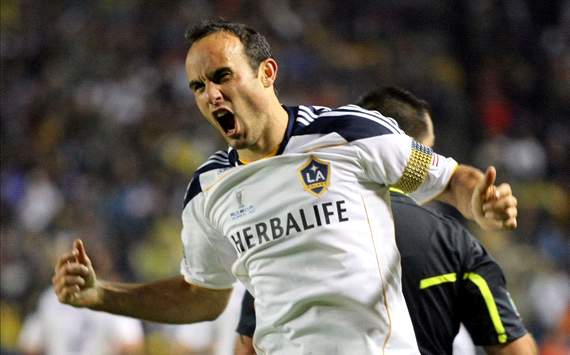 Landon Donovan has scored some memorable goals in his MLS career. Goal takes a look at 10 of the forward's very best.

Landon Donovan's Best MLS Goals
While other players burst onto the MLS stage and faded or left, Donovan stayed, continuing to be an elite performer year after year. He has outlasted and outperformed some of the greatest players in league history — leaving behind names like Cunningham, Jaime Moreno, Taylor Twellman, Ante Razov and Jason Kreis in his wake.
A member of the inaugural US Soccer Federation Under-17s residency program, Donovan signed with German club Bayer Leverkusen in 1999 but, with trouble settling in, was loaned to the San Jose Earthquakes in 2001. In four years on loan in northern California, Donovan scored 32 goals in 87 games and helped the Quakes to two MLS Cup championships.
After a brief and unhappy return to Leverkusen, a controversial transfer landed Donovan with his hometown club, the LA Galaxy. Back in SoCal, Donovan flourished.
In his first season, he scored 12 goals and provided 10 assists. Even when the Galaxy were poor, Donovan did his best to carry the side: he won the 2008 Golden Boot with 20 goals while his team conceded more than any other side in MLS. The arrival of fellow star David Beckham was infamously turbulent, but eventually the two combined to lead the club to its greatest period of sustained success, winning two MLS Cups and two Supporters' Shields.
Having scored his 135th goal, Donovan might now set his sights on a different 135 mark: Steve Ralston's career MLS assists record.