COMMENT
By Mark Doyle
Just days after being unveiled as Barcelona's new coach last July, Gerardo Martino called Cesc Fabregas aside during training. "I want you to be the player you were at Arsenal," the Argentine told the versatile attacking midfielder. Fabregas could barely contain his excitement. "I thought, 'Wow!', because I'd always felt so good at Arsenal, so important."
He had felt neither during the two seasons that had followed his long-awaited return to his childhood club from the Gunners in the summer of 2011. After failing to convince both of Martino's predecessors, Pep Guardiola and Tito Vilanova, that he was worthy of a regular berth in the Barcelona starting line-up, Fabregas believed that his time had finally come. He was wrong.
On April 20 of this year, just nine months after his morale-boosting meeting with Martino, Fabregas was whistled and booed by a significant chunk of the Camp Nou crowd during Barca's 2-1 win over Athletic Bilbao. The fans had grown weary of waiting for Cesc to be the player he had been at Arsenal. Fabregas' dream return had turned into a nightmare.
Now he stands at a crossroads. Made a scapegoat for Barca's failings this season, devoid of the responsibility within the team that he craves and now set for talks over his future.
As exclusively revealed by Goal, the Catalan club are preparing to listen to offers
for a player they fought so hard to sign just a few years ago, with both Arsenal and Manchester United on alert for a player that has never shown the form in a Barcelona shirt that lit up the Premier League.
| | |
| --- | --- |
| | CESC FABREGAS | BARCELONA STATS |



| | | | | | |
| --- | --- | --- | --- | --- | --- |
| Season | Games | Goals | Assists | Booked | Sent off |
| 2011-2012 | 48 | 15 | 11 | 8 | 0 |
| 2012-2013 | 48 | 14 | 11 | 10 | 0 |
| 2013-2014 | 50 | 13 | 14 | 10 | 0 |
| Total | 146 | 42 | 36 | 28 | 0 |
The 2013-14 season had started so positively, too. Cesc was directly involved in six of Barcelona's first 11 goals of the season. Having been afforded more game time than ever before by Martino, Fabregas was finally flourishing. Xavi was in no doubt that the 26-year-old represented Barcelona's future. "Cesc is a different type of midfielder we usually see at Barca," the veteran playmaker mused. "He always adapts, he can score and he's good for the team. He's an extraordinary and very flexible player who can play in the midfield or as a forward."
Doubts remained, though. Firstly, there was the nagging fear that Fabregas was merely following an all-too-familiar pattern. He had enjoyed fine starts in each of his first two seasons back at Barcelona following his eight-year spell at Arsenal. There were also ongoing concerns about his work-rate; constant accusations that he was lazy, which infuriated him. "I know I have that reputation and it annoys me, because I don't stop moving around the whole pitch," he lamented. "Perhaps too much, because by moving so much it seems like I'm nowhere."
This was not a new phenomenon. Both Guardiola and Vilanova had become frustrated with Fabregas' desire to be the fulcrum of the Barcelona attack. They found the player's thirst for responsibility admirable but ultimately counterproductive. In time, Fabregas began to understand why. "I came to Barca from a team where I was captain and had all the balls passed through me," he explained. "I used to play where I thought I could do more damage until Pep and Tito told me that was my problem. That view was right because I have Xavi, Iniesta and [Lionel] Messi playing ahead of me."
But just four months into the 2013-14 season, Fabregas was trying too hard. Again. He was wearing himself out. Again. He was fading. Again. Before last weekend's assist for Messi's match-winner at Villarreal, the former Gunners captain had failed to either score or set up a goal since February 15. Hence the boos against Bilbao.
Gerard Pique quite rightly pointed out that it was unfair to pin all the blame for Barcelona's dramatic dip in form on one player. But at a time when the Catalans needed Fabregas to step up to the mark to alleviate the pressure on Messi and Neymar, Cesc was nowhere, lost. Again.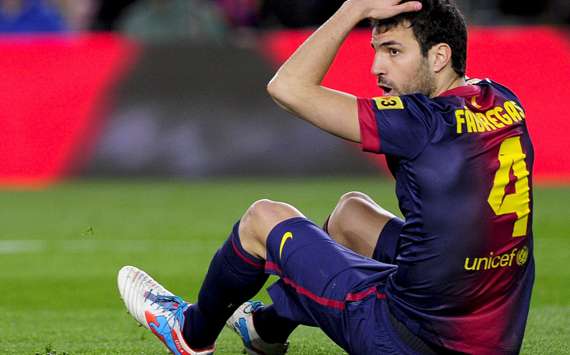 Fall Guy | Fabregas has been made a scapegoat by Barca's fans for the club's failing this season
Martino is in no doubt that Fabregas has the mental strength to deal with the fans' frustration. "He always wants to play, he asks for the ball, he never hides and he is not afraid to take risks or to make a mistake. If there is one thing that characterises him, it's his bravery."
However, the mounting speculation that Martino's days at Camp Nou are numbered does not bode well for Fabregas' future at Camp Nou. There is no guarantee that any new coach will view Fabregas as importantly as Martino does. In addition, a club in dire need of funds for a radical revamp of its playing staff would undeniably find another £30 million-plus bid from Manchester United prove very difficult to resist this summer.
Fabregas and Barca are set for showdown talks this summer, with the player now having just two years left on his contract.
Goal
understands that both club and player are open to the possibility of a transfer, with both United and Arsenal watching on to see how events unfold.
When the Red Devils came calling last year, Fabregas went to meet with Barca vice-president Josep Maria Bartomeu, who has now of course taken on the top job at Camp Nou. The Spain international was told: "You're not going anywhere." Bartomeu was speaking literally; however, his words could now be interpreted figuratively.
Fabregas has grown increasingly frustrated by the sense that he is judged by a higher set of standards than other players because he left as a teenager. He feels that the harder he tries, the worse the situation becomes. The more he strives to feel at home, the more out of place he appears to be. He is everywhere and nowhere all at once, a victim of his own versatility. This is perhaps one prodigal son that should never have returned.
Follow Mark Doyle on